Draw your own life timeline that will answer your questions: What have you been through? What is important to you? Where are you now? What do you want to achieve? What are your future plans in life? 
ENGLISH DISCLOSURE: I'm from Switzerland (yes, chocolate!) so English isn't my first language. Please forgive me for my mistakes 🙂  
---
✓ Should I read/listen to this? You should read this if you're interested in knowing what happened in your life, what mattered to you and where do you want to go with your life, so you're not losing any more time…
✓ How is it going to help me? Knowing what happened to you is essential to understand where you are now and in what direction you want to go with your life. You will discover the events that were/are important to you which will help you figure out in what direction you want to go and what do you want to achieve in your life! 🙂
---
Do you want to hear more of my accent?! Discover all episodes here!! 🙂
What are your future plans in life?
Everything in life is in movement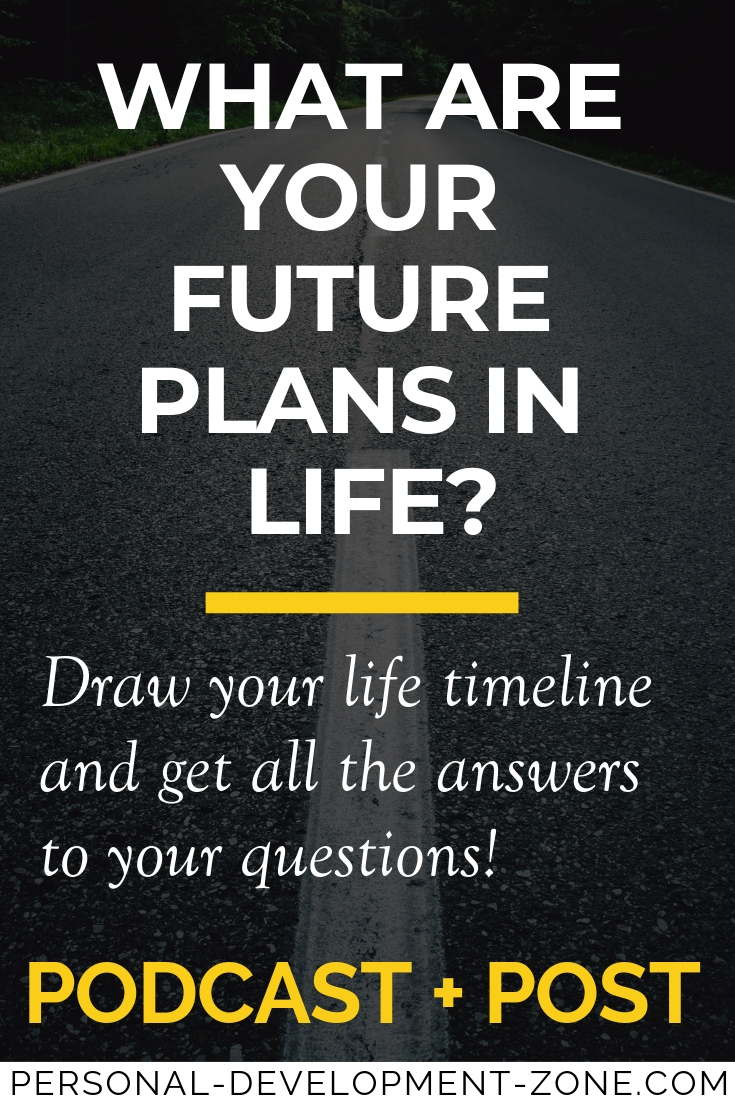 I truly believe that everything around us is in movement: the cycle of seasons, the female menstrual cycle or even the butterfly cycle!
Hudson is a famous coach who wrote "The Handbook of Coaching" in 1999. His main point is that the cycle and changes are part of our lives.
Understanding and accepting this fact is already a big step for us! This is why we are living "ups" and "downs" all the time because everything is in movement 🙂
It doesn't necessarily mean that good times will be followed by bad times, simply that there is a logic and a virtual organization in the events that are happening to us.
I think that it is very important to know where we are in our lives and what we have achieved so far, what are our accomplishments.
How to do that? By picturing your whole life!
Have you ever wondered: what are your future plans in life? Or how to know your future life? Or even how to make a timeline of your life? No need to look furthermore, I will tell you how to draw your life plan timeline NOW 🙂
Why drawing your life timeline?
Sometimes, we get so much busy with our everyday life and our routine that we don't know if we are going in the right direction or not.
What "right direction" am I talking about? I'm talking about the life that makes you happy, the one that truly fulfills you!
By drawing your life timeline, you will have a better perspective on everything that happened to you, on where you are now and in what direction you want to go!
Also, if you're like me, it's an amazing visual exercice 😉 I just love it because it's easy to read and easy to understand 🙂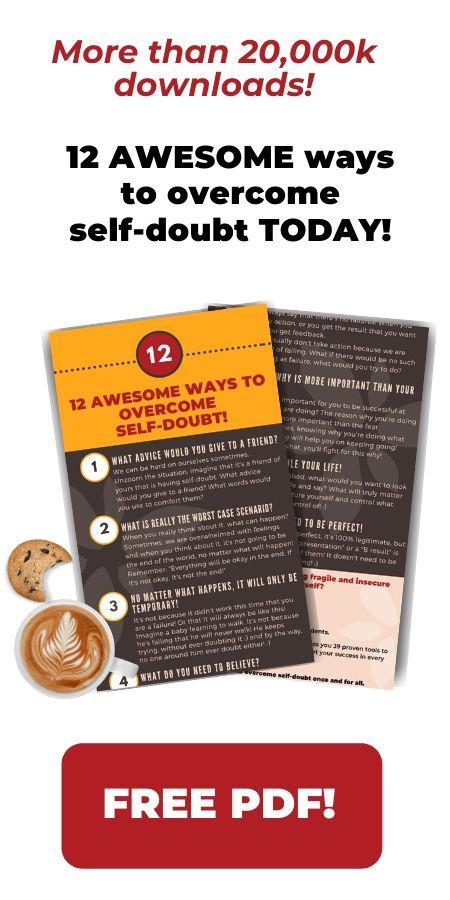 Draw a timeline of your life (life plan timeline)
To get a general "picture", draw a line (with bumps or without, it's up to you) of your life since you were born.
Use small dots to write each event that is significant to you. Go back to the day you arrived on this planet and write down the events that have marked your life.
Also, add 3 to 5 years from now, work on your future plans. Where do you see yourself in this amount of time? What events could happen in your future life? What are your goals and plans for the long run? You can even add 10-20-50 years 🙂
For example, it can look like this: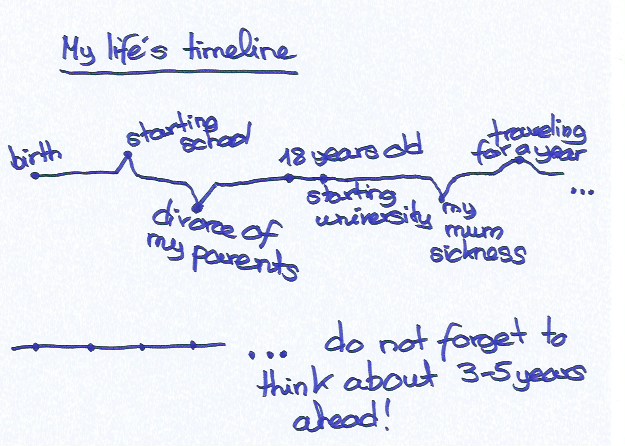 You can add drawings, colors, arrows…
It's the right side of your brain that is drawing, the left one is here to analyze. Together, they will give you a perspective over your life.
Now what? Understanding what you achieved, where you are now and what you want to be(come) to plan your future…
I really liked drawing my life!!
It made me think and analyze moments in my life and the reason why they were important to me. The fact that you are projecting yourself in a few years is also helping a lot.
It showed me what is truly important to me and where I need to put all of my energy to make things happen.
Analyze YOUR life timeline! Your past first… 
Now, it's time to look at your life timeline.
You can analyze the movements of your life.
Ask yourself the following questions:
What happened and when did it happen?
Why is/was it important to you?
Did something change after that? What are the consequences of that event in your present life?
How do you feel while looking back at these events? Happy? Contented? Anxious? Nostalgic? Afraid?
I don't know if you remember it, but I like to say that "the brain has no time". It doesn't know what day it is, what are you doing, so, you can imagine an event, a moment in your life and it will create the emotions!!
And recognizing the emotions and understanding what they are telling you is very important. It will give you all the answers to your questions 🙂
This is one of the reasons why I think that we should ALL know ourselves better by understanding what are our emotions and how to deal with them!! Right??
This is why we may be sad when we listen to a song that reminds us of something…
Or this is why we're getting excited just by the idea of doing something fun!!
Ask yourself also the following question:
What are your accomplishments?
What are you proud of something that you've done?
What are the consequences of your present life?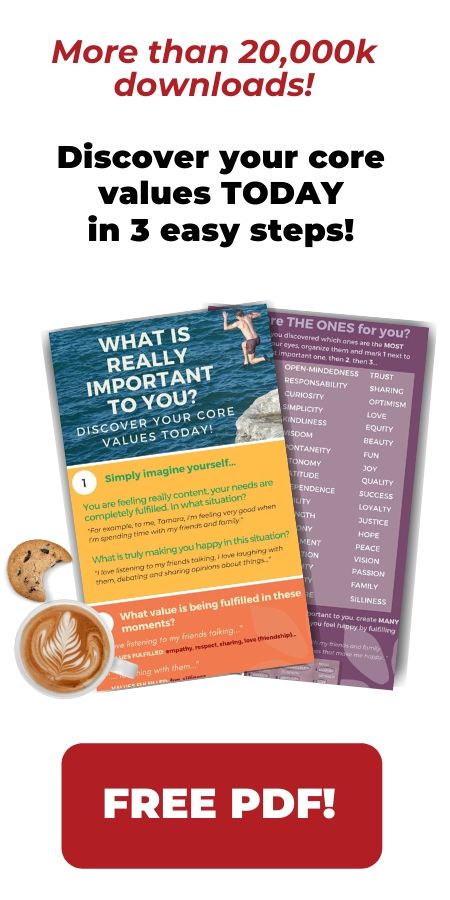 Now, where are you?
It's important now to understand where you're standing now.
Ask yourself:
Where am I right now?
Is it where I want to be?
If not, do I have an idea of what I want instead?
I think that all of these questions are really fascinating!
You don't need to find all the answers right now… 🙂 But it's already a really good start to be aware of what's going on inside of you!
Over 10,000+ people have decided to stop feeling fragile and insecure about themselves.
What are you waiting for?
Get all of my EXPERT TIPS to build REAL confidence.
How to Feel Better = Self-Confidence Course
Want to build REAL confidence and live an extraordinary life?
Double your confidence and self-esteem with my BEST-SELLING course called This is Confidence.
I'm sharing with you ALL THE SHORTCUTS that helped me and life coaching clients become super confident.
Ask yourself: 
If you're not confident yet, you're missing out!
Enroll in This is Confidence immediately to change your life for good.
What about your future? 
The future is very important because we don't take too much time planning what we want out of this life!!
We may let the time pass, without feeling strength or envy to do anything about it, because we may not know how to set goals and how to achieve them!
But the most important is really to ask yourself…
What is really important to me?
When am I feeling content/happy/my needs are being fulfilled?
What do I want to live in the near future? Or later in my life?
What consequences will it have on my life if that event occurs?
What goals do I need to set?
How do I want to feel with the life that I'm living?
What is my "why" in life? What is my reason for waking up in the morning?
I remember my coaching teacher that used to say all the time that "when you will find the why you will find the how".
This is why I think that asking ourselves what is important to us will help us figure out how to get it.
A lot of people will say "but I don't know how to do it!" And I like to ask them: but do you know why you want this?
Drawing our personal life timeline is showing us what is important to us, what was and what will be.
Related article:
How To Deal With Your Emotions And Boost Your Self-Confidence
Responsibility
Looking at my timeline really helped me realize how much the word responsibility means a lot to me.
I like saying that "everything happens for a reason" but I also think that if you really want something to happen in your life, you need to take actions. And before taking actions, you need to realize that you are the only person responsible for your OWN LIFE.
Drawing the timeline of your life is a very interesting exercise and I think that looking into a few years can be very surprising. Most of the time, we have a vague idea about our future…! We don't take the time to really plan our life 🙂
Here is the chance for you to do it!!
What about your self-confidence?
Drawing your life timeline will help you in getting to know yourself better and planning your life.
Knowing yourself better will help you build your self-confidence because you will feel more comfortable with who you are! (Your emotions, your dreams, your goals…).
Planning your life will also help you on your self-confidence journey because you know in what direction to go and what actions to take to get the results that you want in your life!
Convinced? 😉 Then jump on this self-confident journey with me! 🙂
Confidence leads to happiness. Let's get you there!
Join over 5,000 others and subscribe to my newsletter to receive expert advice about your personal journey.

To sum up!
Okay so as we have seen it, drawing your life timeline will give you a better vision of where you're coming from, what was/is and will be important to you.
Also, it will give you more details about how you're feeling right now: are you really living the life that makes you happy? If yes, can you take more actions to get you there faster? And if you are not, do you know what actions you can take to live a different life, the one that will truly fulfill you and your needs? 🙂
It's not easy at all but it's a great way to start being aware of what matters to you and how you can live THE life, the one that you will totally LOVE! 🙂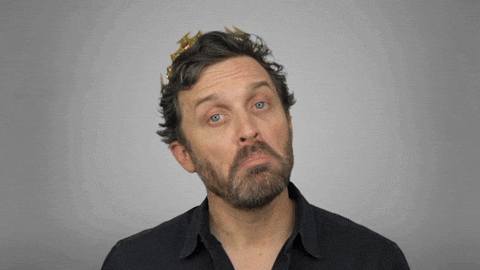 Are you interested? So draw your own life timeline now and share with me the results!!
You may also be interested in…