Do you feel sometimes like emotions are controlling you?
What if you could learn how to process any kind of emotions?
Let me show you the ultimate guide to mastering your emotions you'll ever need to deal with any kind of emotions.
Let's dive right in!
Do you want to hear more of my accent?! Discover all episodes here!! 🙂
Why Are We Feeling Emotions? 
Emotions and feelings are the signs of what's going on inside of us.
Every human being is the same about this: We all have needs.
When these needs are being met, we are feeling positive emotions. When they are not, we may feel negative emotions.
We may be afraid of emotions but actually, there's always a great intention behind each one of them!
And as I always say, FEELING is what life is all about.
No matter what we are trying to do, what action we are taking, we're doing it because we want to FEEL a certain way.
Think of anything that you're doing, it's because it's going to make you feel a certain way!
The Problem With Emotions…
The only problem with emotions is that we don't want to feel them most of the time! 🙂
Let's say that we actually never learned how to really feel them… Right?
And if we're feeling a negative one, we think that we shouldn't feel it…!
We think that we should be happy all the time and that we have nothing to complain about.
The problem is that this is making us avoiding feeling the emotion, which is the worst thing that can happen!
Repressed emotions don't do good to us… It just makes the emotion doing more harm than what it actually is!
Like a basketball that you keep under the water, if you keep on pushing it below the water, it will come up to the surface stronger!
Let me explain…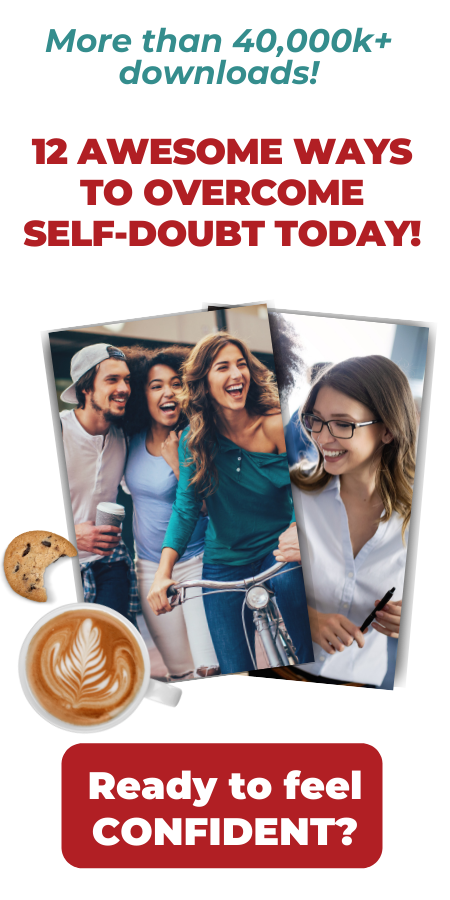 What Happens When You Feel An Emotion?
Basically, an emotion is supposed to pass through your body for a length of time of 90 seconds!
Can you believe what we make it mean when it's not going to stay more than a minute and a half inside of your head and body?!
Can you believe what actions we're not taking, what project or conversation we're not starting because we're afraid of feeling a certain way?!
That sounds crazy right! 🙂
But remember that no matter what you're trying to do (or not trying to do!) it's because you want to feel a certain way (or not feeling a certain way in the situation of something that you don't want to do/try).
You can definitely master your emotions like you never did before!
How To Really Feel An Emotion?
The way to really feel emotions is to feel it like a vibration in your body and to describe it:
Where is it?
What's its intensity?
What color is it?
What shape?
Just imagine describing the emotion to somebody else.
When you're doing it this way, you can become more of an observer than the "victim" of it.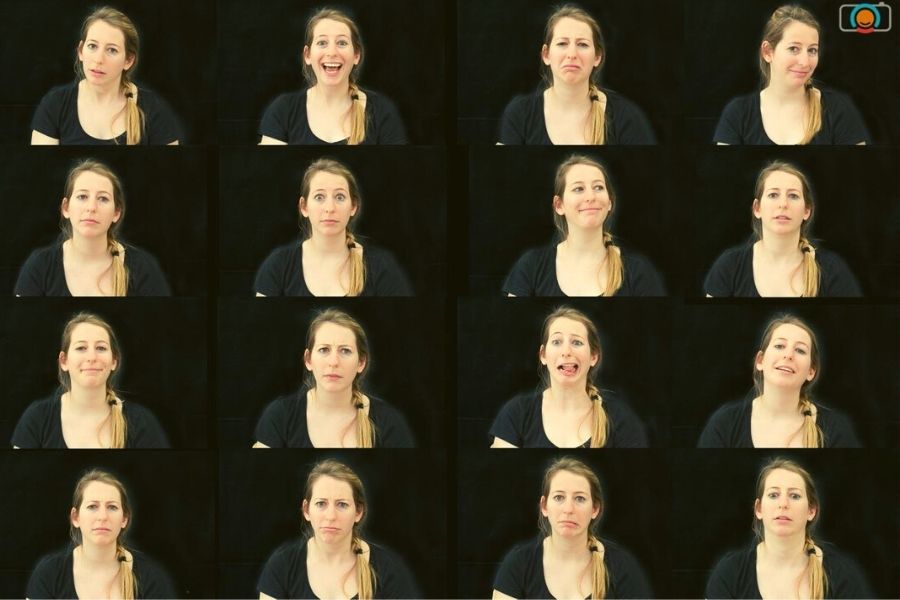 Sarah is so talented!
What do you need help with?
(Choose between the 2 options)
3 Ways To Deal With An Emotion
Actually, there are 3 distinct ways to deal with an emotion:
1. Reacting to the emotion 
For example, when you feel anger and you would scream at someone or hit something/someone.
2. Avoiding the emotion
This is happening when you're trying to change your mind and focus without giving it the time that the emotion requires.
You might do this by eating when you're not hungry, by drinking alcohol, by scrolling without end on social media…
Anything that would turn your attention to the emotion. There's nothing wrong with doing this AFTER having felt the emotion!
You just need to make sure that you first have felt it!
3. Embracing the emotion
As stated before, emotions are really the signs of what is going on inside of you, they are there to tell you if your needs are being met or not.
The best is to really welcome the emotion and to understand that it has a good intention, no matter if it's positive or negative.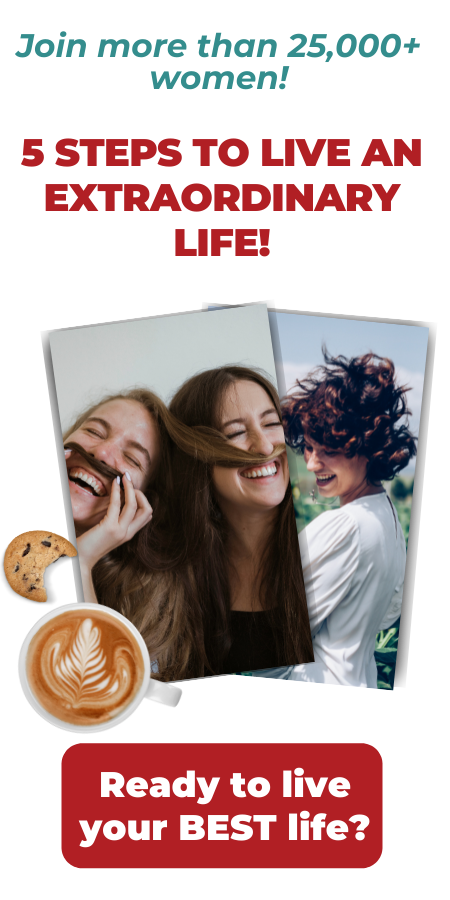 Feeling Positive Emotions…
This just feels so good, right? 🙂
This is why I think that my 6 steps process to master your emotions work also GREAT with positive emotions!
The moment that you feel a positive emotion, why not creating more situations in which you can feel this way?
Also, when you pay attention to feeling positive emotions, you get to know yourself better.
You know what is good for you and it makes you feel more comfortable being who you are!
For example, I absolutely LOVE sitting and talking with other people.
It makes me feel great emotions such as:
Blissful!
Excited!
Relaxed!
Stimulated!
… So many more! 🙂
Knowing this, I'm creating more and more situations when I sit with other people and it creates me more and more possibilities for me to feel those amazing emotions! 🙂
Think of situations in which you feel positive emotions and do the same!
This is why I think that my process works great with positive emotions.
We need to learn how to deal with both of them, the positive and the negative ones.
Feeling Negative Emotions… 
Again, no problem at all with negative emotions!
We don't need to make it mean that something went wrong or that life isn't fair or good.
We just need to learn how to deal with them.
They aren't always wrong. Sometimes, you will want to feel negative emotions!
If someone is hurt or in pain, you will want to share the way they're feeling maybe.
Or if something happened in the world and is making you sad, it's really okay to feel this way!
After processing the emotions, you can choose to continue feeling this way or to have different thoughts about it.
Let me show you how to do it!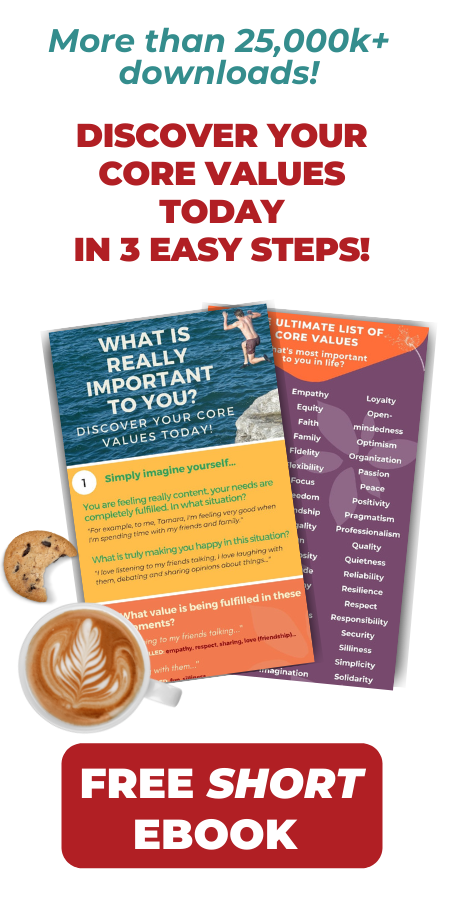 6 Steps To Mastering Your Emotions
You can mastering emotions like a boss! 😉
Check out my infographic and keep it handy!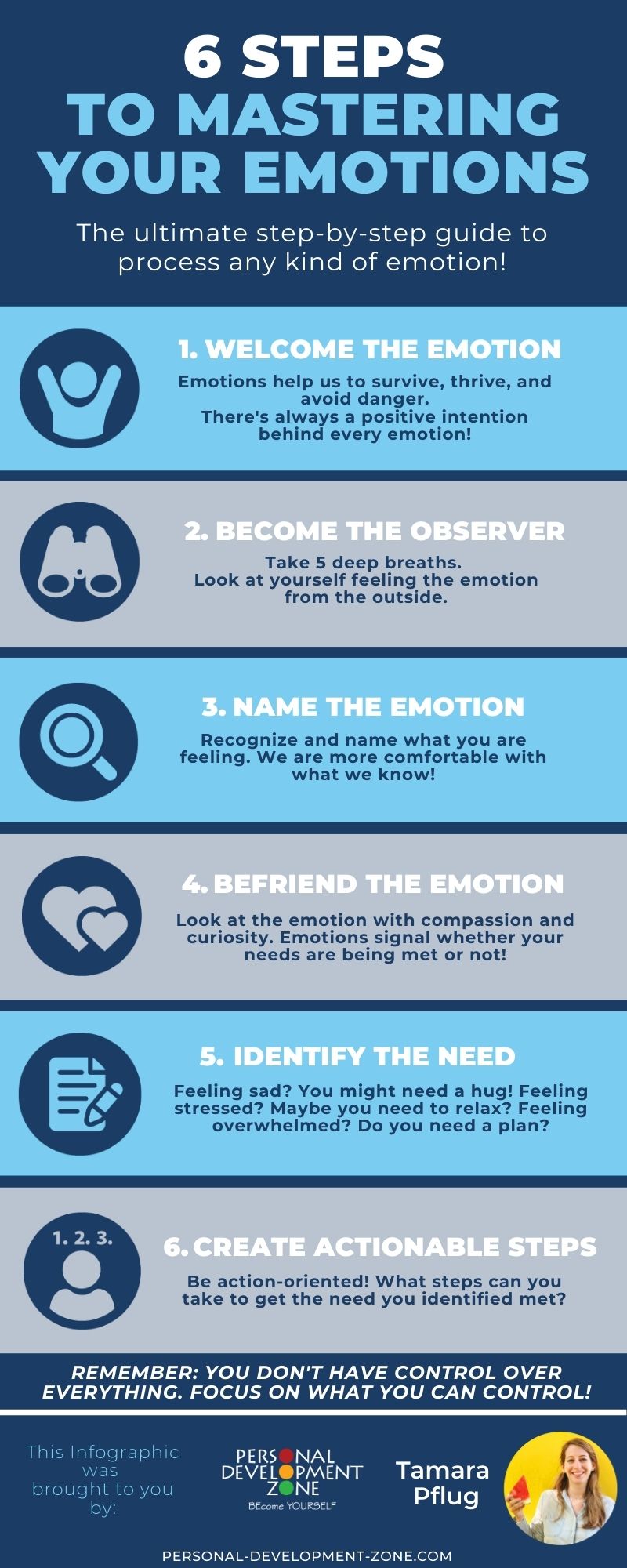 Remind yourself!
Mastering your emotions is a skill to develop.
The more you'll learn how to deal with your emotions, the more you'll become the master of them! 🙂
Step #1: Welcome the emotion!
Remember that emotions help us to survive, thrive, and avoid danger.
So, keep in mind that there is always a positive intention behind any kind of emotion.
More than just accept it, welcome any kind of emotion with open arms!
Step #2: Become the observer!
This step starts by taking 5 deep breaths.
Get out of your body and look at yourself feeling the emotion from the outside.
It's helping in being more objective and having a different perspective on the whole situation.
You're not the victim of the emotion but the observer of it!
Step #3: Name the emotion! 
Recognize what is it that you are feeling.
Have a look at this list of emotions, so you can point at what you're feeling exactly with the right word.
We are more comfortable with what we know!
In the long run, you'll also feel much better each time you'll feel this emotion because you'll know what it is and that it will just pass and nothing else! 🙂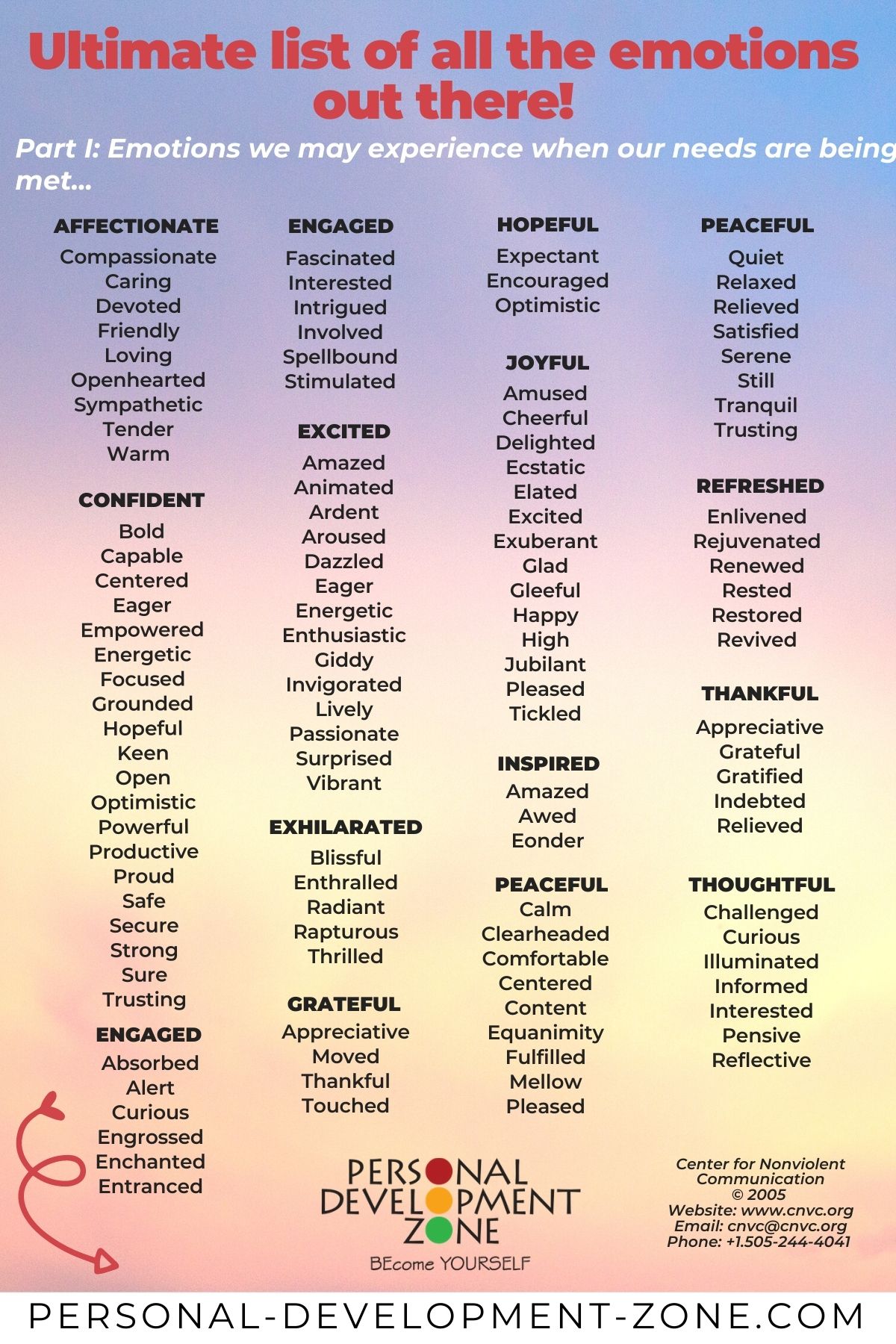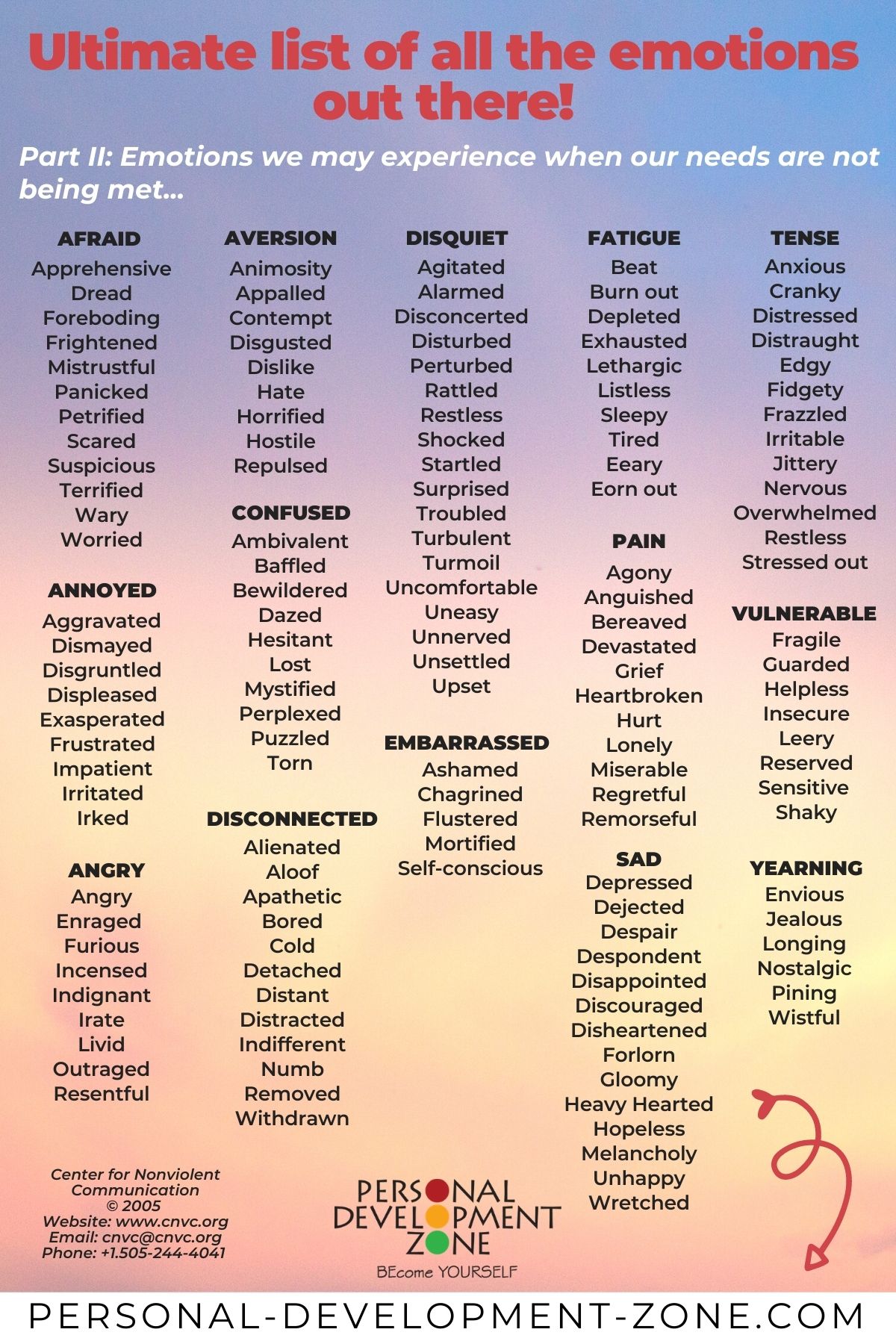 Step #4: Befriend the emotion! 
Treat it like a good friend.
Look at the emotion with compassion and curiosity.
Remind yourself that they are the sign that your needs are being met or not!
Step #5: Identify the need!
Behind every negative emotion, there is a need that isn't being met.
Understand which one it is.
Of course, it isn't something that is easy to do if we don't know what are our needs and how to fulfill them…
Have a look at the list of needs here and understand which one isn't being met when you feel an emotion.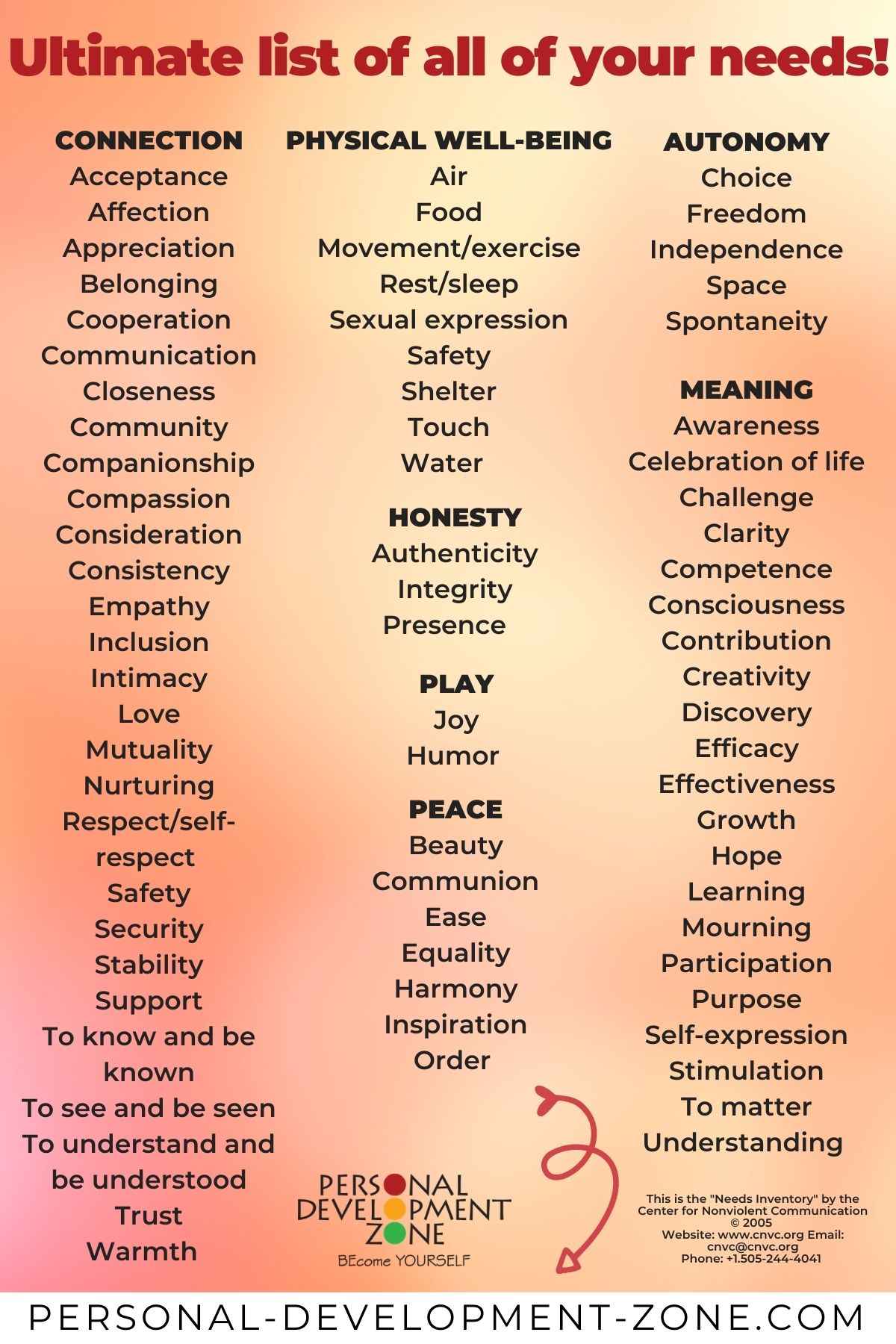 For example:
Feeling sad? You maybe need a hug!
Feeling stressed? Maybe you need to relax?
Feeling overwhelmed? Do you need a plan and actionable actions?
Step #6: Create actionable steps!
It's very important to always be action-oriented.
Think of clear steps that you can take to get this need to be met.
For example, you feel overwhelmed by everything that you have to do, the actionable steps could be:
1. Write down everything that needs to be done.
2. Organize the tasks by categories.
3. Put every result that you need to have in your calendar (for example, call the garage for the car).
Also, since we are in the actionable steps, it's important to keep in mind that any emotions you're feeling are because of a thought you're having.
So, think of what thoughts you're thinking and how they affect the emotions you're having.
You can choose your thoughts like you choose your clothes! 🙂
You probably heard of the book of Adrian Rogers called mastering your emotions, you can definitely become more knowledgable with his book, my infographic is already a great start! 🙂
I'm sure that there should actually be way more books on controlling your emotions, but the fact that you're are is already amazing!
I'm excited about this for you!
Mastering Your Emotions Is A Skill To Develop!
You'll get better and better at this process the more you do it!
Be gentle with yourself and do it as often as you feel any kind of emotion!
It's also very fun to do it with positive emotions! 🙂
And remember that you do not have control over everything.
Focus on what you can control which are your thoughts and dealing with your emotions! 🙂
You can learn to control your emotions starting today! I believe in you!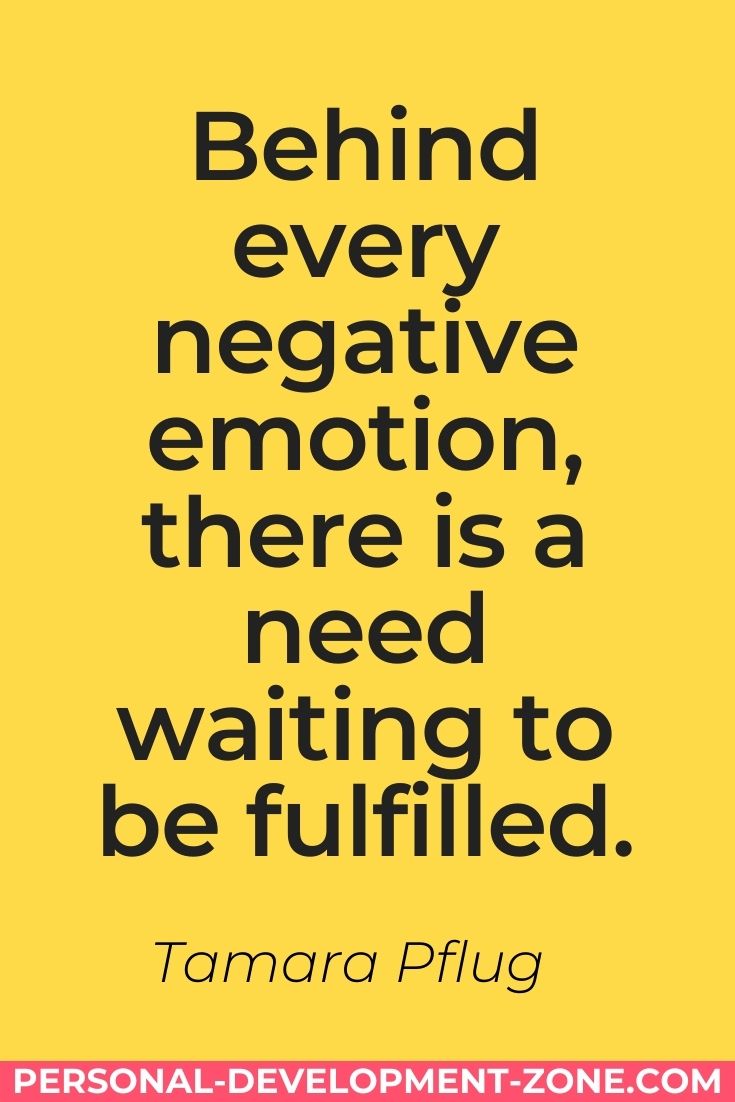 Is There A Way To Stop Feeling Emotions? 
Feeling any kind of emotion is really proof that you're a human being and that you're alive!
I don't think that you would like to stop feeling emotions the moment that you know how to deal with all of them, right? 🙂
And now you know! You just have to develop this skill.
Also, if there are some emotions that you want to feel less, you can work on the thoughts that you're having.
When you have control over the thoughts that you have, you can control your emotions, your actions, and the results that you have!
Don't forget that your thoughts create your feelings, that motivate you (or not!) to take a certain action, and then, you get the results that you have in your life.
So, by having control over your thoughts, you can have control over your emotions too!
This is the secret to knowing how to control your emotions and thoughts at the same time.
How Do We Show Emotions?
When it comes to master your emotions, it's also important to talk about how you can show your emotions.
You can show emotions in various ways:
1. You can share verbally how you're feeling.
Use words and be clear when you describe the way you're feeling.
2. You can show physically through your body language.
For example, if you want to show the emotion of confidence, you can check out my infographic: 11 Confident Body Language Tips to Feel Empowered in 2020 [Infographic]
3. You can show by the actions you're taking.
If you're grateful for someone, for example, you can give them a hug or a letter expressing the way you're feeling.
How To Control Your Emotions and Feelings?
I know that what we all want is to be able to know how to control your emotion and feeling and not the opposite.
So, the best way to control your emotions and feelings is by learning how to process them.
The moment that you understand that they always have positive intentions and that they won't stay, you're having control over them and even more, over your life! 🙂
So, go back to the 6 steps to mastering your emotions and like this, you'll develop this skill and be able to know how to control emotion more and more! 🙂
By the way, you can learn how to control your emotions in a relationship too…
When you know to do it for yourself, you can do it in a relationship too! I have no doubt about this! 🙂
How Mastering Your Emotions Is Helping You Build Your Self-confidence?
When you learn this skill, you have more control over your reactions and behaviors.
Also, the more you know what emotions you're feeling and how to identify it, you'll be more comfortable with yourself.
Because you understand the way you're feeling and also, you know what and how to get this need met.
A lot of great life coaches say that the best way to develop genuine self-confidence is to be willing to feel any kind of emotions.
With this process presented to you, as you can see, you have another great tool to boost your self-confidence! 🙂
You are now the boss at mastering your emotions!
To sum up!
As you can see, learning how to deal with your emotions is a great boost for your self-confidence!
You will feel more in control of yourself and of your life.
You won't say to yourself "what happened before? Who was that?!" Because you'll know exactly HOW you felt and WHY you felt this way!
It can totally change your life!
It's a skill to develop so, follow this process again and again and become the real master of your emotions and of your life! 🙂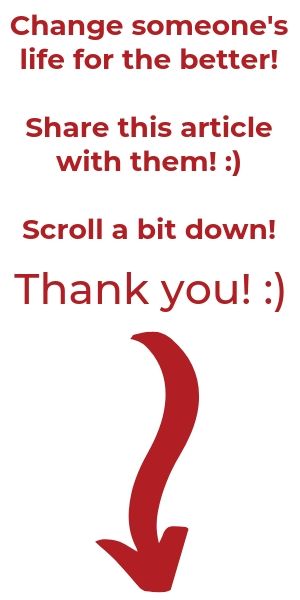 You may also be interested in…