We all heard so many things about having a morning routine.
We know it's supposed to help us a lot, but what should we do exactly during that morning routine?
Pick one, two or many of these morning routine ideas and start off every day on the right foot! 
Again another post on morning routines?  
I know what you're going to say: you already read a lot about getting yourself a morning routine etc., etc,.
I also felt the exact same way!
This is why I said to myself, instead of reading another article about successful people who are getting even more successful with their daily routine, I've decided to share my list of the top 14 best morning routine ideas.
So, if you feel like starting one or want to get more ideas on what to do during your daily morning routine, then this list was made for you!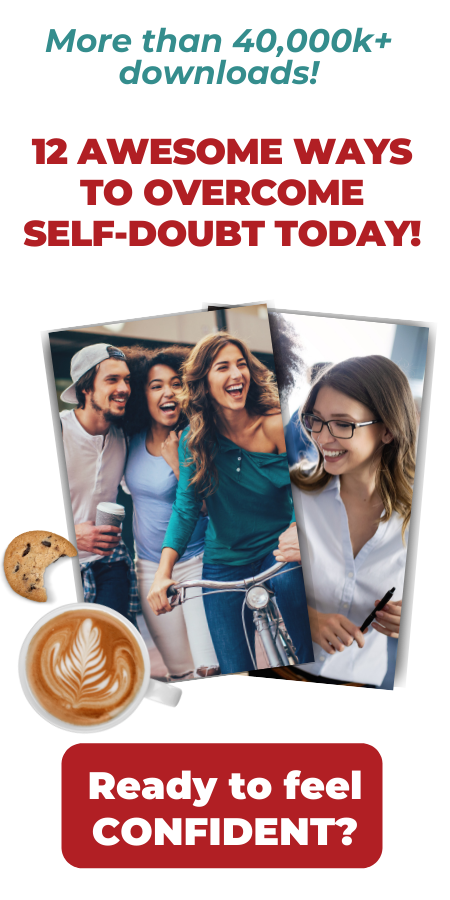 14 morning routine ideas
Okay, so before giving you ideas for the best morning routine you will ever have, I want to tell you that you can do them in the order you want.
This is very personal. When I first started having a morning routine, I heard and read a lot about starting the day with doing meditation. Let me tell you what happened: I didn't sit down, so I simply felt asleep aha until I changed and started with another idea! 🙂    
Be kind to yourself: just keep having a morning routine every day, no matter what you're starting with, what you are doing during this precious time, just do it, take some time for yourself and you will see soon the benefits of it.  
Ok so let's dive into these new daily habits!  
What do you need help with?
(Choose between the 2 options)
✓
Wake up and drink a cup of water
Ok, this sounds silly but it's a game-changer: you probably will enjoy a nice cup of water straight when you wake up. It will wake up your body and all of your organism!
Some people like drinking water with lemon too! Just try one of those and choose the one you prefer.
✓ Do some workout or stretching 
I don't think you necessarily need to take 15 minutes of hard workout 😉 simply a bit of movement so you can wake up your body and get some energy very quickly.
✓ Take a nice shower
Ok, so for this one, I don't think I need to add anything… 🙂 I read lots of people saying that you should start your day by taking a cold shower…
So this is really up to you 😉 I'm not sure I'm able to do it though! 😉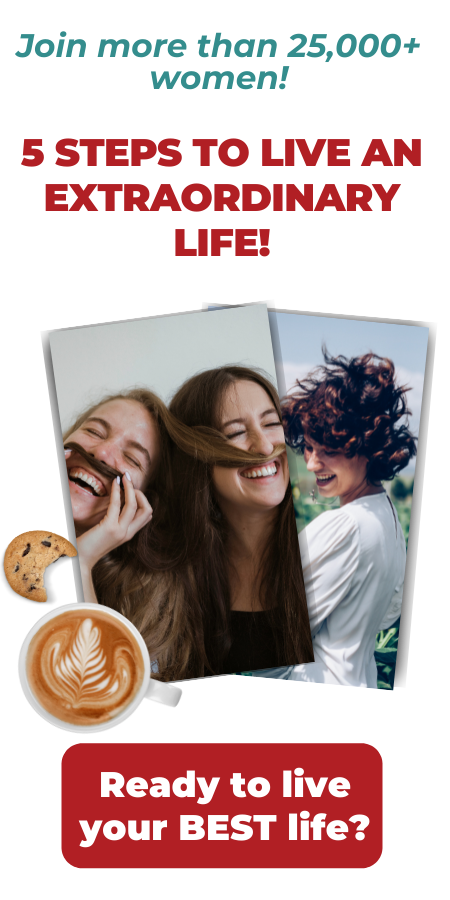 ✓ Brush your teeth and get dressed
Again, no need for any other specific information here I guess… 😉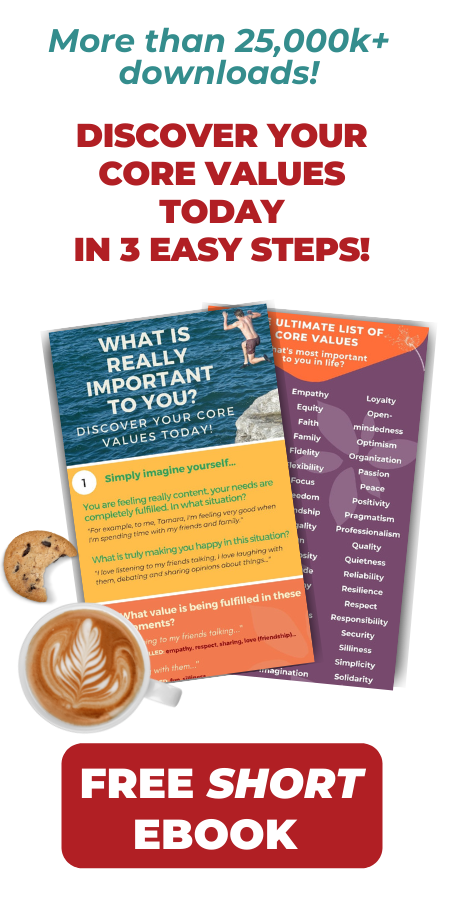 ✓ Meditate 
To start with the easiest way ever, you can try downloading one of the tons of meditation applications out there. I really like Headspace, so you can definitely start with this one.
It's super easy to use and you can start with just 1 minute per day! It sends you a small reminder every day at the same hour, I really liked it, try it and let me know what you think about it too!
If you're looking to start the right way with meditation, you can also learn with Giovanni, he's offering many courses, depending on your level (beginner, intermediate…) Check it out! You can get more details in this post that I wrote.
What is mindfulness?
My friend Julian Goldie from RelaxLikeABoss.Com has created this awesome actionable guide to mindfulness!!
You'll get all the answers to your questions, 5 exercises, tools and how to practice mindfulness in everyday life…
Have a look, that's amazing!! 🙂
✓ Read
I like personal development books (check my list of the 6 self help books everybody's talking about!), I love starting the day by reading a few pages of this kind of books.
I hear a lot of friends saying that they don't have time to read, but I don't think that you necessarily need to read a whole chapter if you don't have the time :), choose your battles. Even reading just 3 pages per day, makes a total of 21 per week, depending on the book, you'll be done in a month or so!
What I like also in reading in the morning is that if I read something special, something inspiring, I will keep on thinking about it all the day and it can considerably change the way I will live my day! 🙂
✓ Write 
Again, I hear people saying that they don't feel like writing, that they don't have the time to keep a self-journal for example.
I also don't like writing too much and some of my thoughts are personal, I don't want people to maybe find them one day; so instead of writing long sentences and express my feelings and emotions like other people like to do, I simply write words that I have on my mind.
I can be about dreams I had, the mood I woke up with, a thought that I have, no matter what, I'm simply writing a few words.
So, it's up to you!
Try and see what you like and prefer!
✓ Listen to a podcast 
There are many podcasts out there.
Listen to MY podcast! 😉
Click on the image to get to all the episodes!!
I love Natalie Bacon's list of the best personal development podcasts out there.
She has amazing recommendations. I need to say that I didn't listen to all of them, but Natalie is amazing and I love all of her recommendations so, just go for it 🙂
✓ Affirmations 
Soooo important. You only have one life, you want to live it the right way. The one that makes you truly happy.
First, you need to know what makes you happy ;), what is your ultimate goal.
I will create something about this very soon but in the meantime, you can start by picturing yourself in 5 years from now.
What do you want to do? Who do you want to be? Where? Write goals like "I will do…" and "I want to…" for example.
Then, you can also write affirmations about yourself for example "I'm capable of doing this…", "I'm feeling strong and healthy" for example.
Of course, write positive affirmations :), everything that you WANT to be and do in your life, in the close and the far future.
Reading all these affirmations will make you go in their direction, you definitely need to try it and see the results yourself, it's SUPER powerful.
✓ Vision board
Pictures, quotes, thoughts that motivate you, no matter what, let your imagination decide how to design this vision board.
The moment that you look at it, you're supposed to feel emotions, you can picture yourself and feel that you're going to the right direction with your life, you can make it and you WILL MAKE IT 🙂
My vision board has lots of images and quotes, it's almost overwhelming but it's cheering me up A LOT when I look when I'm looking at it.
I feel proud that I build it because I feel so much closer to the life that I truly want to live, I know myself better and really feel connected to it.
✓ Read Daily goals/life goals
Again, I'm sorry for not going more into details with each one of these morning ideas. I just wanted to create a list of them so you can build your own straight.
Discovering your life goals is a very important step for you. Discover what's important to you and write down your life goals. The moment you have them written, you can write your daily goals that will take you in the direction of the life you really want to live.
I will definitely give more details about these life and daily goals in the future, but in the meantime, they are an important part of your morning routine checklist.
✓ Nice breakfast
I don't know about you, but I'm eating breakfast only when I'm hungry which means that it isn't easy to incorporate this into my daily routine.
If you feel like, you can definitely eat a nice and healthy breakfast and make it part of your morning habits. Then you have a 100% healthy morning routine 😉
What to eat? Eat things that you know where they come from and that your body will like.
I like bread with jam, a bit of yogurt with fresh fruits that I cut very quick myself and a fresh orange and lemon juice. A few hours later, I like drinking one coffee.
See, nothing very complicated :), but it makes me feel great!
✓ Make a smoothie/juice
If you have the time, the strength and maybe the robot, you can definitely treat yourself and make yourself a nice fresh smoothie or a fresh juice! You can find TONS of recipes and discover the benefits of each fruit and vegetable online.
For a smoothie, I really like the combination of mango, kiwi and passionfruit. Add a bit of mint, it's simply amazing!
Juice wise, I really like everything, but my very favorite is orange, grapefruit and lemon… I know, very sour! I LOVE it, not sure if my teeth do too!
✓ Schedule your day
You want to look forward to your day. I really like knowing what I'm going to do with each day of my life.
During your morning routine, even just on a quick and small post-it, write a few things that you have planned.
Just do it! Don't overthink… 
Someone shared with me that he doesn't know how to start with his best daily routine because he's afraid of not doing it right: where to write, how to organize it, for how long…
The truth here is to simply write a few morning routine ideas that you like and feel like being part of your morning routine.
But don't overthink it! Otherwise, you won't start 🙂 just take a white paper, write a one, two or many more morning routine ideas and just try it tomorrow morning.
You can always adjust it, you just need to start somewhere and somehow 🙂 (of course, if you feel like writing in the morning, I would prepare something appropriate to write in, but again, no need to buy something new, even blank paper is really okay!)
While doing all of it, do not forget to breathe
I know that it may sound very basic, but to manage stress and to have an amazing day, I strongly recommend that while practicing one of these morning routine ideas, you breathe correctly.
What do I mean by that?
We may think that breathing is very easy, but you can learn how to breathe better which will help you feel better ALL.DAY.LONG.
I'm 100% convinced of that!!
Actually, Groom&Style has a complete guide on breathing techniques called Breathing Techniques: A Guide to the Science and Methods.
For example, I really liked this infographic on "How to incorporate breathing exercises into daily life", check it out: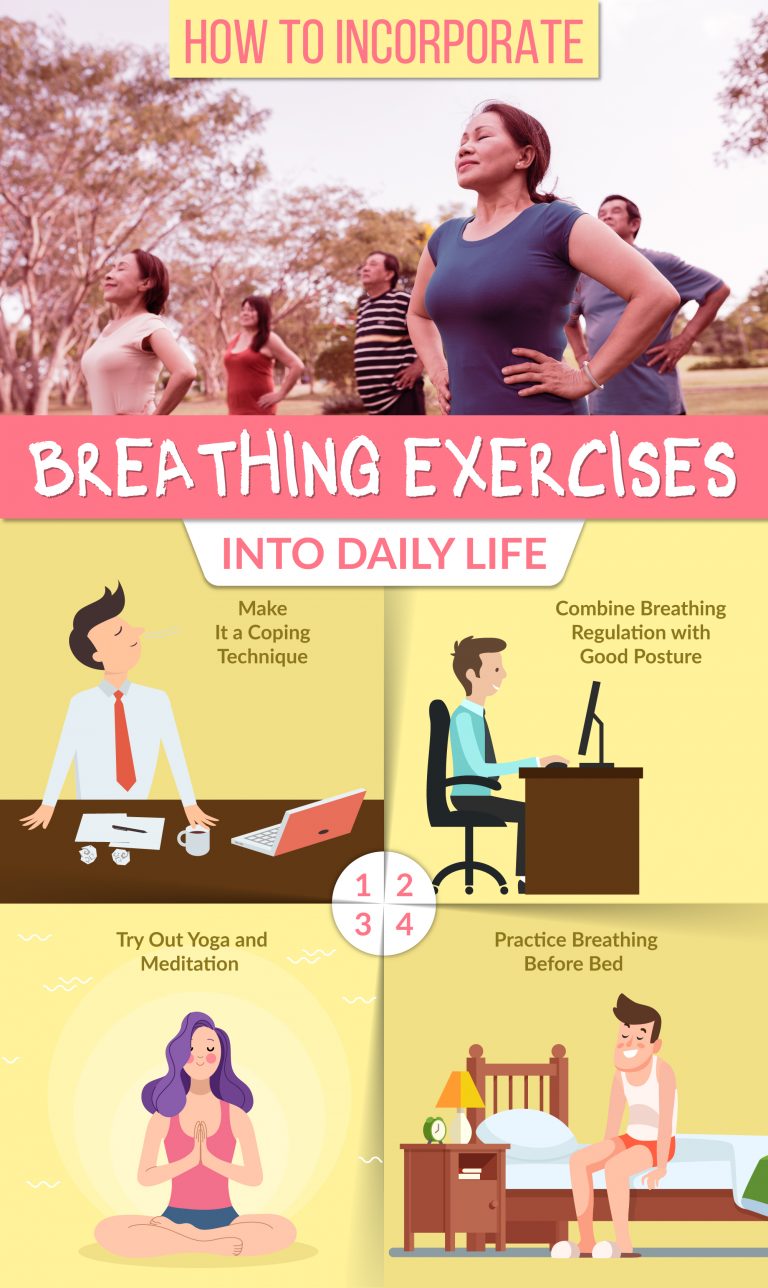 My morning routine
I simply love charts! So why not create a morning routine chart? So you can see how much time I'm spending doing it and what I'm doing during this precious time.
This is how it looks most of the days. During the weekend, I'm sometimes spending more time… It depends 🙂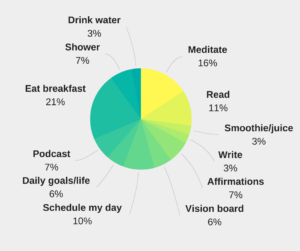 You may also be interested in…