Are you wondering how others are SO CONFIDENT?
Self-confidence is a skill to develop.
Nobody was born with it!
Discover these 8 self-confidence examples that will surely inspire you!
Plus, get at the end of this article, 22 kick-ass tactics to become your boldest self!
Let's dive right in!
Do you prefer listening to this episode on your favorite platform??
Click HERE to get there!! And then, of course, don't forget to subscribe!! 🙂
PART I (22′): 8 Self-confidence examples to help you live your best life! 
Do you want to hear more of my accent?! Discover all episodes here!! 🙂
Do you prefer listening to this episode on your favorite platform??
Click HERE to get there!! And then, of course, don't forget to subscribe!! 🙂
PART II (9′): Get inspired by your self-confident heroes!
Do you want to hear more of my accent?! Discover all episodes here!! 🙂
8 examples of self-confidence 
We'll discuss six sensational examples of self-confidence from historical and modern times to help you get pumped for your own journey.
Take these self-confidence tips to heart and you'll be well on your way to feeling awesome about yourself! 🙂
All six self-confidence tips are divided into four powerful categories.
Enjoy these riveting real-world examples of self-worth and look for ways you can apply them to your daily life.
The Power of Self-Belief  
1. The example of Harriet Tubman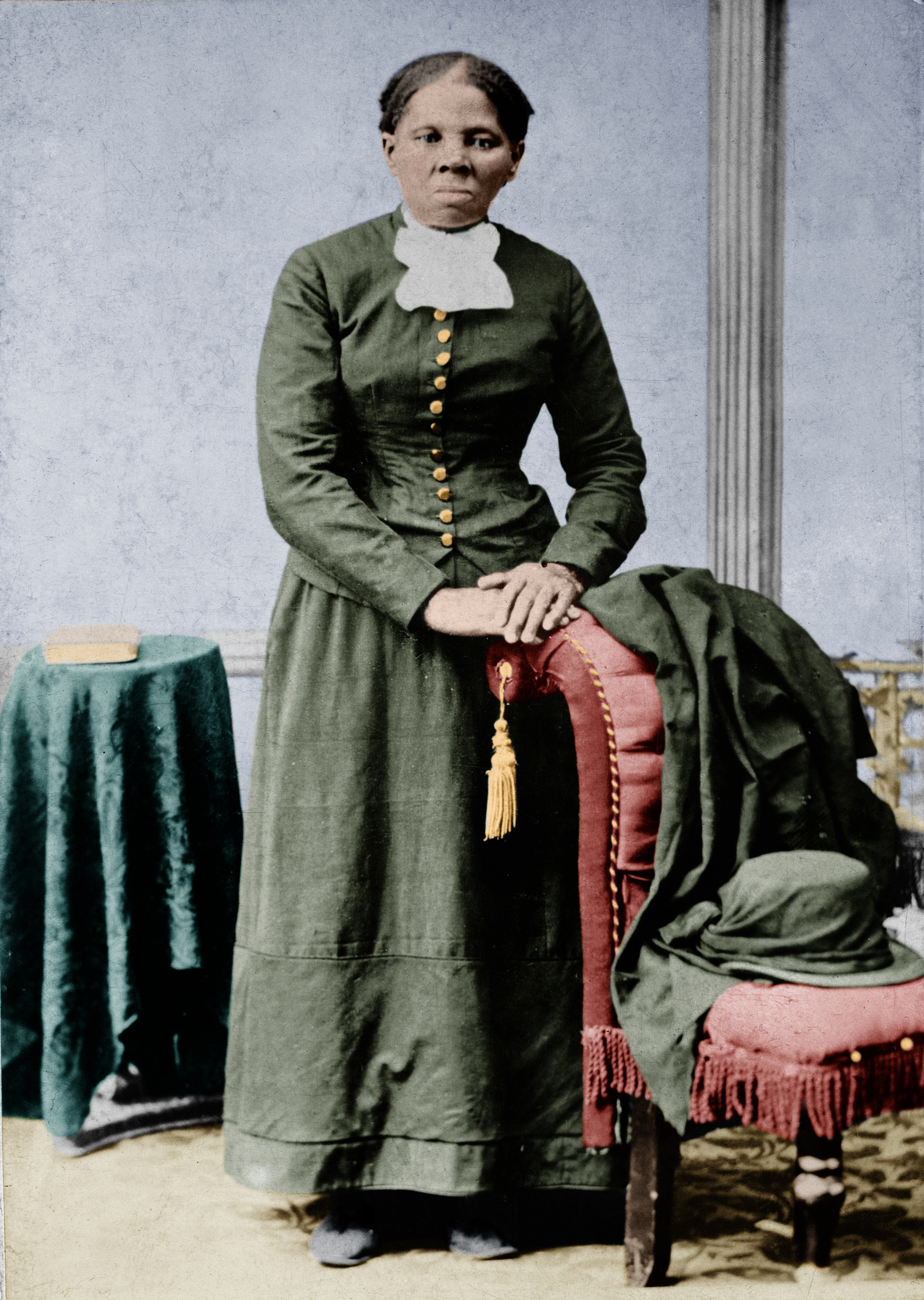 Imagine being sold into forced labor; working tirelessly for little food and poor treatment. Everyone around you is either too scared to escape or worse, complacent.
Sounds scary, right?
This is the heartbreaking beginning of the life of Harriet Tubman.
Born into slavery in the mid-1800s, Tubman's future was written in cotton.
However, instead of accepting the fact that she would live and die as a slave, she believed in herself. She knew she had the confidence to escape her unfortunate life and create something better.
Like we earlier mentioned, Tubman rose to the occasion, owned her story and decided to narrate it only in the best way she could.
Because of Tubman's self-confidence, she not only freed herself; but she also granted over 750 enslaved African-Americans the sweet justice of freedom.
Now, that above is literally waking up to your problems and taking them head-on. And nobody did it better than Tubman!
She knew what she was capable of and she used that inner strength to help herself and liberate others!
CLICK to book your FREE consultation!
CLICK to book your one off coaching session!
2. The example of Michael Jordan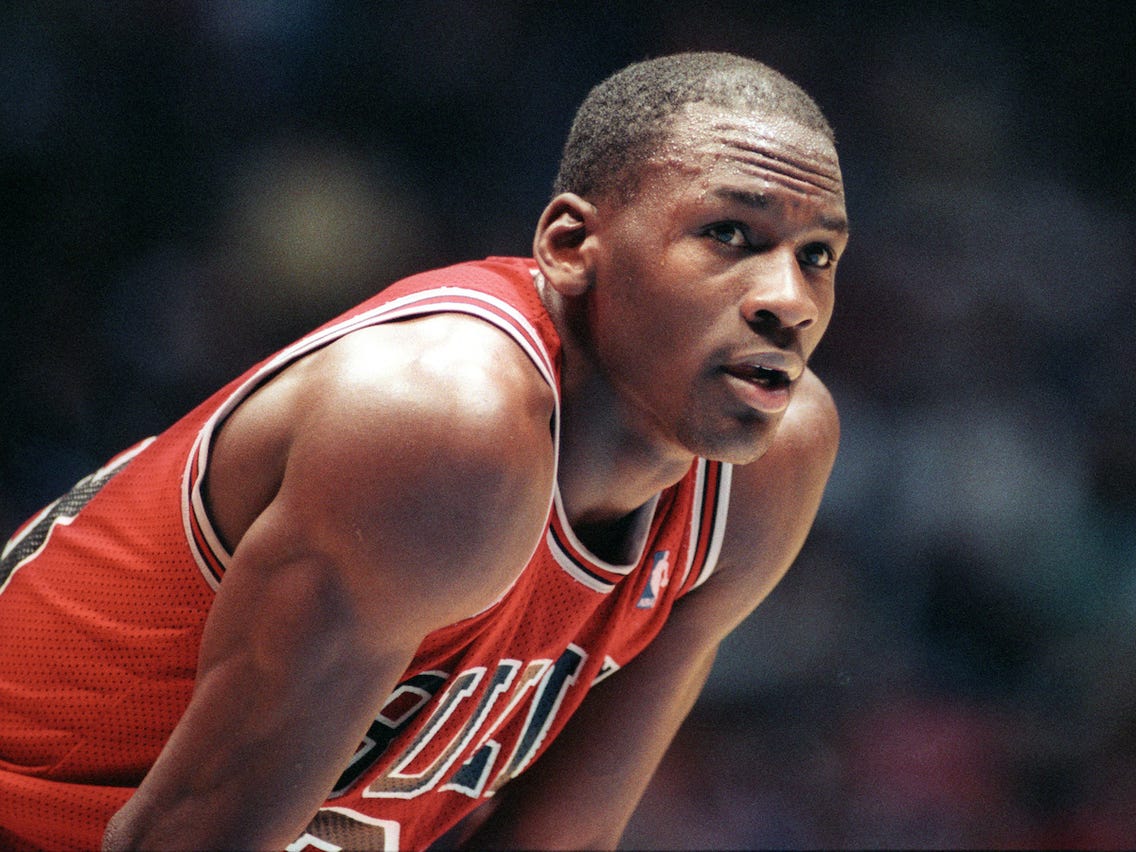 Did you know that Michael Jordan was told he didn't have the skillset for high school basketball?
That's right!
Mr. Jumpman himself didn't make the team during his formative years. This stark example of self-confidence in sports shows us the power of inner-faith.
Michael Jordan didn't allow this minor setback to define his life.
Instead, he kept persevering and perfecting his craft. He knew he had something special and he wasn't going to let that hinder him from being great.
Jordan might have felt belittled and dejected during his childhood. Nonetheless, that didn't hold him back from crossing over to where he wanted to be.
Again, just like Tubman, he showed up when it mattered most. He defied all the negative talk on his inability and instead chose to focus on what he was capable of doing.
Thanks to his self-belief he's one of, if not the most, famous basketball players in history.
"Because one believes in oneself, one doesn't try to convince others. Because one is content with oneself, one doesn't need others' approval. Because one accepts oneself, the whole world accepts him or her." ― Lao Tzu

What self-confidence tips can you glean from these examples? 
You are not a product of your environment!
You can achieve your goals if you believe in yourself!
Perseverance is key to building your confidence!
Being self-confident means accepting the person you are first.
You need to put a serious shift of hard work if you want to improve your self-esteem.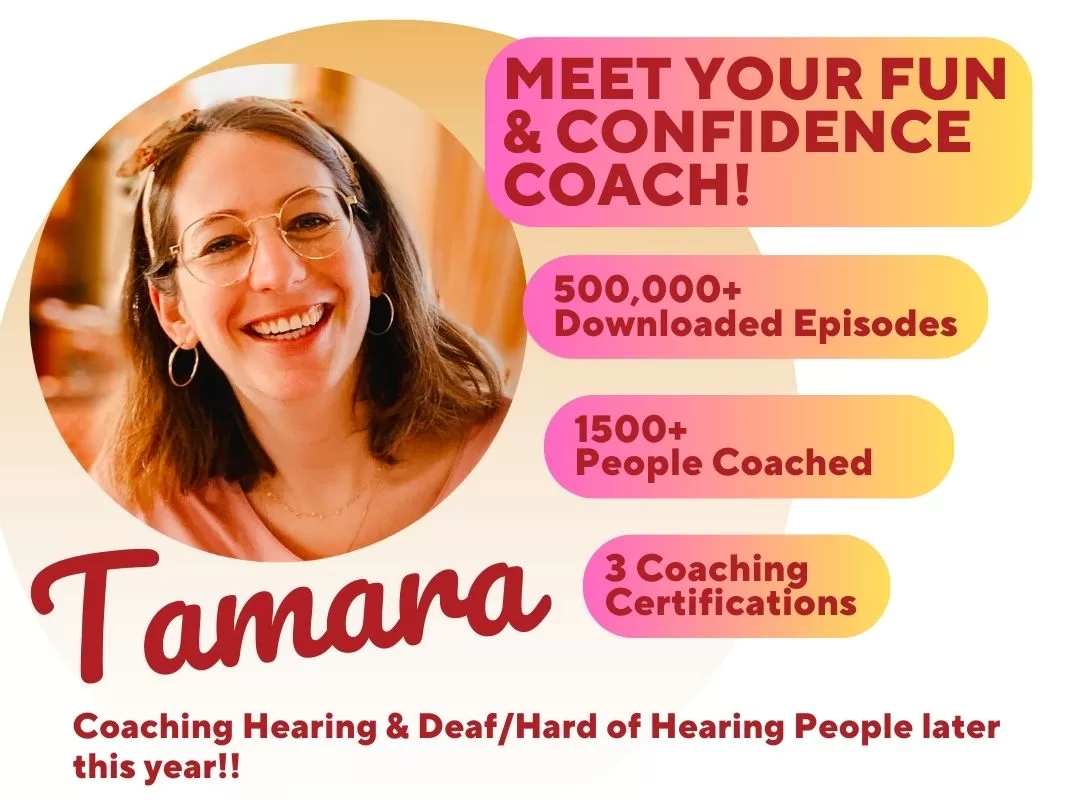 Stellar Examples of Confidence
3. The example of Dr. Seuss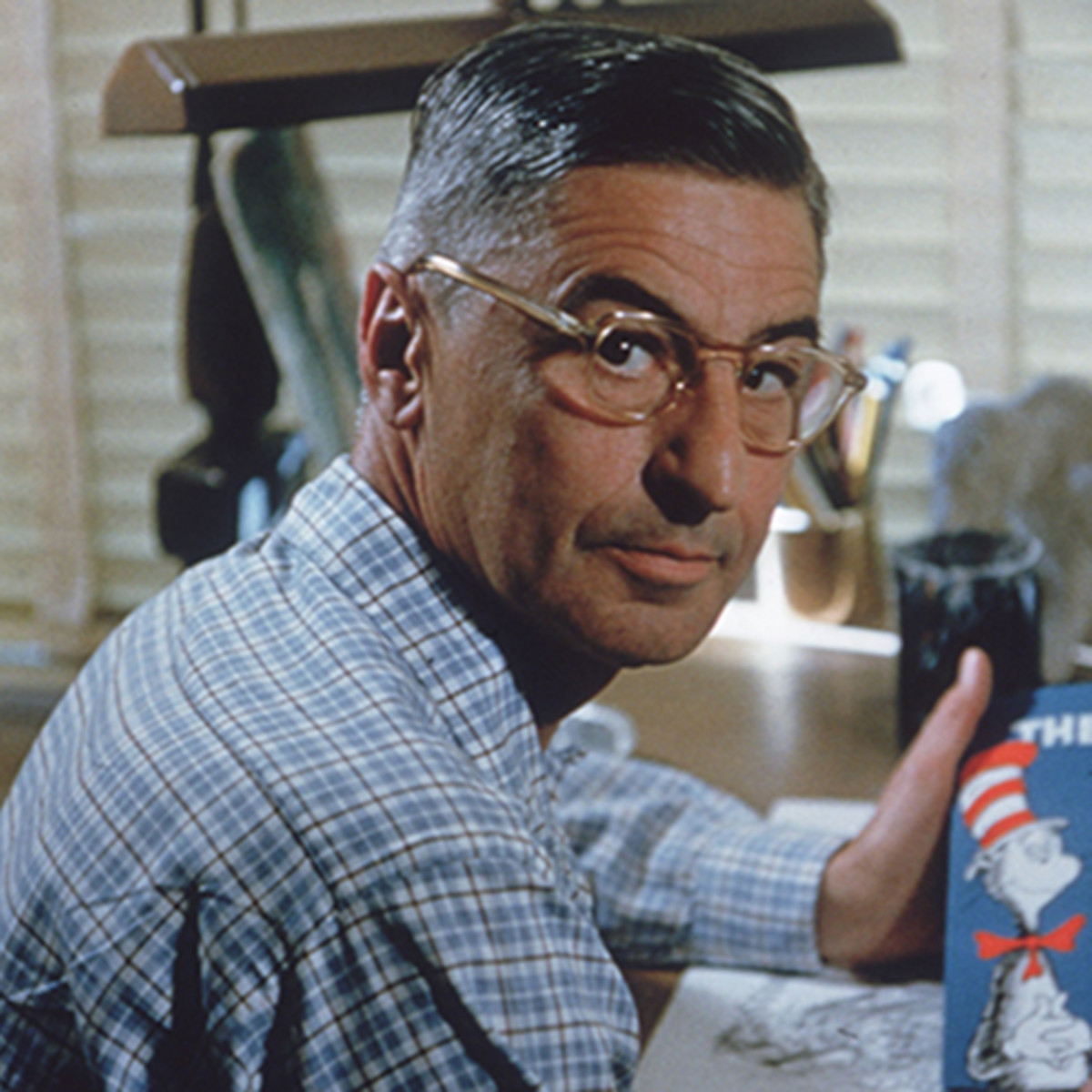 Did you know that Dr. Seuss was rejected by nearly 27 publishers early in his career?
That's right. One of the most noteworthy authors of children's literature was at his breaking point. Still, what makes his persevere and still work to get his book published? Confidence.
He believed in his creativity and what he had to share with the world. Because of his confidence, he illustrated the childhood for millions of kids all over the world.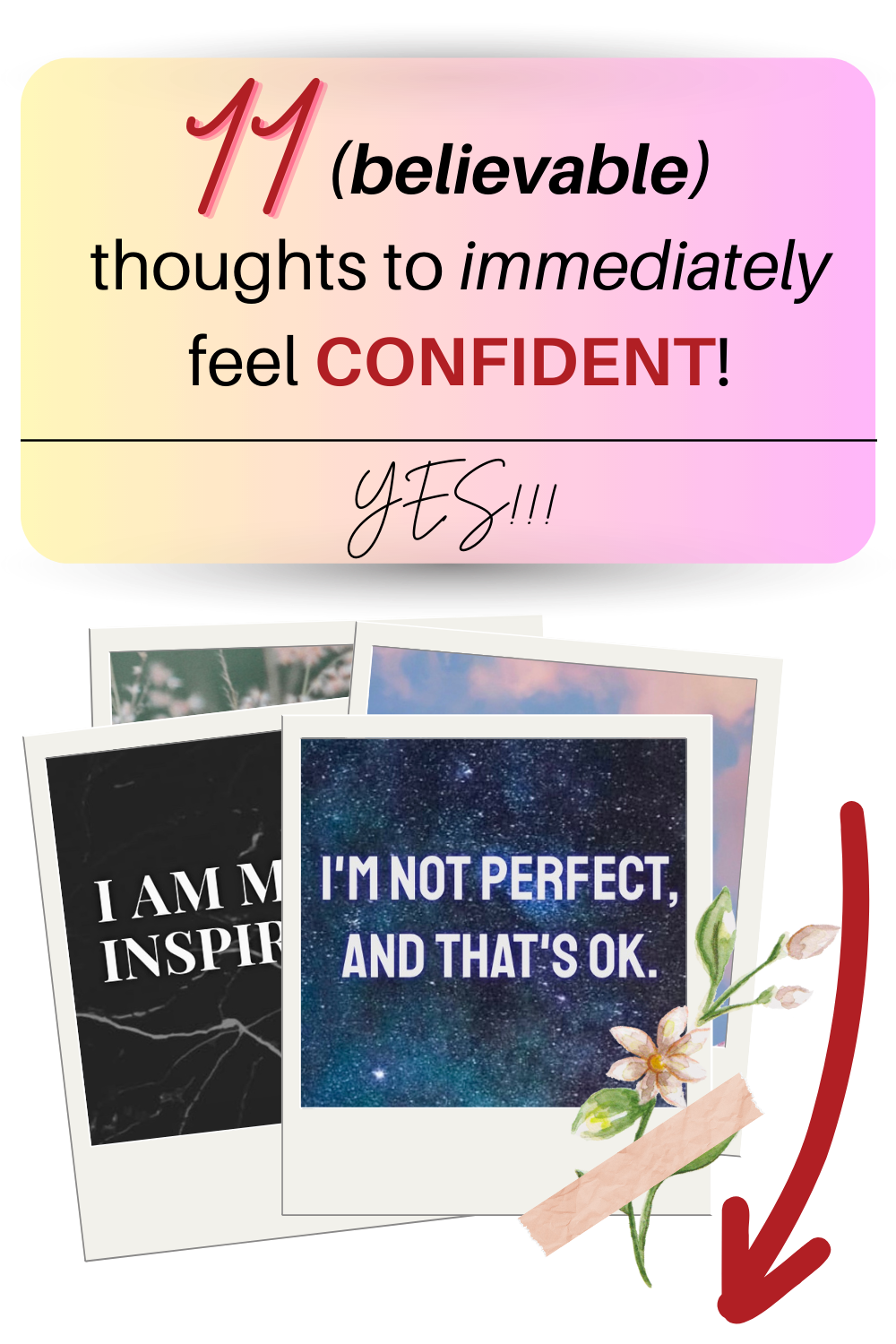 4. The example of Henry Ford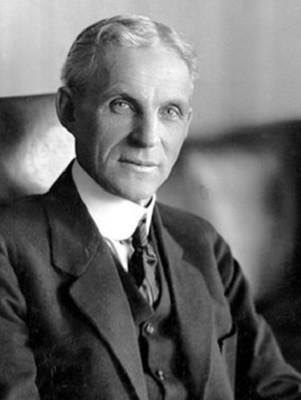 Henry Ford, the mastermind behind the Ford brand, was left destitute after his many business ventures failed.
Destined to be an entrepreneur, he continued on his journey and kept working towards developing his plan.
Despite his initial rejections, he kept fine-tuning his approach and developed one of the most successful companies in American history.
Again, persistence and hard work win. The basics of building self-confidence are in discovering what your inner self needs.
What's the takeaway from these examples?
Confidence is not an overnight characteristic. In fact, it takes years of trying and failing to actually understand your worth.
Did I mention years? Yes, you got it right. It could take you all your youthful years to just find yourself.
Why find yourself?
Because that is where the self-actualization and self- development begins. In other words, it is the foundation upon which a strong and confident personality is built.
How can you apply these examples to your self-confidence journey?
Continue building on your self-confidence.
Engage in confidence-building tests to strengthen your awareness!
Never take no for an answer!
By applying these examples into your daily life, you'll see how far you can grow! 🙂
CLICK to book your FREE consultation!
CLICK to book your one off coaching session!
The Underlying Importance of Self-Confidence
5. The example of Steve Jobs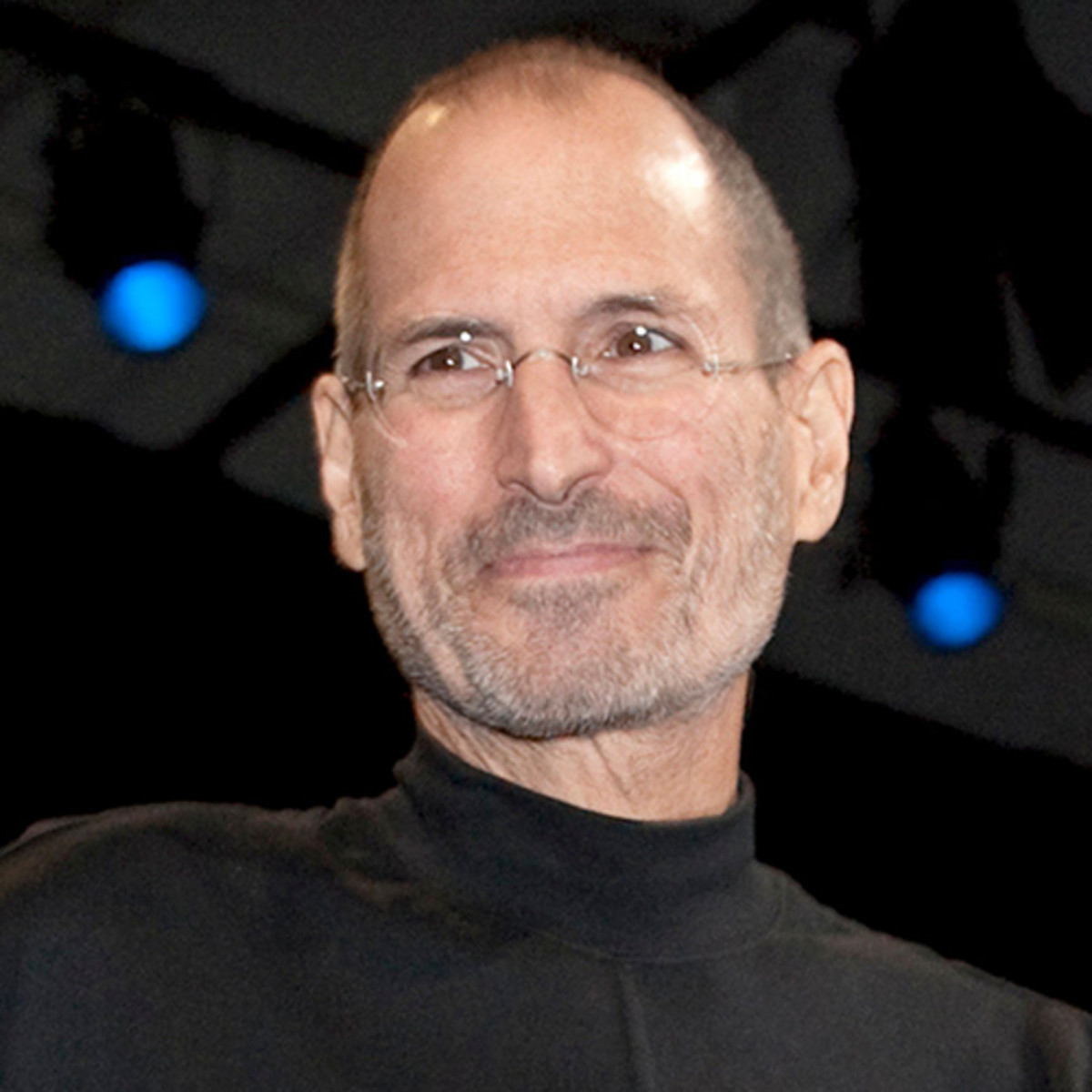 Steve Jobs was considered many things; a narcissist, a genius, and even a deadbeat father.
What a burden to carry on your back?
However, what many fail to speak about is his underlying confidence.
Jobs was fired from his own company. Instead of drowning in his sorrows, what did he do? He went on to found one of the most successful production studios since Disney; Pixar.
It takes an insurmountable amount of confidence to be able to pick yourself up and create something equally as successful and noteworthy as the company you were fired from.
We all know of the little frail girl who made lemonade out of lemons, don't we?
We too, in our own ways, we could use our low moments to climb higher the ladder.
CLICK to book your FREE consultation!
CLICK to book your one off coaching session!
6. The example of Van Gogh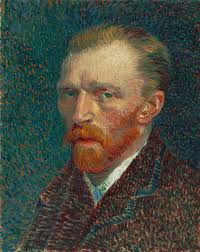 Van Gogh may not have been the most confident or mentally stable person while he was alive. However, he had a fire of self-confidence that moved him to keep painting despite constant rejection.
During his painting career, he only sold one painting. Can you believe it? One of the patriarchs of the Impressionist movement lived the true life of a starving and forgotten artist.
What could have pushed Vincent to continue painting despite the harsh criticism, mental woes, and lack of celebrity status?
It is Confidence.
He knew that if he kept trying, kept perfecting his craft, and didn't stop, he would become something one day.
Although he's posthumously revered, his noteworthy example is inspiring.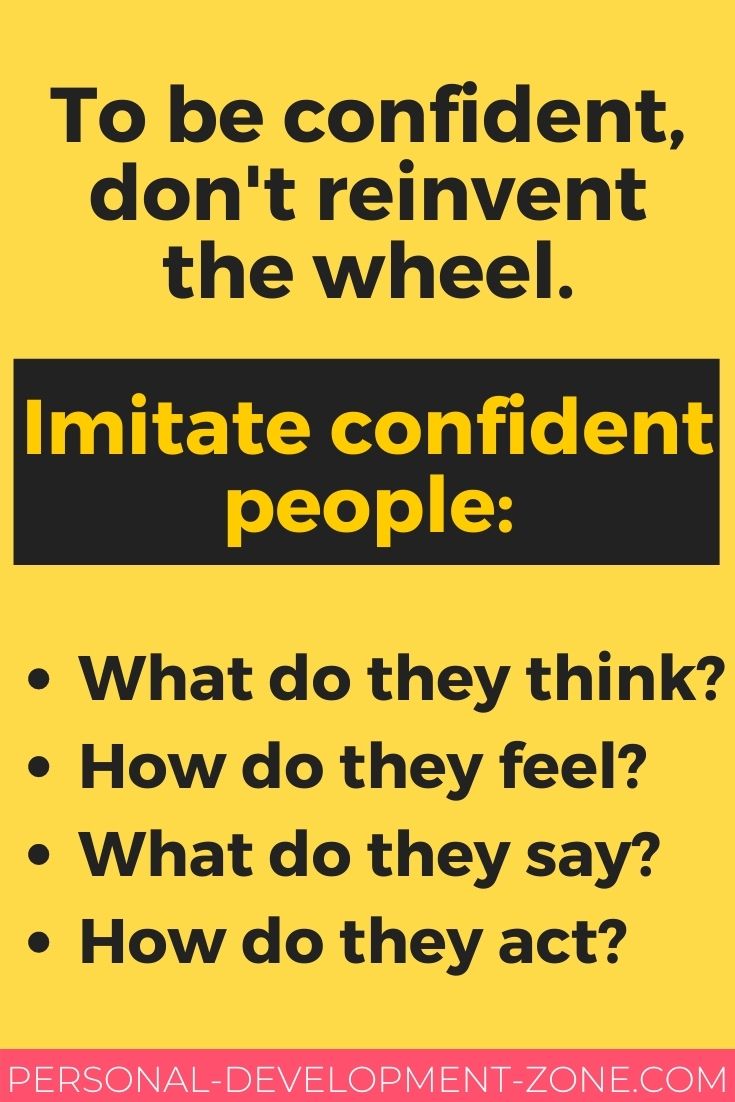 An Inspiring Example
7. The example of Abraham Lincoln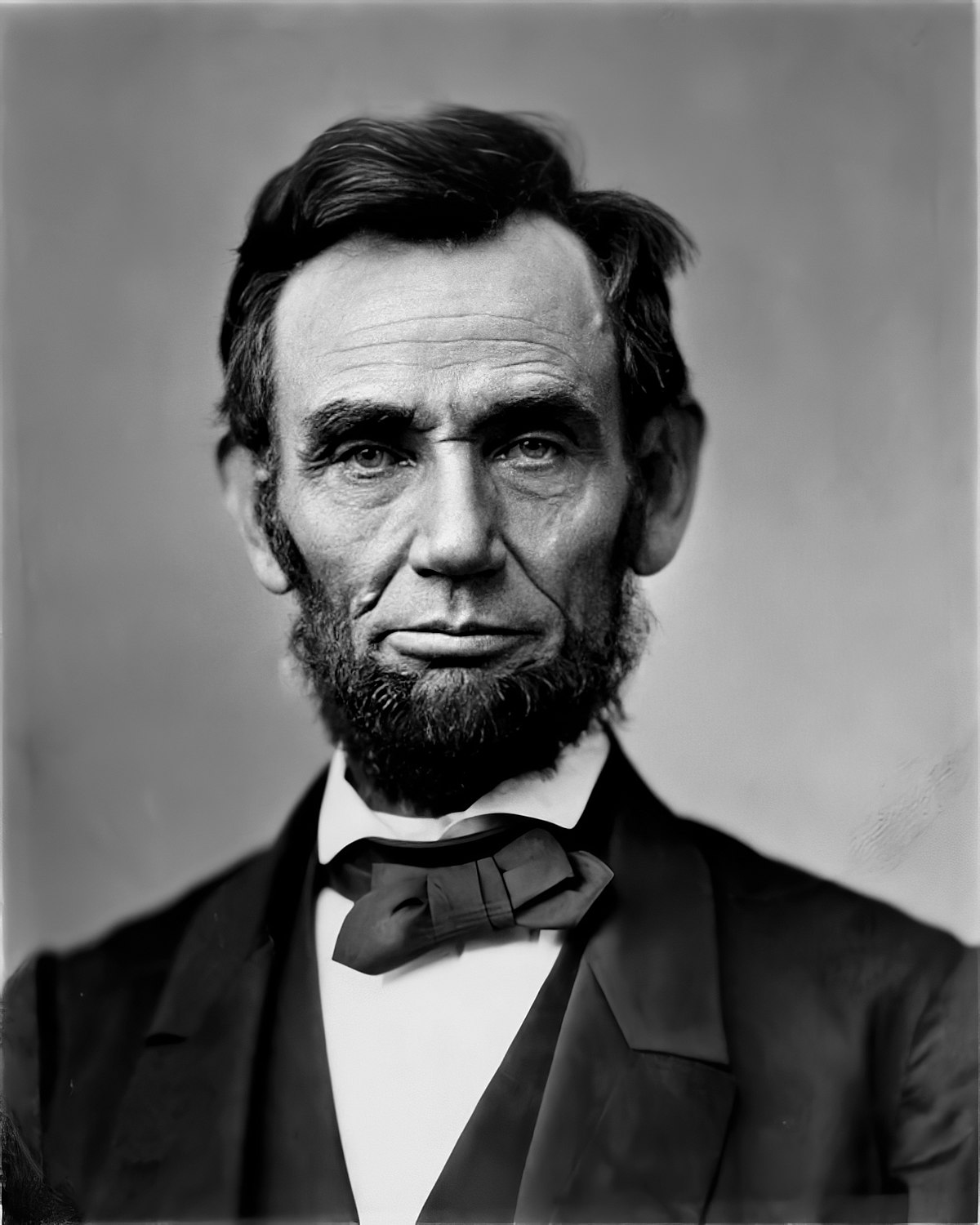 Lincoln, born in 1809 in a log cabin, got into child labor at the age of 7.
His family was forced out of their home, and as a result, he had to work in the farms to fend for his family.
Although his mother would teach him how to read and write, he was always exhausted and didn't learn much. Unfortunately for him, the mother died when he was barely 9 years old.
Now, think about this.
You are exposed to child labor at the tender age of 7. Two years later, your mother dies, leaving you with the burden of taking care of your siblings.
How many would muster the courage to rise from such a situation to face the world?
Maybe only Lincoln.
Despite not having gone to school and being orphaned at an early age, he still found a way out anyway. In a way, the stars still came out for him in his darkest moments.
Abraham Lincoln's story, maybe, should be the benchmark of self-determination.
Now, here is what makes the whole of his life not only interesting but also encouraging.
Lincoln first ran for the U.S. Senate seat at the age of 45 and lost.
He didn't give up. Two years later, he challenged for the Vice Presidential nomination but got a disappointing 100 votes.
Now, for me, I think I would have let go at this point. However, that is not what Lincoln did!
Two years later, he tried his luck again in the Senate race and lost.
Nonetheless, he kept his spirit high and kept fighting for what he wanted. He may have had his low moments, but that did not hold him back.
Lincoln was always against slavery and the idea of creating new Western states become slave states.
As a result, he created the Republic Party, one of the two most popular and biggest political parties in the U.S. and the world.
So in 1860, he decided to go for the presidential seat and guess what, he won!
During his term, he helped fight and eventually put to an end the slave trade and slavery.
From a child laborer to a president of the U.S., Lincoln is a true testament that we too can overcome our fears and inadequacies to be what we want in life.
No matter how many times you fail, always rise up, dust off yourself, and keep moving! 🙂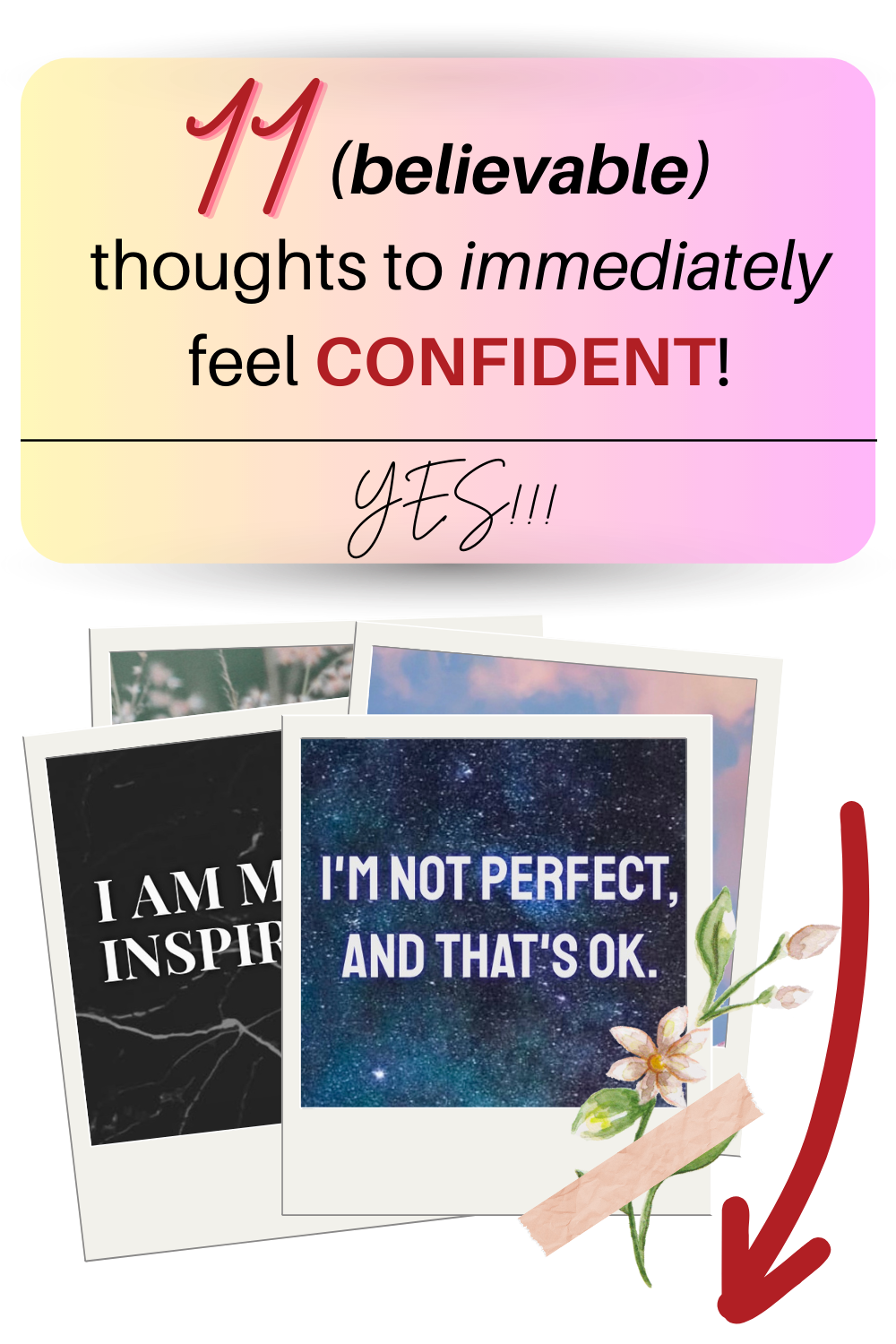 An

Example

of

Perseverance
8. The example of Eleanor Roosevelt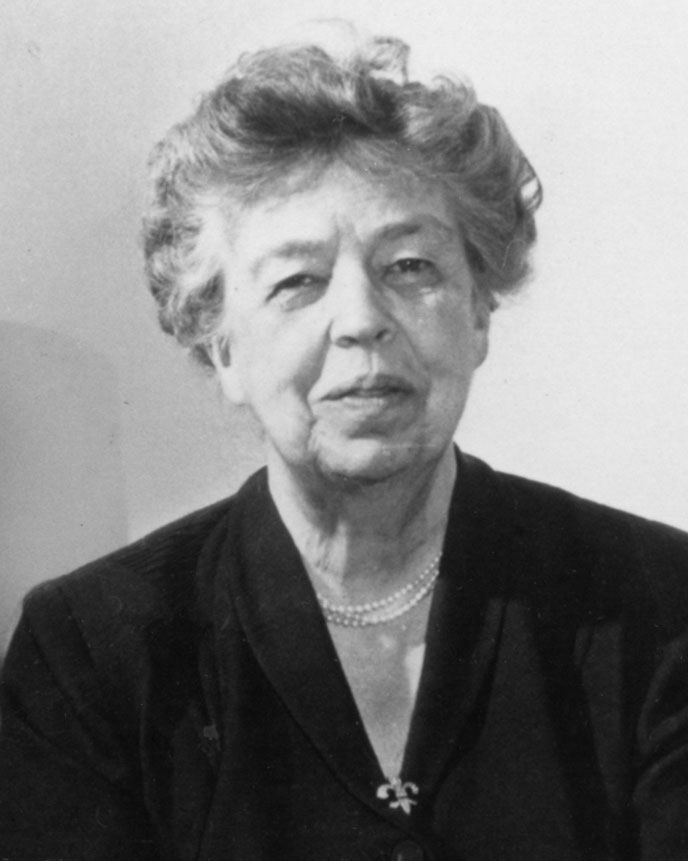 Eleanor married Franklin Roosevelt just at the age of 21.
Franklin was however struck by polio and his legs paralyzed.
Despite being paralyzed, Eleanor still urged her husband to stay in politics.
And it did pay off. Franklin was elected the U.S. president in 1932, while still in a wheelchair.
His wife Eleanor, however, held numerous press conferences, toured the country and appeared on the radio to speak about her husband's agenda.
She stood up for the rights of children and women and presented them at various conferences!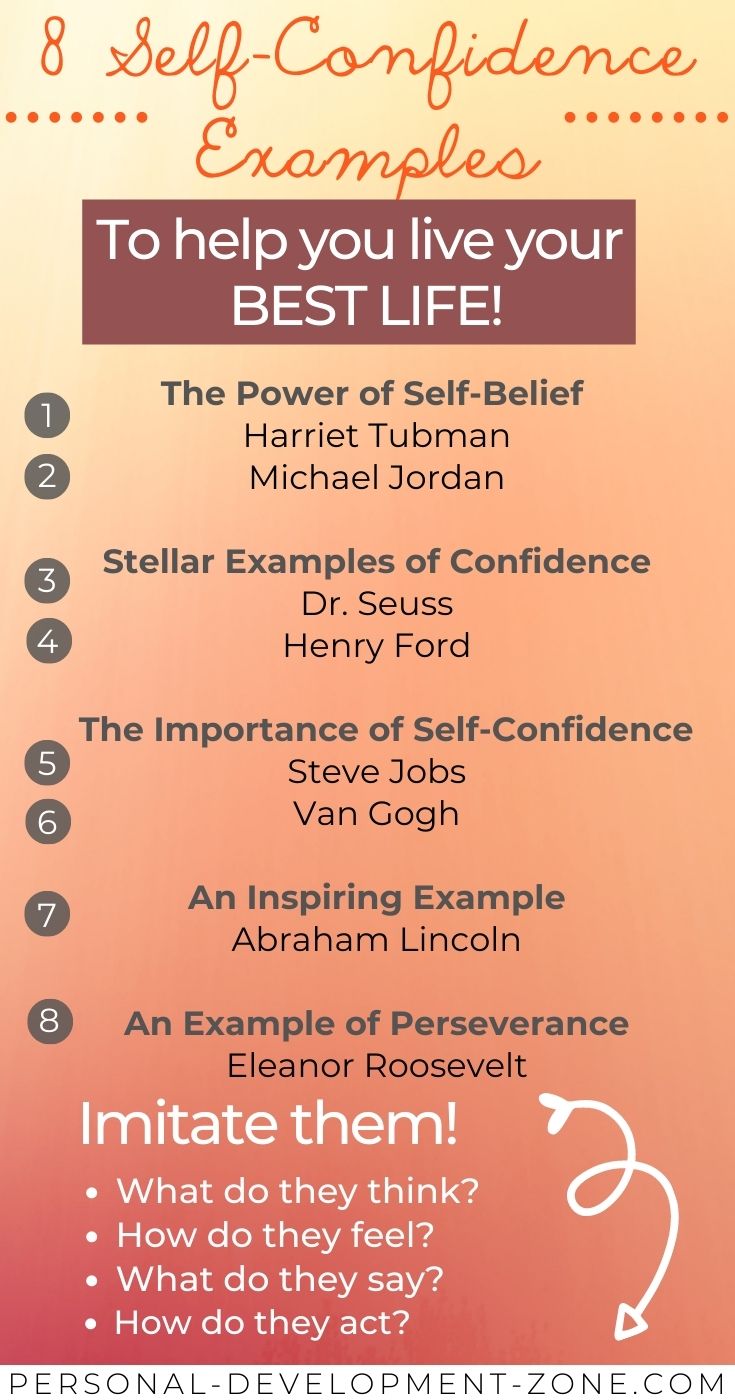 The Take-Aways of these examples! 
There are several examples of individuals throughout history who knew their self-worth and wasn't afraid to show it.
By analyzing these examples, we're able to take little tidbits from their testimony and apply them to our life.
One of the best ways to develop your inner self-confidence is to explore your wants and needs. It's helpful to make a list that outlines the answers to specific questions such as:
What do I stand for?
What do I like/dislike?
What are my goals?
What will I accept?
What won't I expect?
How do I want my life to be?
Once you make it clear what you want, you'll make decisions that align with that. Since you know what you stand for, you won't let the opinions of others, either positive or negative, impact your choices.
Next is the fun part. Outline your strengths. Many in the psych world refer to this as stating affirmations.
Self-affirmations are powerful because they reshape how you think about yourself.
Try repeating five things daily that you like or appreciate about yourself. An example of self-affirmations can look like this:
I love my patience
I am extremely creative
I accept individuals of all varieties
I am growing at my own pace
I seek no one's approval to do what I feel is right
I love my confidence in handling tough situations
The key here is to focus on the deeper things that encompass your personality. Sure, physical traits are welcome.
However, don't let those be the focal point. Instead, think about what makes you special and repeat those items daily.
There are countless examples of individuals who have displayed self-confidence. In order to truly benefit from what you read is to apply those principles to your daily life.
Whether it's showing persistence like Van Gogh or understanding your worth like Steve Jobs, you have the power to emulate what you find to be attractive.
CLICK to book your FREE consultation!
CLICK to book your one off coaching session!
1 AMAZING Tool to build your confidence! 
Get inspired by your self-confident heroes!
This is one tip that my life coaching clients really like!  
It's about looking up to people that are self-confident in your opinion and that can inspire you. 
Step #1: Think of 2-3 persons that you think are VERY self-confident  
It can be someone you know or even someone famous!
Step #2: Imagine a specific situation in which you would like to be more self-confident in
Going to talk to someone you don't know, sharing your opinion during a meeting, acing an interview/presentation, no matter what is the situation, think of THE situation that you would love to be more self-confident.  
Step #3: Imagine being in their skin
If you would be them:
What would you think to feel self-confident? What would be your thoughts? Maybe "I can do this, I have nothing to lose to try!" 
How would you feel? Bold? Capable? Empowered? Optimistic? Secure? Trusting? 
What would you say? 
How would you act? 
I love saying that the brain has no time.
It doesn't know if you're in a moment or if you're just imagining it!
This is why we may feel very emotional just by listening to a song!  
Step #4: Act as they would
You don't need to already be super self-confident to feel this way! 
Act exactly how you think your self-confident hero would act. 
You don't need to do it perfectly right away! Start, try, learn, improve and do it again. Self-confidence is a skill that ANYONE can develop. 
Your self-confident heroes weren't born with this skill! 
They don't always succeed at everything they do, but they are not making it mean that they are a failure or that something went wrong. They continue taking action until they get what they want!
They are absolutely not better than you! 
They just believe in themselves and YOU SHOULD TOO! 🙂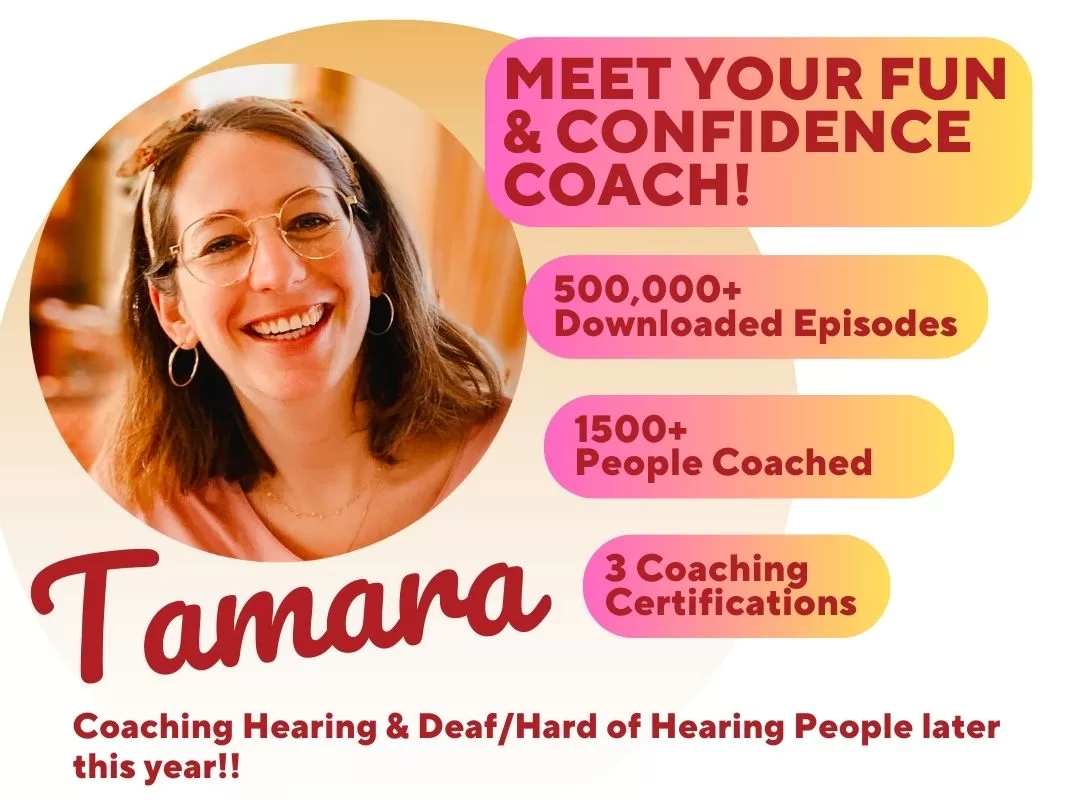 What are some examples self-confidence?
Sometimes, all it takes is an example for you to use it to your advantage. Below are examples of great self- confidence:
Refuse to be anything but yourself
Be ready to voice your opinion, and be bashed because of it.
Muster the courage to share some of your well-kept secrets and deep truths
Be confident in your own skin'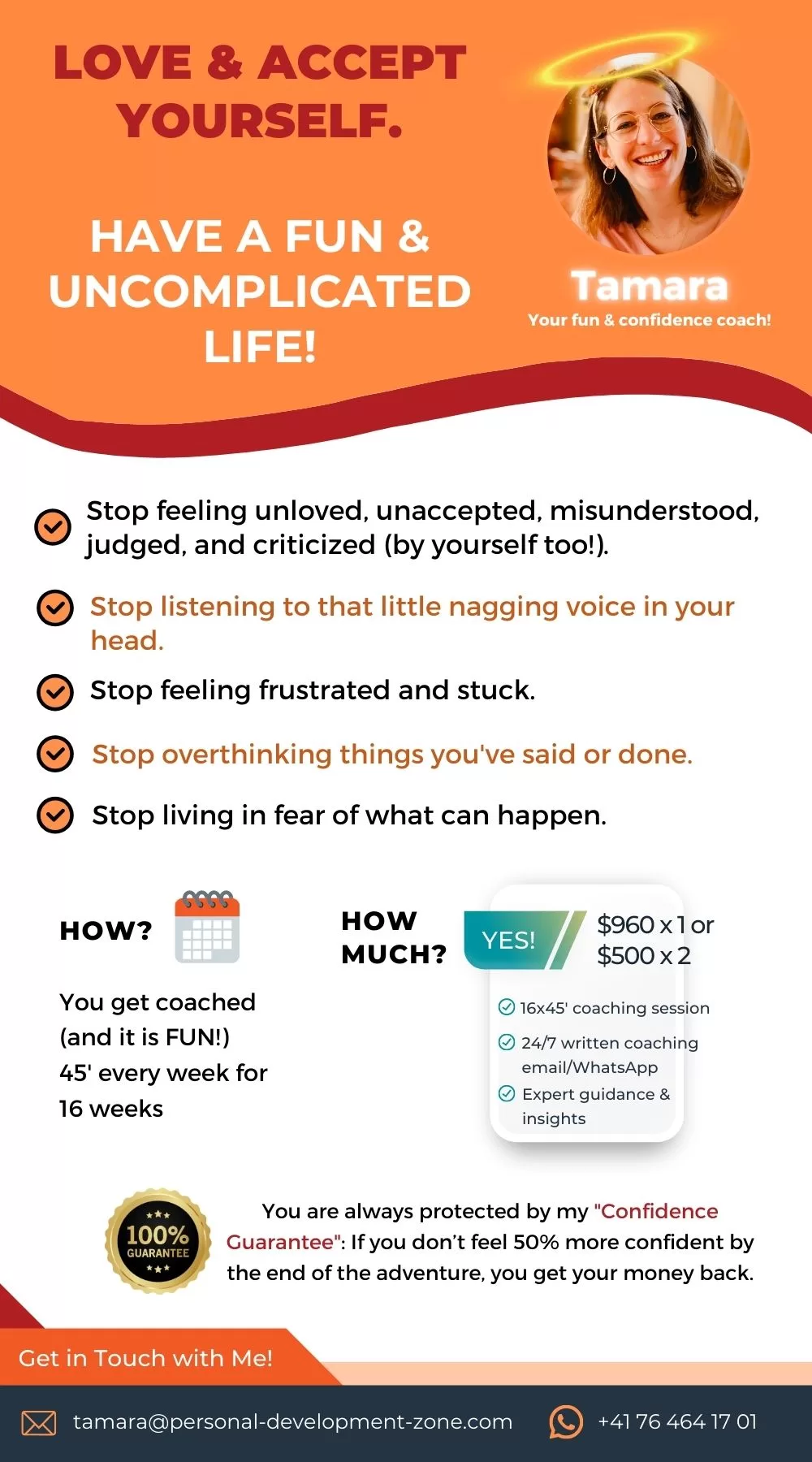 What do you mean by self-confidence?
Let me remind you: Confidence is a strong feeling of trust in someone or something. Being self-confident means having confidence in yourself.
Self-confident people don't cast aspersions on their abilities. But remember, you can be self-confident without necessarily being annoying and arrogant!
How do you develop self-confidence?
Building self-confidence majorly depends on how better you are able to handle your fears and weaknesses.
However, there are some proven methods you can use to increase the level of confidence.
Take a look:
Visualize yourself as much as you want to
Affirm yourself in everything you do
Take time to question your inner critique
Help someone else
Take care of yourself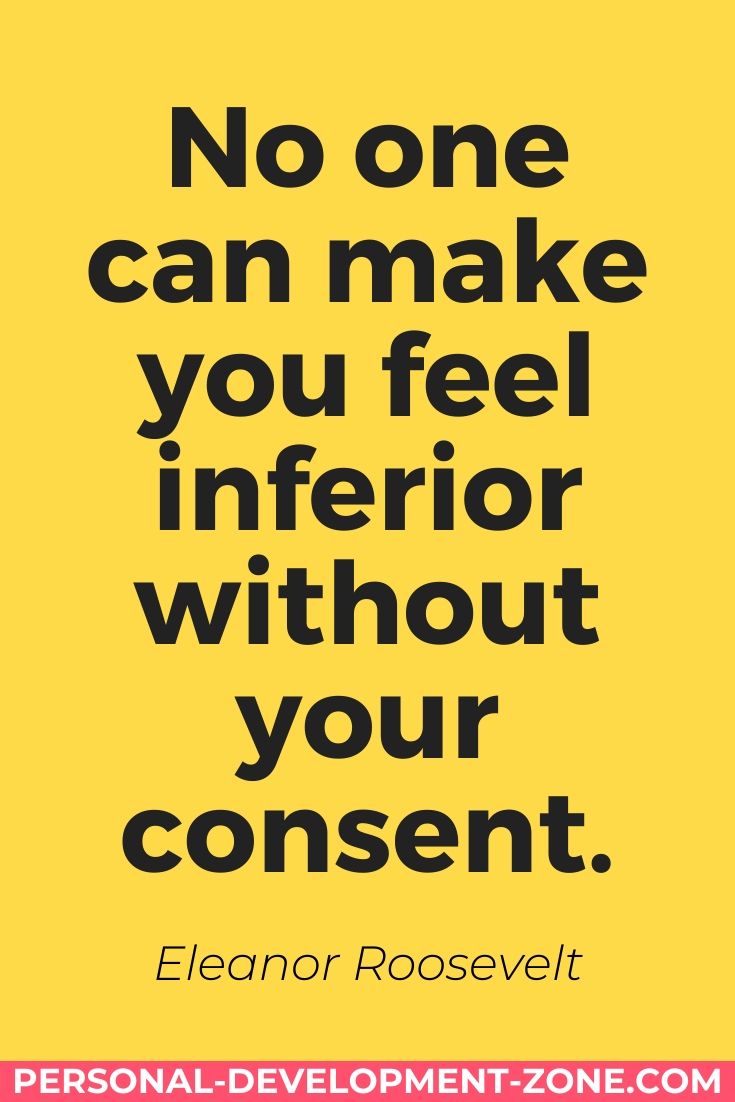 22 kick-ass tactics to be bold and strong!
What does it mean to be bold?
It means that you are ready to take on the world despite your fear!
The following list of tactics has been written to greatly help cut through the noise.
You can use this list as a linear path or beat the rush and treat it like a buffet.
If you're a problem-solver, with the guts to grapple, the line forms at the cashier's window.
You can name your price.
Let the bold begin!
Learn to negotiate!
Fix your posture!
Late nights have to go. Here's why.
Fiction is functional too.
3 ways to learn to fight or defend yourself.
Build a positive "Self-image".
Learn the power of "No".
Why being "bold" is knowing your purpose.
You are not your weight.
All things require balance.
A step-by-step way to prioritize your "to do" lists and be decisive.
How to turn anxiety into an asset.
Make sure to allocate some 'alone time.'
Why getting out of the house is so important.
How and why to stop blaming others (for any reason).
Good habits create results.
Self-love builds confidence.
Take good care of your body.
Stop complaining!
Move away from your comfort zone.
Listen to your inner critics.
Improve your knowledge and skills.
CLICK to book your FREE consultation!
CLICK to book your one off coaching session!
1. Learn to negotiate! 
Negotiation is a skill that many don't possess… It's a skill to develop! 🙂
It may be a skill that could make the difference between you getting the promotion you deserve or fading into the back of the yearly office photo.
According to many psychologists today, women are typically more agreeable and tend to never oversell their abilities the way men do.
So instead of wondering why you didn't get the promotion, ask for it! But be sure to have a backup plan.
Ensure that you know your worth on the market and that you have job prospects well prepared.
This will give you a sense of confidence before the meeting you would normally dread. Hold your head up and be bold!
Check out Alex Kouts | The Secrets You Don't Know About Negotiation Part One
2. Fix your posture!
Fixing your posture is going to help you go forth and be bold to take on the world. You know you have it in you but maybe your posture doesn't reflect that.
When you work in an office, it's likely that you sit in front of a computer with your back in an internally rotated position. This means your shoulders are in front of you and your back is rounded.
Believe it or not, this releases a neurochemical called "Octopamine", and it actually makes you depressed and unconfident.
This rounded posture is also looked at in the same way by your colleagues and superiors. Therefore you maybe not treated how you deserve. To be bold, work on standing up with your shoulders back and release "Serotonin" instead.
3. Late nights have to go, here's why.
No more late nights. Or at least save them for the occasional weekend or special occasion.
If you go to bed and wake up at the same time, not only will you sleep better, you will perform better.
Your body has what's called a "Circadian Rhythm". This is a natural sleep pattern that generally works with the rising and falling of the sun (earth rotation).
You will be more productive and have the energy you need to get through client calls, meetings or gym sessions. It's not as important to get a lot of sleep as it is to have higher quality sleep.
Also, consider the quality of your mattress!
This is the game-changer that will be insurance to prevent weeknight cocktail hours. All you will want to do is get back to your bed.
CLICK to book your FREE consultation!
CLICK to book your one off coaching session!
4. Fiction is functional too
While you're in bed, read some fiction. You might be binging the newest self-improvement book, which is great so keep doing that.
Consider for a moment that fiction might give you more than you thought. So for a few spare moments, read a good fiction book.
Classics are a safe bet but there are other books. The quality is subjective since it's a work of art but understand that fiction books force you to think about "Meaning" in ways that aren't as literal.
As a bonus, you get to ethically escape your busy brain after you cram your head with "Ikigai" by Hector Garcia or "Everything is figureoutable" by Marie Forleo.
And still get many benefits, like increasing your attention span, memory, and vocabulary. It's a productive way to unplug!
5. Learn to fight or defend yourself
Many women go through their lives feeling insecure in ways that most men typically do not. Women deserve an equalizer when good people aren't around.
A skilled martial artist against an unskilled opponent is like taking candy from a baby. You could take a self-defense class or sign up for a martial art that appeals to you.
Opting for a martial art is the best strategy but a self-defense class is better than nothing.
This type of physicality might not be your thing.
However, you're supposed to be bold, remember?
Popular martial arts are Muay Thai, Judo, and Brazilian jiu-jitsu. All of them embolden you to at least be the office badass which commands respect.
Hopefully, you never have to use it because this is meant to be a confidence booster. Having well-practiced skills dispel worries about physical altercation or attacks, making you more confident and bold!
6. Positive self-image starts here…
Start a journal and lower your expectations. In this day and age, we have compounding issues and tasks that seem to never end therefore cause anxiety, A LOT of anxiety.
When we get overwhelmed, we can crash and risk getting depressed too. Not too long after that, you can get stuck between the two.
A useful tool that you should start now, would be to write in a journal every evening before bed taking no longer than 20 minutes. This isn't new knowledge but its importance is becoming more prevalent every day in our hustle and bustle.
Write what you're grateful for, what you're looking forward to, your task list, and ask yourself how to solve problems.
CLICK to book your FREE consultation!
CLICK to book your one off coaching session!
7.   Learn the power of "No"
You must never let yourself become a victim. You are the one who defines yourself, nobody else!
If you want to define yourself, you must learn to say 'NO,' because it shows that you have control of your life.
You'll receive a lot of things that make you say 'NO,' so you must build up the confidence to say it!
I have been a victim, we all would have, but trust me, the moment you learn to reject or to say 'NO,' you'll feel better.
You'll sense the respect that you earn from others. It is essential to be confident to ask what you need and to reject what you don't need!
When you collect yourself and say that you define yourself, it gives the best level of self-confidence than anything else! 🙂
Remember that when you're saying "no" it's because you're saying "yes" to something else!
8. Why being bold is knowing your purpose.
Finding your life's task.
This may present an uncomfortable question that's akin to "what is the meaning of life?".
The thought alone can be overwhelming and then attach that to your purpose and your meaning and it can look dark!
However, there are many smart people who came before us and made some solid guidelines for figuring this out.
Firstly, it would be wise to think of your future and where you want to end up, 5, 10, 20 years from now and how your habits will affect those visions of your future.
Secondly, you might want to think about what you actually want to do. One way to find this out is to return to the origin.
What made time pass in an instant when you were younger? How can you integrate this into your life?
For some it's, "tennis" for others it's "drawing". The goal isn't avoiding work, but pursuing what is meaningful! 🙂
9. You are not your weight.
Stop measuring yourself by your weight. If you think your weight determines your level of fitness, it doesn't.
It doesn't even say how fat or not fat you are, It's simply your weight. This is also a sure-fire way to stop any progress, no matter your goal.
If you have excess fat and want it gone, the metric isn't your weight. It's necessary to talk and listen about health, both physical and mental.
You must love yourself enough to remain disciplined but if you truly love yourself, you allow for rewards too.
Excess fat or lack of strength (not muscle mass) are your health metrics because, with too much fat, you risk a whole host of issues ranging from Sciatic pain, joint inflammation, digestion issues, and cardio-respiratory disease.
That's a grim list that goes on.
Lose the scale, train for something meaningful, compare yourself to your yesterday!
10. All things require balance.
Your life requires balance with work but your work must be balanced all on its own…
How can this be so if I'm supposed to be working my tail off?
It's a matter of having your allotted uninterrupted work time being maximally effective. You might think that it only has to do with taking that new hot yoga class, but it also means making the most of your work time.
Try removing all possible distractions and write a short plan (with deadlines) of how you're going to achieve your goals for the day.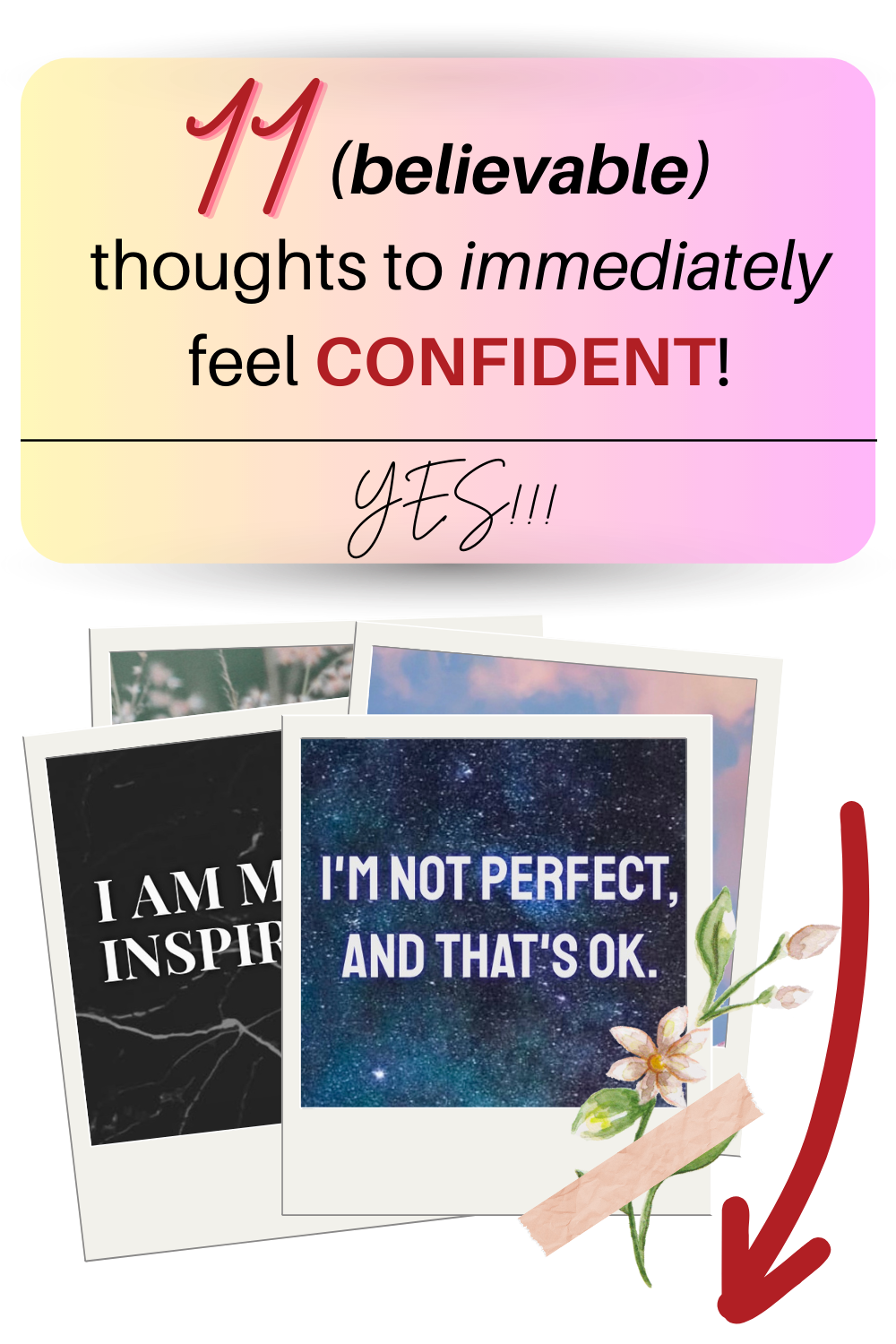 11. A step-by-step way to prioritize your "To Do" lists and be decisive!
The latter part takes some practice but the former, is as simple as prioritizing in this order;
Urgent/important, (Marketing campaign presentation is due tomorrow)
Not urgent/important, (doing your laundry)
Urgent/not important (hailing a taxi)
Not urgent/not important. (painting the baseboards)
This is a method that's been made famous by Steven Covey in his book "7 Habits of highly effective people".
This is a fast way to make decisions that will lead you to the next part, being decisive.
This is how it looks like in a more visual way: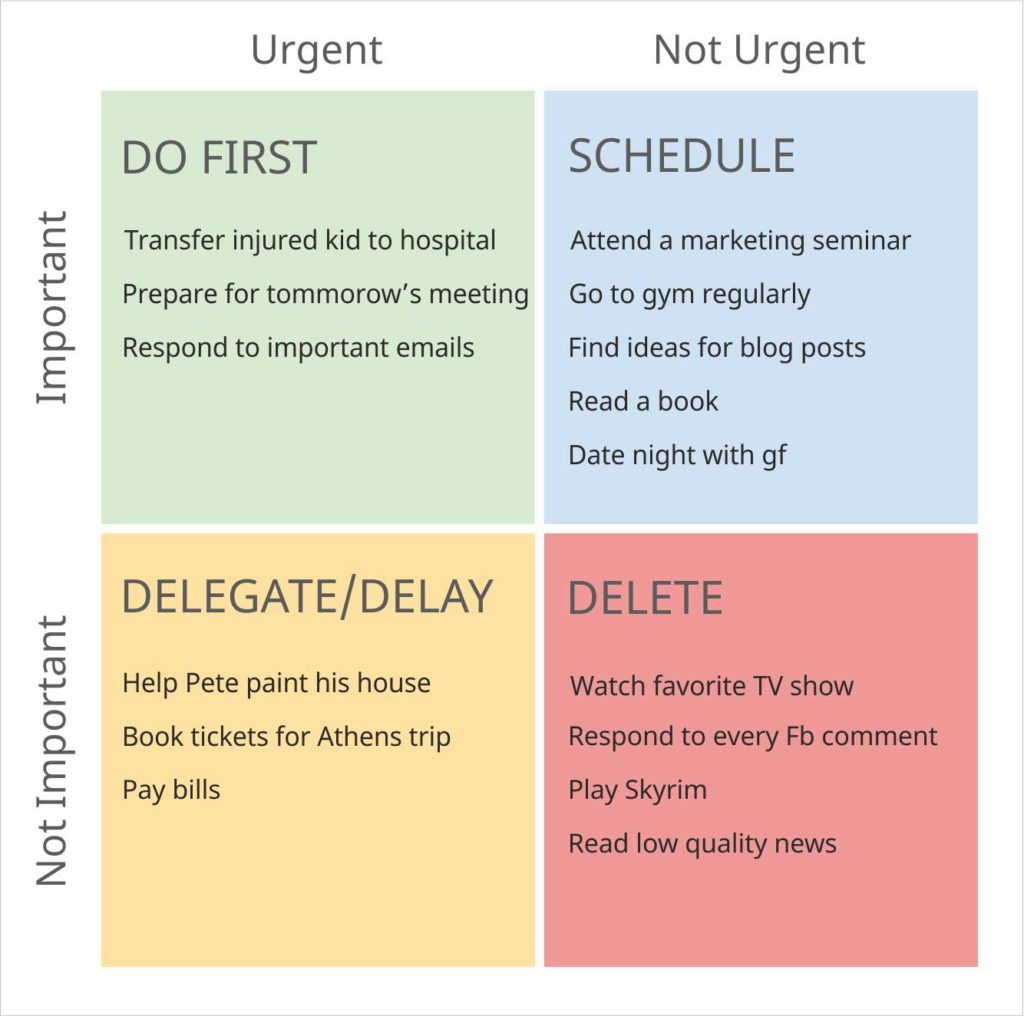 12. How to turn anxiety into an asset
The easiest way to tackle anxiety is to look right at it. It isn't as big as you think while you might be hiding under the sheets.
Anxiety to you might mean many things but if you change your mindset, to one of growth (learning) instead of "Fixed" you might see that anxiety is actually just a diagnostic tool, nothing more.
Assume that if you are anxious, not only you are fearful of the future because you don't know what it will be (although you might think you know).
Learn how to understand and deal better with anxiety with the expert Vikki! 
13. Make sure to allocate some 'alone time.'
It's no secret that everyone needs their 'alone time,' because it is when they discover themselves.
If you ask me, I make sure to spend some time with myself, and I value it! 🙂
Even though you might make an excuse saying that you don't have time, it is not valid.
If you want to find who you are and what you are skilled at, you must ensure to spend some alone time. Now, don't assume spending time browsing social media accounts or getting your piled up work done can be counted as 'alone time,' because they are not!
If you want to have some quality alone time, you must focus on things like meditation, journal writing, or spending some time alone to realize your needs and wants.
Trust me, and you could unveil a lot of great things about yourself when you follow this.
Make sure to spend time understanding what your body, mind, and heart say.
For example, your body says to take some time off work, and then, you must do it and give some time for your body to relax. Whatever your mind, heart, or body say, you must not feel bad about it.
Instead, you must respect it. Well, being self confident is important when it comes to allocating some time for yourself.
If you do this regularly, you will witness the positive changes! 🙂
14. Why getting out of the house is so important
Get out of your house or apartment as much as possible.
In Europe, many people have small houses or apartments because they typically don't stay in them. Europeans are well known for having great social lives and report being fulfilled.
They don't spend much time at home after work, even if they have a family depending on them. If you have children and they have extracurricular activities, so should you.
It's no secret that just getting fresh air is good for you, so get as much as possible even if you live in a city.
CLICK to book your FREE consultation!
CLICK to book your one off coaching session!
15. How and why to stop blaming others (for any reason)
Stop playing social blame-game. It's not boomers, millennials or any hated group online. No matter the issue, everyone is responsible.
If you feel like someone isn't taking responsibility, it isn't going to help you to blame them and it certainly won't convince them to join the cause.
Blaming others is an insidious way for you to corrupt your own psyche because you likely feel a strong sense of injustice. You're probably right to feel that way too, but that's how it's insidious blaming others is.
It builds self-righteousness and resentment. The world needs love, sweet love so that we can see what we need to preserve. The people you are blaming are also the people you need, not whom you need to dispense with.
16. Good habits create results
If you don't have them yet and you don't build them, the dreams on the other end of good habits could just stay dreams forever.
For example, if you were teaching or coaching someone, you would want to be an effective example to them. You would strive to be a leader. This idea works through-out your life, from teaching your children, your friends and family, and even yourself.
A good habit today pays tenfold tomorrow!
17. Self-love builds confidence
If you truly want to succeed and see your ambitions through, it's important to understand why you need to have love for yourself and what that means.
Loving yourself doesn't necessarily mean you justify indulgences but rather you temper your self-discipline with your self-reward system.  Be sure to always treat yourself fairly like a judicious parent.
18. Take good care of your body
If you don't offer enough importance to your body, it will not make you feel good about yourself.
If you don't feel good about yourself, building self-confidence will become a challenge.
So, you must take good care of your body. Most of us don't offer the required importance to our bodies when we become busy or when we have a hectic schedule.
But, it is not going to help if you want to enhance self-confidence.
You must begin to treat your body from today. Of course, if you're a teenager, your parents might be taking good care of you. Your friends might be taking good care of you.
But, taking good care of your body on your own is entirely different and vital. You can follow a few things like avoiding junk foods, exercising, personal hygiene, and being happy!
These things will help you take good care of your body.
For example, if you can't allocate time for meditation, you can focus on walking every morning. Or you can consider hygiene activities such as cold shower, trimming nails, and learning something new.
Well, neglecting your body is the last thing you should do. Even when you are overwhelmed, you must not ignore your health. You must know that caring about your body is essential to stay confident.
I spend enough time in things like taking vitamins, drinking water and moisturizing my skin every night. If you are healthy, it will help you in being self confident individual!
CLICK to book your FREE consultation!
CLICK to book your one off coaching session!
19. Stop complaining
One of the must-do things that you must do is to stop complaining.
Although social media has a lot of pro factors, one of the con factors that influence everyone is comparing.
People tend to compare their lives with the ones on social media even though some of the posts on social media might not be true.
For example, you might compare your lifestyle and income with your Facebook friend's income because he/she is posting such posts. But, did you really check whether the posts are accurate?
Maybe you haven't, but even if you have, you must never compare your life to another person's life. The comparison will never be healthy. Most people who compare themselves with others will experience envy. When people envy, they tend to feel bad about themselves. This will lead to low self-confidence.
When you think about others, the level of confidence about yourself will reduce day by day.
So, start avoiding comparison from today. Stop complaining because you are competent and skilled. Everyone has their own problems, so don't draw lines!
20. Move away from your comfort zone
Moving away from your comfort zone is the greatest confidence.
You must live through the things that you are afraid of. Once you do this, you will become confident and ready to do the things that you never thought you would.
But remember, when you are moving out of your comfort zone you must not do it at once. It is important to keep your steps small and collected.
Try to make small changes every day because it is not easy to come out of the comfort zone.
Before you move out of your comfort zone, you must check the waters and decide. I work on moving outside of my comfort zone every day. I remind myself that I'm doing it for my own good.
When you take huge steps, you will not be able to go a long way, hence, try to change one thing for the moment. Over time, you will accept that you are not actually uncomfortable about certain things.
Instead, you have been setting your mental barriers. So, it is high time to overcome those barriers and to feel confident about yourself.
When you move out of the comfort zone, eventually, you will gain self-confidence.
I LOVE this image that shows how moving from your comfort zone can really help you!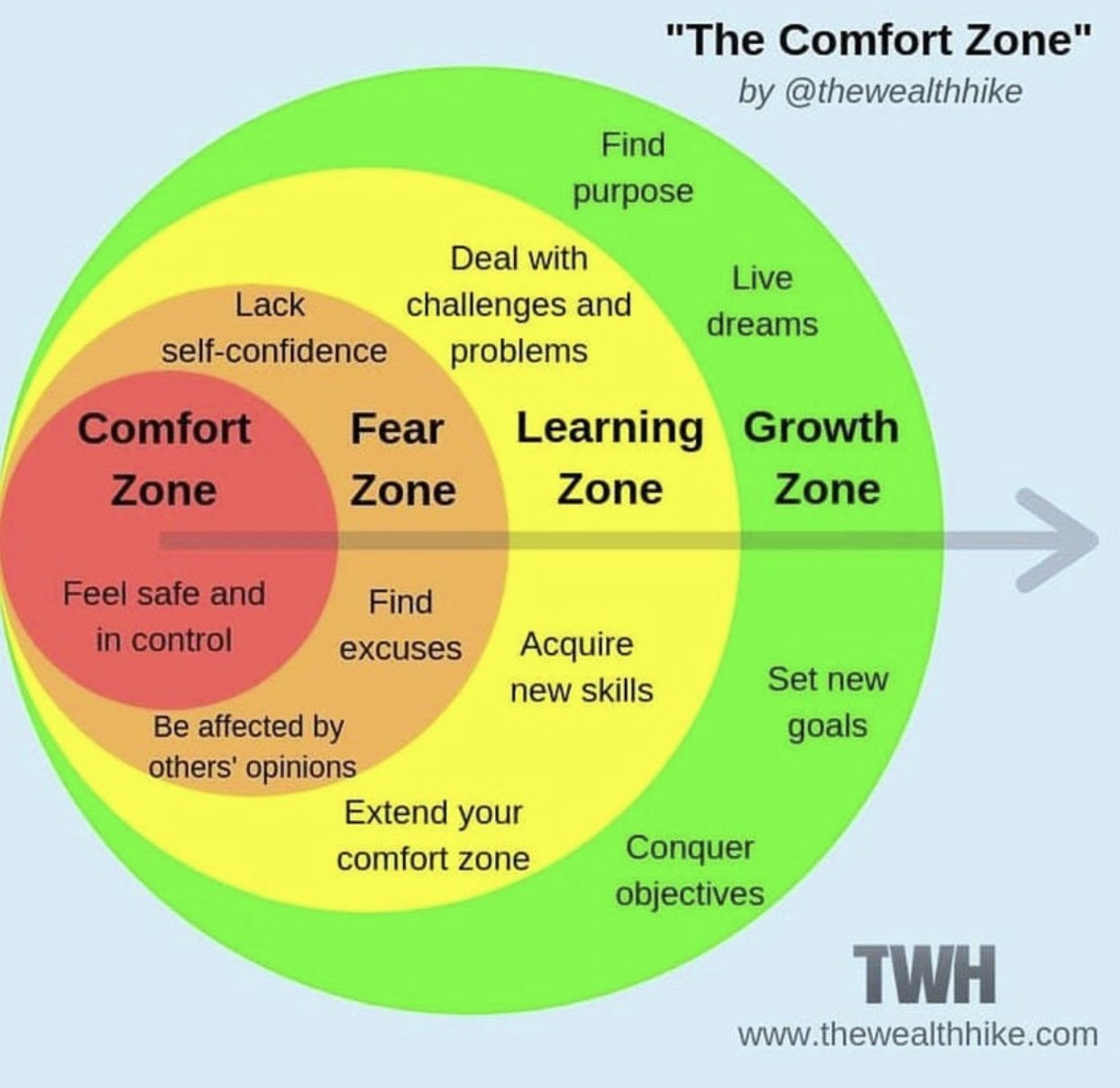 21. Listen to your inner critics!
Listen to your inner critics and overcome them!
Yes, the critics that you get from others will not be something crucial when compared to the critics that you get from yourself.
You must allocate time to listen to your inner critics and to work on them. Once you work on it, you will witness the new changes.
Sometimes, or most of the time, your inner critics must be the reason to low self-confidence so it is better if you could work on overcoming them.
If you consider cognitive behavioral therapy, you will understand how listening to your inner critics will help. For example, you believe that you are not good at certain things, so you must find evidence to prove that you are not good at them.
Apparently, you will not find any because we have the ability and capacity to do anything. Most of the time, it is our inner critics that make us feel negative.
Regularly, I make sure to compliment, reward, and congratulate myself for the smallest good things I do.
Like Mark Twain says, "A man cannot be comfortable without his own approval."
CLICK to book your FREE consultation!
CLICK to book your one off coaching session!
22. Improve your knowledge and skills
Benjamin Franklin said once – "An investment in knowledge always pays the best interest".
That is one of the daily confidence quotes I suggest you read when you feel unconfident. It will remind you of what you need to improve every day.
The world is changing a lot quicker than before.
There are so many new pieces of information on a daily basis that you can hear. Because of that, you need to constantly improve your knowledge and skills.
An individual that possesses the knowledge never has a problem with self-confidence. In most cases, those people represent the authority in their environment.
Let's use an example from everyday life. You got a job, and you want to make progress to a better working position. If you possess the required skills for that position, you won't ask yourself "what if I fail", you will just know that no matter what, you'll be okay! 🙂
16 Inspirational self-confidence quotes
I thought that you would like this! 🙂
Don't live down to expectations. Go out there and do something remarkable. – Wendy Wasserstein
Self-confidence is the memory of success. – David Storey
No one can make you feel inferior without your consent. – Eleanor Roosevelt
We have to learn to be our own best friends because we fall too easily into the trap of being our own worst enemies. – Roderick Thorp
Whether you think you can or think you can't, you are right. – Henry Ford
If you really put a small value upon yourself, rest assured that the world will not raise your price. – Author Unknown
You have to expect things of yourself before you can do them. – Michael Jordan
Confidence is preparation. Everything else is beyond your control. – Richard Kline
Trust yourself. You know more than you think you do. – Dr. Benjamin Spock
Have confidence that if you have done a little thing well, you can do a bigger thing well too. – David Storey
Don't wait until everything is just right. It will never be perfect. There will always be challenges, obstacles and less than perfect conditions. So what. Get started now. With each step you take, you will grow stronger and stronger, more and more skilled, more and more self-confident and more and more successful. – Mark Victor Hansen
With the realization of one's own potential and self-confidence in one's ability, one can build a better world. – Dalai Lama

Don't you dare, for one more second, surround yourself with people who are not aware of the greatness that you are. – Jo Blackwell-Preston

To love yourself right now, just as you are, is to give yourself heaven. Don't wait until you die. If you wait, you die now. If you love, you live now. – Alan Cohen
Think like a queen. A queen if not afraid to fail. Failure is another stepping stone to greatness. – Oprah
"As far as self-confidence goes, so much of social media is about approval, getting likes, comparing our lives to others' – meanwhile, confidence is an inside job: it's about how you feel about yourself regardless of what anyone else does or thinks. It's a knowing that you're human, you're flawed, and you're awesome in your own way" – Jen Sincero
Is self-confidence an emotion?
In my opinion, feeling self-confident results in the way we THINK.
So, it can be a feeling and also behavior.
It's not about succeeding in everything we do! It's about knowing that we will be okay no matter what.
It's also about being able to handle positive AND negative emotions.
What are the examples of self-esteem?
Self-esteem refers to the appreciation and confidence that someone has towards themselves.
I like to say that it's "your reputation to yourself!"
However, there are several types of self-esteem depending on different personalities.
Examples of self-esteem include:
High and stable self-esteem
High and unstable self esteem
Stable and low self-esteem
Unstable and low self esteem
Inflated self-esteem
I won't get more into details about this here, but I just wanted to give you the main lines of self-esteem examples. 🙂
CLICK to book your FREE consultation!
CLICK to book your one off coaching session!
What causes low self-confidence?
Some of the factors that might lower the levels of confidence include:
Unsupportive parents, family, and careers
Peer pressure and bad influence friends
Trauma and abuse
Mood disorders and depression
Stressful life events such as divorce and break-ups
I truly believe that WE and only WE are responsible for the way we are feeling.
So, we can build our self-confidence and become super self-confident! 🙂
How much time does it take to become more self-confident?
Although looking good is an important part of self-confidence, it clearly only scratches the surface as to what it truly entails!
The great psychologist and positive vibe-enthusiast Abraham Maslow believed a person had to go through various experiences before reaching their "actualized" or, most confident self.
This famous pattern is often referred to as Maslow's Hierarchy of Needs. He most famously quoted, "What a man can be, he must be. This need we call self-actualization."
So, the question is, how long do you take to develop a sense of self-confidence?
Well, from the above explanation, you will understand that it is not an overnight adventure. It takes time and energy of course.
We often think that low levels of self-confidence are a personality trait that is beyond our reproach.
But, that is where we all get it wrong!
Low self-esteem isn't actually who you are. Rather, it is some self-belief deep within you which shows up with some recurring behaviors and indefinite patterns.
In order to combat those negative influences, constantly feeding your mind with real-life examples of self-confidence is necessary.
Remember, it's all about self-acceptance, which leads us to the traits of a self-confident individual!
To sum up! 
As you can see in these examples, you can do it too! 🙂
All of these people weren't born with self-confidence.
They all took actions, failed, tried again many times and finally succeed!
Challenge yourself today to think deeper about what you have to offer.
Take some time out to really get to know yourself. Most importantly, be kind to yourself on this journey to actualization.
Go through all the tactics shared too and… Be patient! 🙂
Remember, Rome wasn't built in a day! 🙂
To your empowered and self-confident SELF! 🙂
CLICK to book your FREE consultation!