These are the 10 burning questions you always asked yourself about self-confidence and self-esteem.
Get the answers you're looking for and get ready to become your boldest self!
Do you want to hear more of my accent?! Discover all episodes here!! 🙂
The 10 questions about self confidence and self-esteem!
You've been asking yourself questions about self-confidence, but you don't want to spend all day googling and finding the answers yourself.
I've compiled all the burning questions that I've received from my readers into one single post!
With this post, you'll get a more general understanding of self-confidence and all of its components.
Let's discover these 10 burning questions everybody's asking about self-confidence:
What is self-confidence?
What is the difference between self-esteem and self-confidence?
How can I be more self-confident? 13 tips that will surely help you in boosting your self-confidence!
10 great questions to help increase your self-esteem
Why self-confidence is important?
Where does self-confidence come from?
Can you fake self-confidence?
Can self-confidence lead to success?
Can meditation increase self-confidence?
Why self-confidence may be low?
The questions answered! 
1. What is self-confidence?  
a) The 8 Components of True Inner Confidence
Self-confidence is a skill to develop!
We may think that people were born with it, but it's not true! Everyone can become super self-confident if they want it to! 🙂
It's really like playing the piano! You can learn how to be self-confident, just like you can learn how to play the piano! 🙂
I LOVED this article that is listing the 8 components of like they call it, true inner self-confidence!
I created a chart for you to understand easily all the components part of being really self-confident: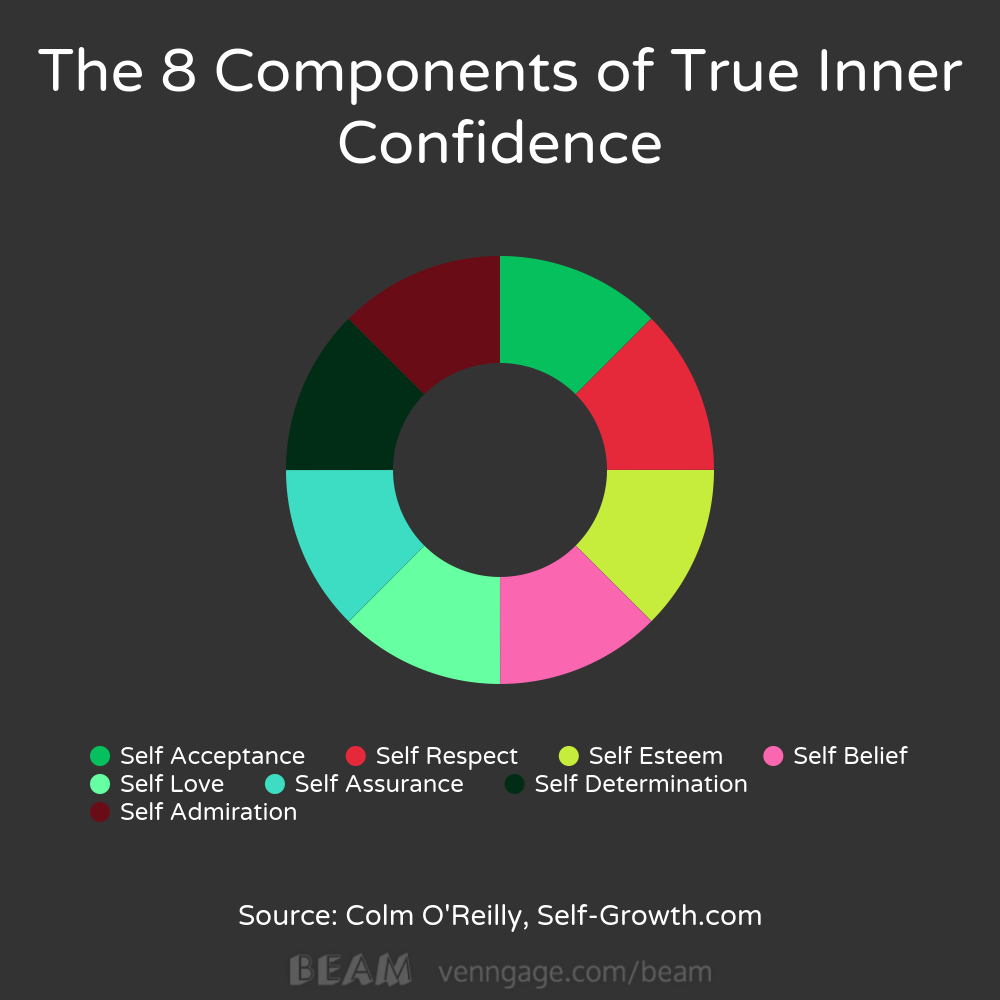 As you can see, self-confidence is kind of a "mix" of all these 8 components.
I'm not sure that I would say that there is one that is more important than the others, but it's interesting to think which one you feel like you would need help with! It's already a great start! 🙂
Now that you can see that there are many components, it confirmed that everything is inside of you and that you "just" need to take it out! 🙂
So, "To be Self-confident" means that we trust ourselves and our abilities.
It's about accepting who we really are, embracing it and feeling comfortable in our own skin.
It doesn't mean that we will succeed in everything we do! It means that we will be okay no matter what! 🙂
b) The 12 Pillars of Lasting Self-Confidence
Also, I created this list of the "12 pillars of lasting self-confidence".
When you decide that you want to become more self-confident, you can feel overwhelmed! What should you do?! Who should you listen to?!
This is why I assembled and organized the 12 foundations for you to become your boldest self! If you focus on each one of them, you will build long-lasting self-confidence, I'm 100% convinced of it!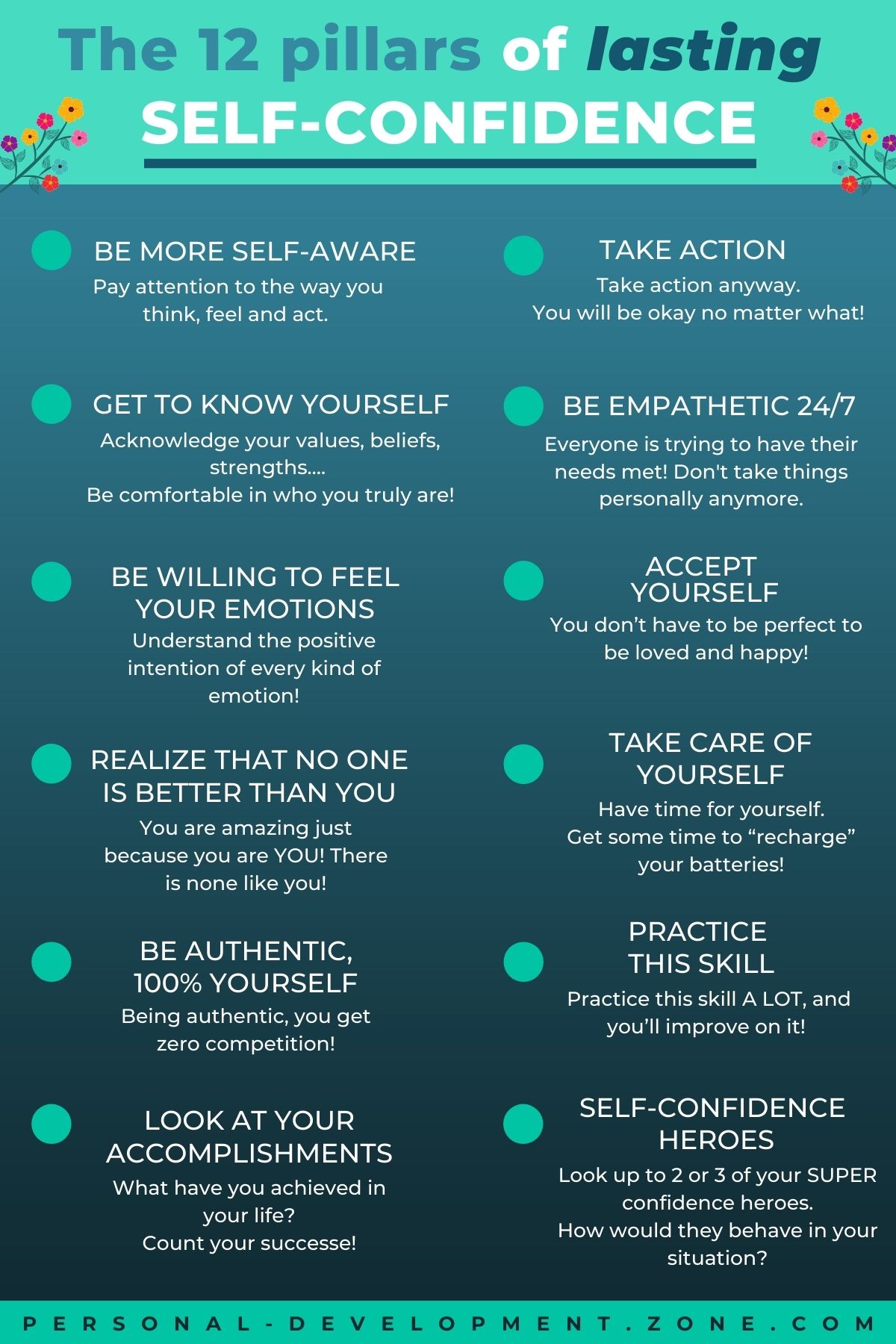 2. What is the difference between self-esteem and self-confidence? 
Self-esteem is how much your "estimate" yourself, how much you love yourself, everything that is part of you! Your qualities but also your flaws.
I like how Dr. Nathaniel Brandon calls it when he says that it's "your reputation with yourself". It's really how much you value yourself!
Self-confidence is more about believing in yourself and in your abilities. It's not about having the answers to all the questions or succeeding in everything you do!
It's about trusting yourself that you will be okay no matter what. It's about standing up for yourself! 🙂
If you're interested in learning more about the differences between these 2, you have to read my post called Self-Esteem & Self-Confidence, What's the Difference? 
3. How can I be more self-confident? 
So, to answer this question very quickly, everybody can become more self-confident.
I truly believe that each and every one of us has the ability to feel great about who we really are!
From my own experiences and my work as a life coach and teacher, I discovered that everything we need to become more self-confident is already somewhere inside of us.
Since it's already somewhere inside of us, EVERYBODY can become more self-confident!
I have absolutely no doubts about this.
How to do it properly?
1. Be aware of wanting to become more self-confident.
The moment we become more self-aware, we are already halfway because we're taking care of the problem that we want to solve.   
2. Self-confidence is a skill that everyone can develop.
So over time and with practice, you'll build this self-confidence and you'll feel happier and more secure every day of your life.
3. As yourself: Where do you see yourself in 5 years?
If you're starting today to build this self-confidence, you will be in a completely different place and mindset 5 years from now! 🙂
4. 13 tips that will surely help you in boosting your self-confidence!
Let's list some of the things you can begin within the process of increasing your self-confidence!
Think Positively About Yourself   
I used to talk to myself and think about myself in the worst way possible. It would always be like, "You knew you weren't up to it so why bother doing it in the first place?" This kind of thinking always puts your morale down.
You stay up at night thinking where did you go wrong or why are you the way you are. Instead of talking about yourself in a bad way, let's start doing the following:
Talk about yourself in the most positive way
Change your emotions and feelings for yourself from negative to positive
Make sure you aren't belittling yourself and your efforts
Everyone Has Imperfections
One of the most basic lessons you can learn is that while everyone projects a perfect image of themselves, deep down everyone is flawed in some way or another. Some people are more intelligent but they can lack good communication skills while some have perfect communication skills but have close to no actual knowledge about what they are speaking.
When you accept the fact that everyone has flaws that's when you stop being negative about yourself and start acknowledging that flaws are natural. They make you who you are.
Keep on Doing You
Every person has a different outlook on life and everyone is differently talented. Educate yourself on what you want from life and make sure you follow through. You don't have to follow anyone. If you rely on people and their feedback then you won't be able to do anything since people love to find faults in everything.
But if you find something that you are passionate about or something that makes you happy then worry less about what people might say and more about yourself. Keep on doing you with confidence.
Imperfectly Perfect
You are born perfect. You are beautiful, amazing and have a charming soul. You radiate warmth and love and make sure people around you are loved and taken care of. Yes, you have flaws. You may get a little angry sometimes, you may be impatient at times or you may lash out sometimes, but none of these flaws make you imperfect. Just remember some of the crucial points like
You are born in the most perfect sense
You are imperfectly perfect
You can always do better and you should always strive for better, but remember that you are enough the way you are.
Your Happiness Is Your Priority
Do you sometimes feel like you put the happiness of other people at the top priority? When you make sure that you are putting your happiness and wellbeing as your priority that's when you realize that you are important for yourself and you see your confidence in yourself bloom. If something or someone is toxic to you and your mental health, then cut them out of your life.
You should have control over your own happiness which will eventually lead you to be in control over your life, your decisions and ultimately will increase your self-confidence.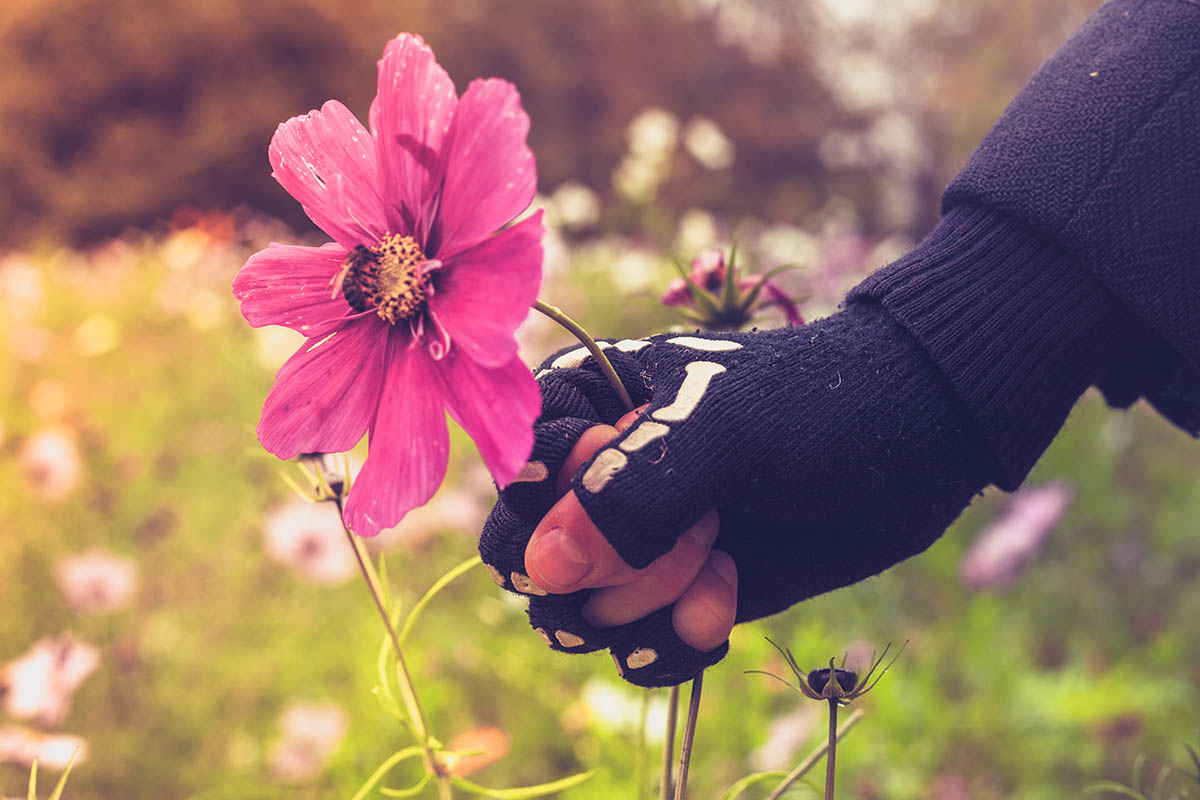 Celebrate Small Accomplishments 
Did you wake up on time, got ready in time? Make sure you treat yourself with a healthy breakfast.
Did you get a compliment at work today? Then why don't you go ahead and gift yourself that book you have been meaning to read.
Did you finish an ongoing difficult project at home today? Make sure you buy something nice for you even if it's just a small pendant or your favorite food.
Remember to always celebrate even the smallest accomplishments. This will make you feel better about yourself and you will ultimately start appreciating the work you do and the effort you put into your daily life.
Surround Yourself with Uplifting People
People who make everything about themselves are toxic to you. Such people are commonly called energy vampires and they suck the life out of you. You have to make sure that you surround yourself with people who bring happiness and pleasure in your life.
Surround yourself with people who will be there for you whenever you need them and they will be there if you ever need help getting back up in life. Let go of all the toxic and unnecessary drama in your life!
Set Achievable Goals
As I mentioned earlier, we are prone to setting goals we can't achieve which leads to self-disappointment and then ultimately a lack of self-confidence. Figure yourself out. Make a list of what you want to achieve and what you can achieve in life. There are some things that you want to achieve in life but you don't have the resources to do so.
Add those goals to your bucket list. The rest achievable goals should go in the list of goals you want to achieve in the near future. Whenever you achieve any of those goals, you will feel a sense of accomplishment and pride in yourself that will boost your self-confidence.
Don't Compare Your Life with Anyone
If you want to have a healthy and happy life, then you need to remember the golden principle that everyone has their own pace to live their life. Some of the common comparisons you can make are:
You may see your friends getting married
Some of your friends are starting their families
People around you are getting big promotions at work.
You should be happy for them and then move on by focusing on what's going on with your life.
If you obsess over what's happening in other people's lives and compare it with yours then you are bound to start thinking negative about yourself which will bring your self confidence to zero. Live your life at your own pace and don't compare it with anyone else.
Be Persistent
If you procrastinate long enough that you eventually give up on your goals then it's going to lead you to self-loathing and negative thoughts about yourself. The goal is to be persistent about your ambitions because that's the only way you will find success. If you give up in between then you will not achieve what you want from life.
You should strive hard and be persistent to get what you want in life. When you will work hard continuously to be successful you will have the self-confidence that you did your best.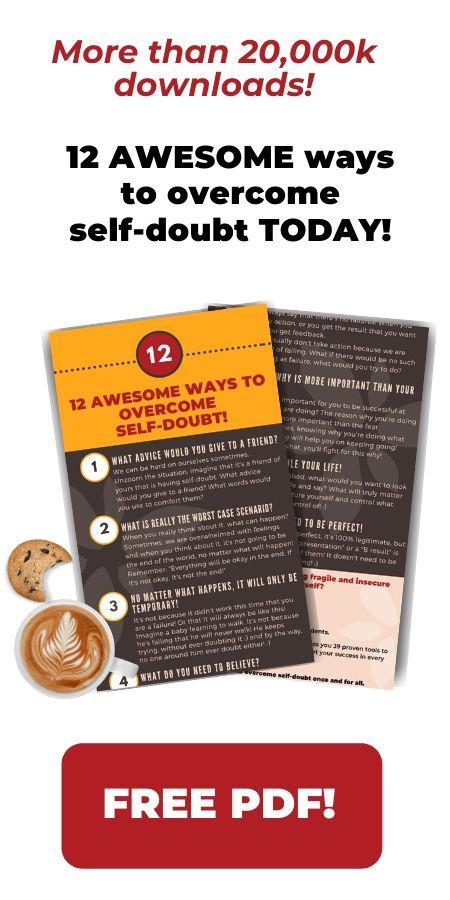 Work on Your Body Language
Your body language plays an important part in the way you feel about yourself. Be nice to yourself.
Make sure you smile at yourself in the mirror.
Stand in front of the mirror and instead of pointing out your flaws be thankful and gracious for what you see.
Most importantly, if you want to look confident then play the part to look confident. You should practice standing tall with your chest up and your shoulders back. This pose oozes self-confidence and will surely trick you into feeling confident.
Failure is Nothing but A Fear
One of the most basic reasons for the lack of self-confidence is our fear of failure. If you think about failure as something that you have to be afraid of, then it will eventually eat you up and will not let you step out of your comfort zone. Start thinking about failure as a means of practice to be better at the things you are trying to achieve.
By thinking about failure like this, it becomes a tool for you to help on your journey to success rather than something you are afraid of.
Do Regular Exercise
Exercise is one of the most fundamental activities that can help you with your self-confidence.
Regular exercise helps boost your energy levels by producing hormones like endorphins and testosterone that definitely makes you feel good about yourself. Being physically fit also helps you see yourself in a more positive way by improving your confidence and outlook on life.
Compared to wasting your time in front of a TV watching unhealthy food, exercise is a step up to increase your self-confidence by boosting your morale. 😉
5. Enjoy the process while waiting for the results.
I know that we want quick results!
But imagine if you would want to be a great pianist, even just as a hobby! You wouldn't imagine becoming one in a second, right?
Building your self-confidence also takes time, but you can still enjoy the process while waiting to see amazing results, I can assure you this! 🙂
6. Build your self-confidence every Tuesday while listening to The Get Confident, Get Happy Podcast! 
Every Tuesday, I release a short episode on a topic related to building your self-confidence.
You can discover all episodes (and my accent!!) by clicking right here or on the picture! 🙂
Listen to the Get Confident, Get Happy Podcast!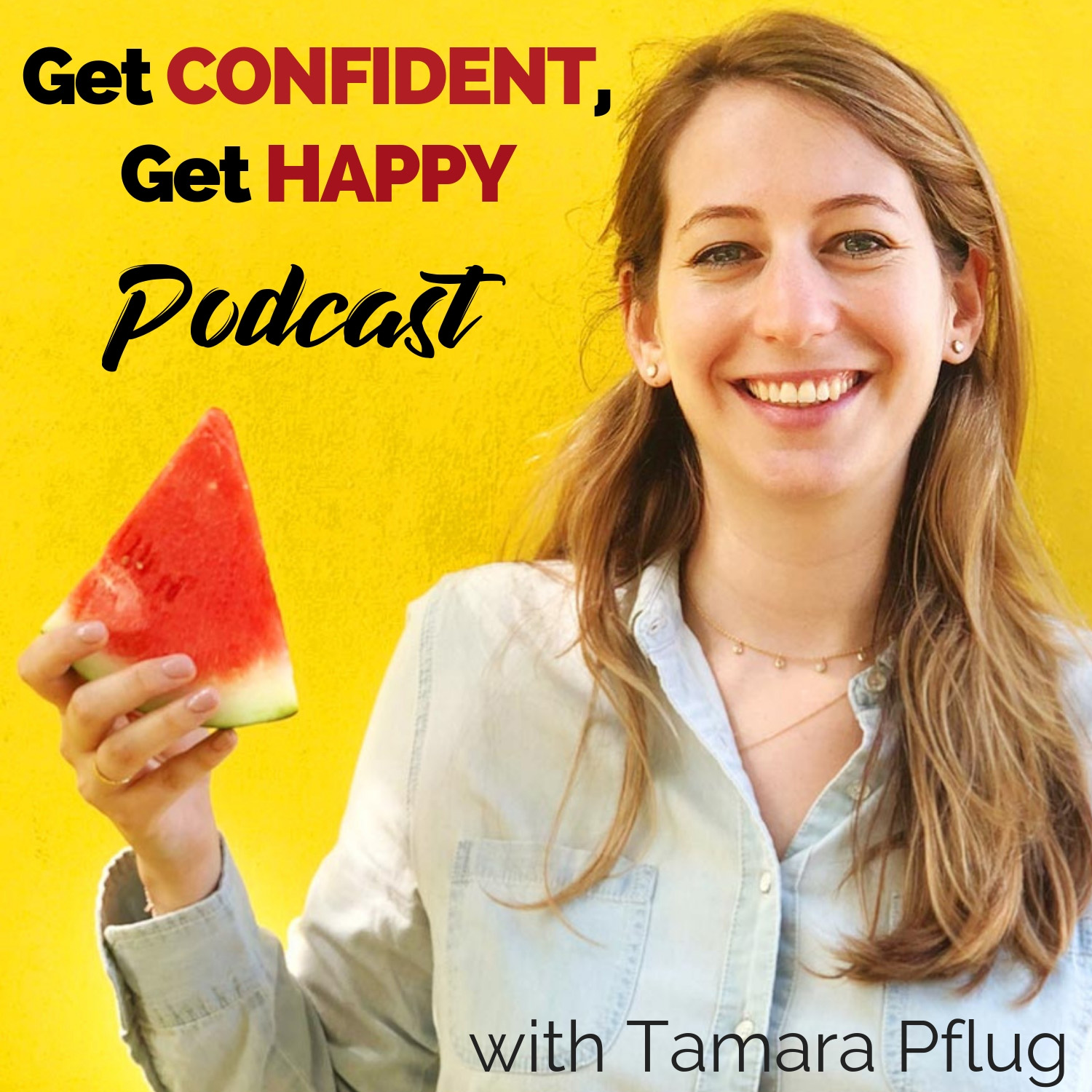 Just doing a quick flashback.
About 6 years ago, I started getting interested in self-confidence. I wanted to stop comparing myself to others and to feel better being who I truly was!
But honestly, I didn't know at all where to start!? What book to read? What course to take?
I thought of knowing myself better and then developing my self-confidence, but again, I had no strategy, no idea on how/where to start!
So again, just to tell you that you're not alone 🙂 I've been there, I know exactly where you are and where you want to go.
I'm going to help you get there! 🙂
Related article:
7 Ways To Boost Your Self-Confidence
4. 10 great questions to help increase your self-esteem! 
Self-esteem is simply how much you like yourself.
It's the value you attach to yourself and how you view yourself. Self-esteem is closely tied to confidence, though the two are not the same.
If you're like me, there will be points in your life when you feel your esteem falling to dangerously low levels.
Those are moments when you find yourself facing fear and self-doubt. When you feel you're not worthy of your position in life. When you feel you're incapable of accomplishing your goals.
I have found that to beat low self-esteem I have to be my number one coach and cheerleader. I have to become my own best friend and let myself grow.
I have to talk myself back into a motivated state to generate new ideas and get myself back to healthy, increased self-esteem.
The best way to increase my self-esteem has been through introspection. Asking myself guided questions helps to give me clarity and beat back doubt and low self-esteem.
Here, I will highlight the ten of the most common, yet powerful questions you can ask yourself to generate that sense of self-worth and battle low self-esteem.
For such introspection to work, don't go into a lengthy debate over each question.
Just provide the first answer that comes to mind.
There is no wrong answer. Everyone interprets these questions differently, and everyone has different answers and attaches different values to each question.
They are all practical questions, so be practical and straightforward in how you answer each! 🙂
1.      What are my skills and talents?
List down those things you're very good at doing. Remind yourself of your strengths and abilities. Knowing what you're good at can work to increase your self-worth.
2.      What are my challenges and shortcomings?
What are you not good at? What are the things that are slowing down your progress?
Identifying your challenges and weaknesses can help you redirect your energy to more practical causes.
3.      What are my core values?
Identify the things you value most in life.
Then determine whether you are living your life in alignment with your beliefs and values.
For example, if you value family and haven't spoken to your parents, siblings, children in a long while, then that may bring in the negative feelings of low self-esteem and mood swings.
4.      What can I do right now?
Engaging in something creative or productive can work to restore the positive flow back into your life.
Productivity and creativity stimulate the brain and release endorphins. Endorphins are those feel-good hormones that make life worth living.
Take up art, sign up for a class, or begin a DIY project. If the challenge involves starting something new, then it helps you even more in increasing your self-esteem.
5.      What are my limiting beliefs?
We sometimes hold onto self-limiting beliefs that constrain us. Simply by believing in them, those beliefs take away our power to perform at our best.
Limiting beliefs are usually negative feelings about ourselves, our self-identity, and our abilities. Some limiting beliefs include:
I will never be the best in my class
I am not fit to lead
I will never get my big break
Everyone is after my money
I can never make friends
No woman/man will ever find me attractive
When you catch yourself thinking negative thoughts about yourself, stop and challenge each of those beliefs. Often, those beliefs are inaccurate and can keep you stuck living far below your potential.
Keep testing those beliefs to see whether they're true. Look for evidence contrary to the limiting belief.
For instance, if you think you are socially awkward and can never make friends, start conversations with acquaintances and strangers.
Give yourself credit on those times that you break the limiting beliefs. In time, you will find that you're creating genuine friendships as you keep learning to break from negative beliefs.
6.      Who can I help with right now?
Who do I know that needs my direct assistance? Using your abilities, skills, and talents to help others can greatly boost your esteem.
Find opportunities to mentor someone, share resources, or offer a gift.
7.      What are my unresolved issues?
Unresolved issues can keep you trapped in low self esteem. Identify people, things, and events that gave you pain in the past. Express your pain and take responsibility.
Make the decision to let go of the past.
Learn to forgive and seek professional help instead of playing the victim or blaming others.
8.      What's my definition of success?
Success means many things to different people. A few measures of success are:
Landing a dream job
Starting your own business
Getting married
Having kids
Graduating in higher learning
Becoming a millionaire
Achieving a sports target
Hitting a world record
The list can get very long. Success is not just in terms of finances. Also, success is not earned by the acceptance of others. Your success depends on how you personally define success.
For example, a woman married with kids may not feel successful even if parts of society think having a family defines her success. Maybe her version of success is climbing the corporate ladder, which at that time she might not have accomplished yet.
Success is a personal attitude. It is satisfaction in yourself that you have done your best and become the best that you're capable of.
Once you have defined your success, follow up by planning. Set goals, objectives, and efforts that will bring you to your desired state of success. Visualize your plan, put it in writing, execute it, and journal each stage.
These steps give you the courage, motivation, and accountability to follow through and achieve success. The journey and the small and big wins create excitement within you and boost your self-esteem.
9.      Who are the negative people in my life?
There are people in your life who may be putting you down or taking advantage of you. Identify them and let them go. Don't let outside forces drown you in negative energy.
Surround yourself with positive and supportive people. Spend more time with people who value, admire, and support you.
10.  What are my personal boundaries?
Don't allow other people to control you or have too much influence on how you feel. Avoid situations where others can take advantage of you or manipulate you.
Draw clear boundaries or determine how you wish to react when others cross those boundaries.
Are There Questions You Shouldn't Ask Yourself?
Generally, there are no bad questions.
Yet, there are terrible ways to structure your question. Any question that confirms self-limiting beliefs or results in internal criticism cannot be empowering. Most times, I avoid questions that start with "Why…" or "How come…"
Take these few examples:
Why am I always broke?
How comes I'm fat?
Why don't women/men like me?
Why do I keep wasting all my cash?
Why do I lack self-control?
Why can't I get a promotion at work?
Why am I such a failure?
All these questions are structured terribly. Let's pick one and examine it a little closer. For example, you ask yourself why you can't get a promotion at work.
Your inner voice will respond with answers like:
Because you are lazy
Because you lack talent
Because you never show initiative
Because you are unattractive
Because you fail in all your work projects
These responses are very negative responses and not empowering at all. It's the sort of inner talk that can lead to hesitation, depression, and even lower self esteem. None of these responses will lead you to find solutions to the problems at your workplace.
Instead, you will focus on the problems rather than the solutions.
A well-crafted question shouldn't rely on self-criticism. Instead, the question should leave you with options on how to make your life better.
Restructuring the terrible questions above can result in you finding answers in how to improve your life. Let's take a look at a few reconstructions:
Why am I always broke? – How can I earn/save more money?
How come I'm fat? – How can I lose weight fast?
Why don't wo/men like me? – What can I do to attract positive relationships?
Why do I keep wasting all my cash? – What expenses should I cut out of my budget?
Why do I lack self-control? – What can I do to strengthen my will power?
Why can't I get a promotion at work? – What can I do to improve my chances of a work promotion?
Why am I such a failure? – What are the obstacles to my success?
Once you change the structure of the negative questions, you can come up with empowering variations. The changes I have made result in practical and actionable responses.
In fact, most people find that the new responses are actions they can start working on right away without procrastination.
After The Questions (And Answers), Then What?
The questions and answers work to put your feelings into words. The words give your feelings a coherent meaning. You are trying to uncover the feelings within you that give you an advantage and identify the feelings that put you at a disadvantage.
Once you have your answers, the next step is to improve on your strengths and eliminate the harmful feelings. You can start:
Doing more things that bring you joy and happiness
Avoiding actions, events, and people who make you unhappy
Doing more things that you're good at.
Practicing doing things you're not very good at.
Avoiding doing things you're terrible at.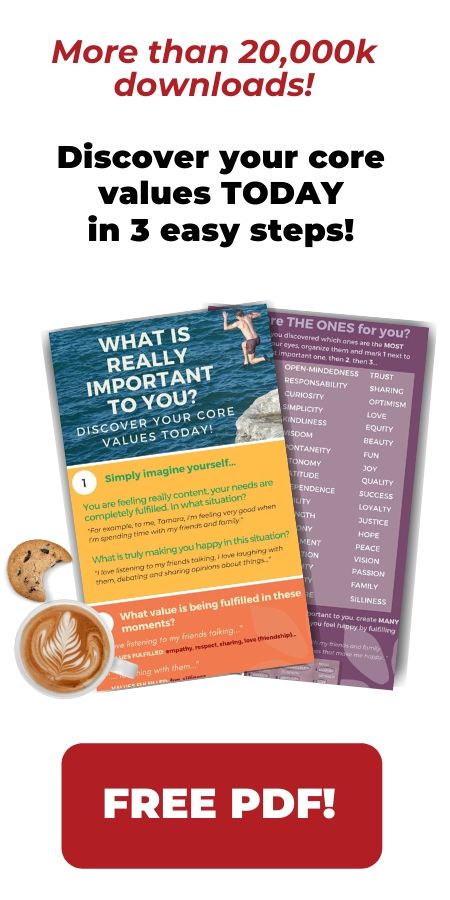 Over 10,000+ people have decided to stop feeling fragile and insecure about themselves.
What are you waiting for?
Get all of my EXPERT TIPS to build REAL confidence.
How to Feel Better = Self-Confidence Course
Want to build REAL confidence and live an extraordinary life?
Double your confidence and self-esteem with my BEST-SELLING course called This is Confidence.
I'm sharing with you ALL THE SHORTCUTS that helped me and life coaching clients become super confident.
Ask yourself: 
If you're not confident yet, you're missing out!
Enroll in This is Confidence immediately to change your life for good.
5. Why self-confidence is important? 
Having self-confidence helps in 4 ways:
1. No matter what, you know that you will be okay!
Knowing that you can do something AND that if you don't succeed at it, you'll be okay!
This is also called being resilient. Check this other post and podcast that I created about How To Build Your Resilience And Boost Your Self-Confidence.
2. Beating your fears.
When you are self-confident, you're not afraid of taking action. You still have fears, but you don't make them mean anything! 🙂
3. Feeling amazing being who you truly are.
You know that you're not perfect and you are embracing this vulnerability of yours because this is the proof that you're just a human being! 🙂
You're accepting your weaknesses and use your strengths as resources to achieve anything that you want!
4. You have better and stronger relationships.
When you feel good with yourself and about yourself, your relationships get better. You are more authentic (because you feel good being who you truly are!) and when you're more authentic, you connect on a deeper level with others.
Related article:
How To Build Your Resilience And Boost Your Self-Confidence
6. Where does self-confidence come from? 
I receive emails with the title "where is my self-confidence?" and I really understand!
You may wonder: Why is it that some people are so confident and some others aren't? What happened here?
Self-confidence is really like playing the piano, playing basketball, or being amazing at public speaking! All of them are skills that you can develop! And self-confidence isn't the exception!
So, I truly believe that self-confidence comes from our inner self! We all have the possibility to develop this precious skill and I wish we would learn this at school!
It's so useful for EVERY situation of our everyday life!!! 🙂
7. Can you fake self-confidence?
You probably heard the famous "fake it until you make it".
I must say that I'm 50% agreeing with this mantra.
I think that when you first start building your self-confidence, it's okay to fake it a bit.
For example, you have a presentation at work and you're not 100% confident.
You can start by doing this but then, the real skill that you will develop won't be a fake one.
I'm truly convinced that over time, you can build strong and real self-confidence and that you won't need to fake it anymore.
I liked this post about faking self-confidence: "Fake it 'til You Make it".
He's giving information about body language and how starting by faking being confident with your body will actually increase your self-confidence. Interesting!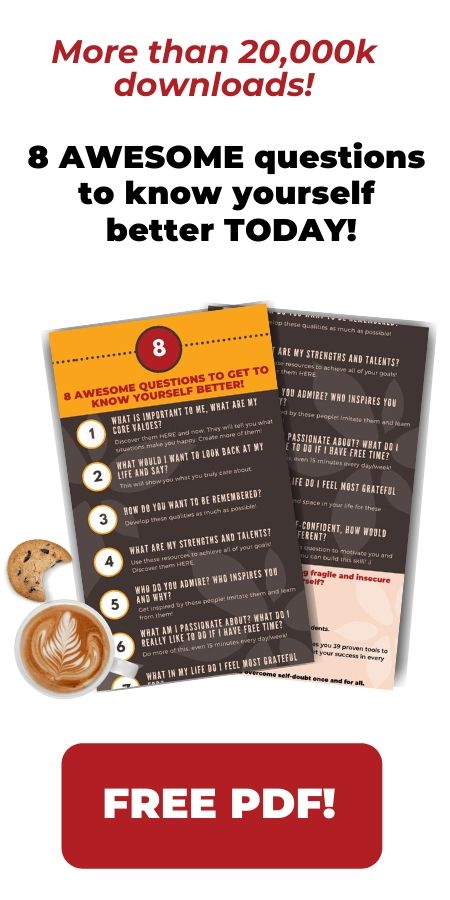 8. Can self-confidence lead to success?
Absolutely!
The more you are self-confident, the mort you'll be a magnet to success! 🙂
It will help you any aspect of your life which will make you more successful. But what does it mean to be more successful actually, to you?
Think about it and then, have a look at this post that I wrote about the habits of successful people.
Related article:
15 Habits Of Extremely Successful People
9. Can meditation increase self-confidence?
Yes and yes! 🙂
Being more centered on yourself or feeling a deeper connection to yourself, these are just 2 small examples of how much meditation can help you increase your self-confidence.
Basically, the more you will feel good being who you truly are, the more self-confident you're going to be.
So meditation can definitely be a great method for you to develop this skill!
Also, meditation has so many benefits that you will enjoy such as having more focus, feeling more relaxed, taking care of yourself, embracing quiet time… Check the effects it had on me, I'm talking about it in the post that I wrote especially about meditation!
Related article:
Master Your Mind: Boost Your Confidence With 3′ Meditation a Day
10. Why self-confidence may be low? 
I receive this question quite often and let me tell you something… If you're wondering why your self-confidence may be low, you're not alone!
And do you want to know why?
Because we never learned it at school… 🙁 unfortunately!
So it's completely possible that you don't feel too self-confident and let me tell you this again: it's 100% NORMAL 🙂
So many people out there feel like this and starting by being aware of it is already a huge step!
Again, ask yourself, in 5 years from now, if you're more self-confident, how can your life look like? It's never too late! 🙂
28 Inspiring quotes on self-confidence and self-esteem! 
Words are powerful!
The right combination of words can make the difference between inspiration and discouragement.
It's amazing how a few sentences can totally uplift you and inspire you to become better.
That why I love reading inspiring quotes. Quotes are a great way to get that little boost of inspiration every day.
I have listed some of my favorite quotes on self-confidence. I hope they can inspire as you well! 🙂
"It is confidence in our bodies, minds and spirits that allows us to keep looking for new adventures, new directions to grow in, and new lessons to learn – which is what life is all about." – Oprah Winfrey
"Each time we face our fear, we gain strength, courage, and confidence in the doing." – Theodore Roosevelt
"Concentrate more on your achievements than your failures. Learn to take the failures as opportunities to rectify your errors." – Stephen Richards
"Never bend your head. Always hold it high. Look the world straight in the eye." – Helen Keller
"Inaction breeds doubt and fear. Action breeds confidence and courage. If you want to conquer fear, do not sit home and think about it. Go out and get busy." – Dale Carnegie
"Confidence is preparation. Everything else is beyond your control." – Richard Kline
"You have to believe in yourself when no one else does – that makes you a winner right here." – Venus Williams
"Confidence is not, 'They will like me.' Confidence instead is, 'I'll be fine if they don't. '" – Christina Grimmie
"Successful people have fear, successful people have doubts, and successful people have worries. They just don't let these feelings stop them." – T. Harv Eker
"Life is not easy for any of us. But what of that? We must have perseverance and above all confidence in ourselves. We must believe that we are gifted for something and that this thing, at whatever cost, must be attained." – Marie Curie
"Once you feel nice about yourself, you have planted the first seed to develop self-confidence." – Stephen Richards
"Confidence is one of the most desired attributes and when you manage to wear it in the way it is meant to, life will seem to be a lot happier for you." – Elijah Conner
"Nothing can stop the man with the right mental attitude from achieving his goal; nothing on earth can help the man with the wrong mental attitude." – Thomas Jefferson
"A diamond doesn't start out polished and shining. It once was nothing special, but with enough pressure and time, becomes spectacular. I'm that diamond." – Solange Nicole
"Have confidence that if you have done a little thing well, you can do a bigger thing well too." – David Storey
"In the darkest hours we must believe in ourselves." – Terry Goodkind
"Because one believes in oneself, one doesn't try to convince others. Because one is content with oneself, one doesn't need others' approval. Because one accepts oneself, the whole world accepts him or her." – Lao Tzu
"Whether you think you can or think you can't, you are right." – Henry Ford
"Belief in yourself is more important than endless worries of what others think of you. Value yourself and others will value you. Validation is best that comes from within." – Ngũgĩ wa Thiong'o
"Another way to inspire confidence is by smiling. A simple smile can be a doorway for many opportunities. It suggests that you are accommodating, willing to listen, and friendly." – Mick McPherson
"If you believe it will work out, you'll see opportunities. If you believe it won't you will see obstacles." – Wayne Dyer
"With greater confidence in yourself and your abilities, you will set bigger goals, make bigger plans and commit yourself to achieving objectives that today you only dream about." – Brian Tracy
"I had the chance to make every possible mistake and figure out a way to recover from it. Once you realize there is life after mistakes, you gain a self-confidence that never goes away." – Bob Schieffer
"Whatever course you decide upon, there is always someone to tell you that you are wrong. There are always difficulties arising which tempt you to believe that your critics are right. To map out a course of action and follow it to an end requires courage." – Ralph Waldo Emerson
"Action is a high road to self-confidence and self-esteem." – Bruce Lee
"You've been criticising yourself for years and it hasn't worked. Try approving of yourself and see what happens." – Louise Hay
"Believe you can and you're halfway there." – Theodore Roosevelt
"Confidence is a gift, given to you by yourself. To have it costs nothing but to not have it comes with an immeasurable price tag." – Debbie Dickerson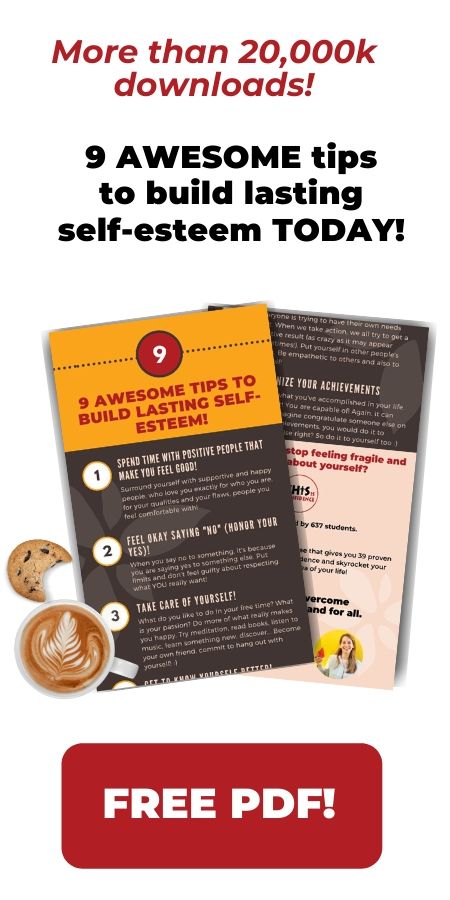 To sum up!
You're now more familiar with self-confidence and self-esteem, right? 🙂
As I said it, being aware of wanting to be more self-confident is already making you be half through the whole process! You're doing great!
Keep on following what I have to say on this fabulous topic that is self-confidence and you'll become the most self-confident person that you know! 🙂
Do you have other questions about self-confidence? Ask them in the comment section and I will gladly answer them!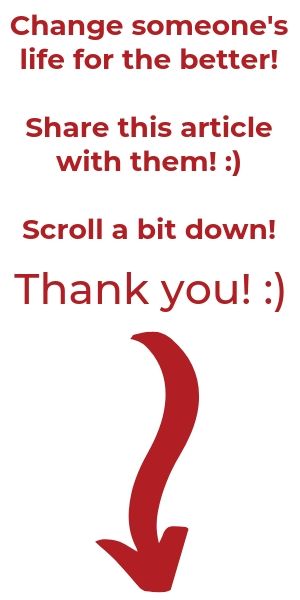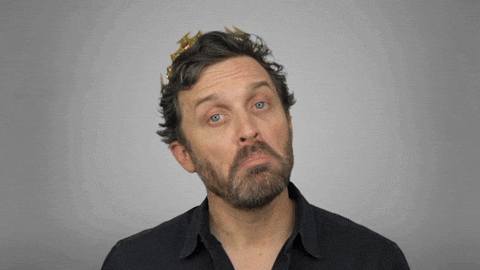 You may also be interested in…