Interested in affirmations to boost your self-confidence?
I brought the expert on affirmations and visualizations!
Discover what Michele has to share! 🙂
Let's dive right in!
Do you want to hear more of my accent?! Discover all episodes here!! 🙂
Who is Michele? 
Michele Blood is amazing!
Just listen to her voice in the podcast episode, she's someone you cannot forget! 😉
Michele is a songwriter, record producer and she writes about mysticism, meditation, positive thinking and mindfulness.
She teaches all over the world and taught so far in 26 different countries!
She's bringing positivity and she's showing to people that they can awake!
She shares that the true purpose is to awake and to be happy. Everyone is able to do it but we must first of all, control our thoughts.
Meet Michele! 🙂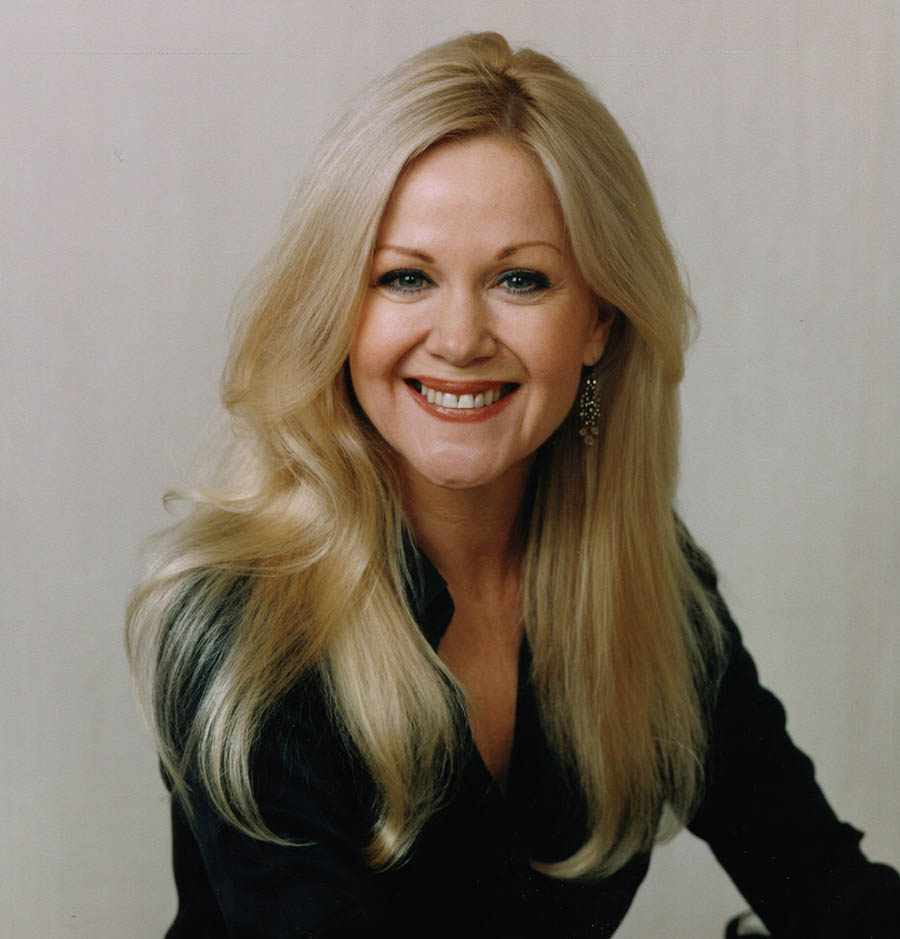 Affirmations and Visualizations to help you build your self-confidence
Since I'm always looking for more tools to help one build their self-confidence, I was wondering how are affirmations really working when it comes to building someone's self-confidence?
I asked Michele and she shares:
"I didn't know about affirmations and visualization, I was a rock singer in Australia and was traveling around the country nonstop. What happened is that I was living my life on purpose, I was extremely happy even if it was a hard life! We build a big audience after many many years.
What happened, on my way home from a gig is that I had an accident and I was in the hospital for months and months and months. People were sending me books and positive tapes to cheer me up. What happened is that I discovered suggestions and affirmations. The affirmations didn't work at the start because I was so much in deep physical and emotional pain. And I was depressed because I couldn't move…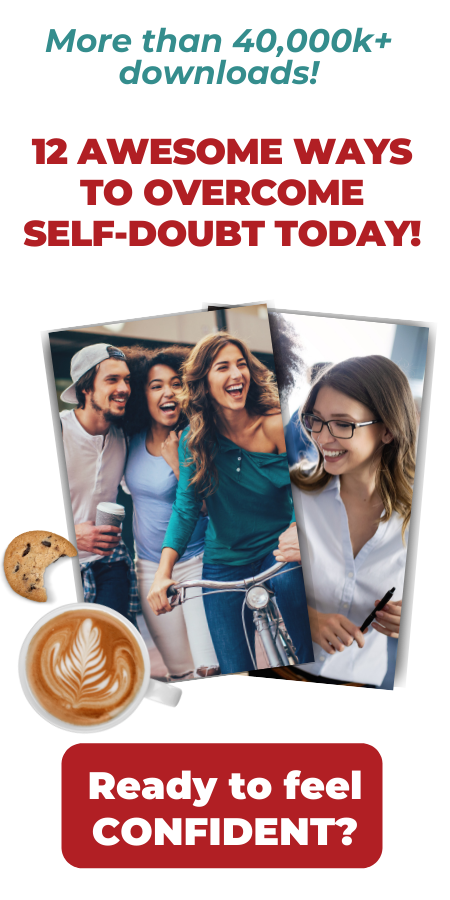 Singing affirmations!  
Michele shared that she actually sang her affirmation!
"My first affirmation was "I am healed" (an affirmation is supposed to be in the now), so I used also: "I love myself and my friends".
I did it for about 2 days saying it over and over again. Then I thought "this doesn't work unless you emotionalize it!"
How can you emotionalize it?
When you are in deep emotional pain or in fear or in physical pain like I was, I had all three combinations.
And then, I had my spiritual epiphany. I am a singer-songwriter! You can't get a song out of your head! It goes straight into the subconscious mind, you don't have to memorialize it. So I started to sing: "I am healed, I love myself and my friends!"
And I always had a little cassette player in case I get some songwriting ideas, so I could quickly sing it down."
Miraculous healing…  
"I did this over and over again and I kept playing it over and over again.
To make a long story short, I had miraculous healing, I went on to record over 400 different songs to do with every different topic you can imagine.
For example, the money song "I'm a magnet" was downloaded more than 3 million times around the world!
On day, a journalist in Australia did that big story of me in a TV interview so promoters started coming to ask me to sing at their events!
I started doing these events where there were thousands of people!
They said to me "what you're doing with these affirmation songs, it's crazy, it works so fast!"
I told you that she was AWESOME right? 😉
What do you need help with?
(Choose between the 2 options)
"We are what we think!"
I like discussing with Michele how the way we think has an influence on our life!
About that, Michele says:
"It goes back to the Buddha: "With that thought, we make the world, we are what we think!", this is his first and main teaching.
So people would understand "You're creating your world from what you're thinking!" and "be mindful!"
Be aware of what you're thinking! 
About that, Michele says:
"All that you have to do is to make a decision that you'll be aware of what you're thinking and when you're feeling an emotion.
Find out what that emotion is.
If you're feeling "fear", ask yourself:
What am I afraid of?
What am I afraid of not getting that I want?
What am I afraid of losing that I have?
I've got to recognize what I'm afraid of!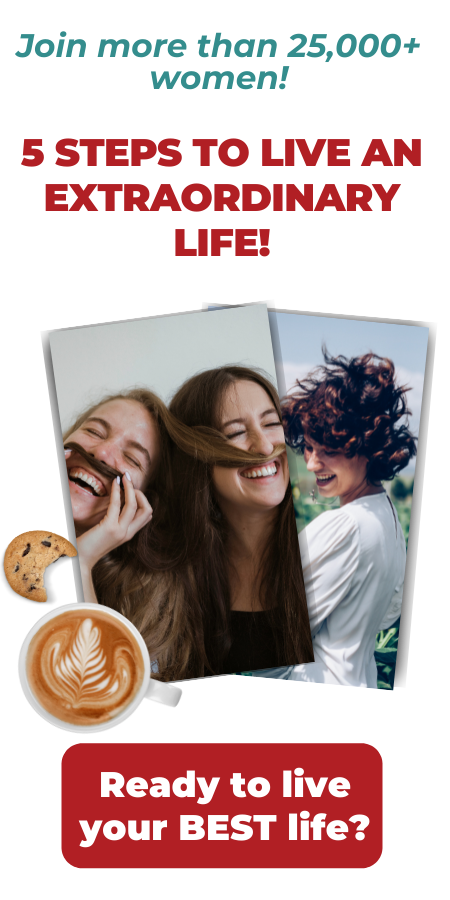 Know what you want! 
"And actually, the best is if you can find out what you want.
Most people do not know what they want! However, everyone knows what they don't want!
Once you know what you do want, you can use visualization.
For example, you want a new car, you go down to a car. You get a picture of yourself inside and then use this picture for a visual board.
Most of the people don't know how to visualize, we never learned how to do it!
But what is amazing is that the mind doesn't know the difference between a picture and a real thing!
If you combine musical affirmations and guided visualization,  with a touch of spirituality, and always with a touch of gratitude. A great thing to go away from ego is to be grateful!
About the law of attraction… 
Michele has also a lot to say about this! 🙂
It's fascinating! She shares:
"It's been around since Buddah "you are what you think", it's finding out what you want and then you got to resonate with it!
What is interesting is that we have this diamond, but it's covered in reaction, judgments, all the emotional hurt and people can't feel their light.
Because our positive thoughts have to resonate with our diamond, then things manifest extremely fast!"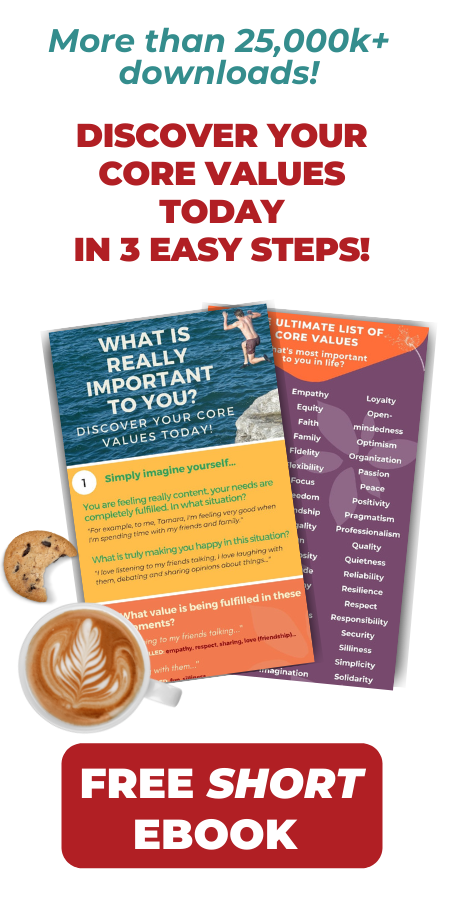 Tips to build your self-confidence
Michele is sharing a few tips to boost your self-confidence that when combined, make you extremely positive!
She shares:
"Number 1: Every night, you write 6 things you're grateful for.
Add one thing you haven't got yet as if you already got it.
It can be people or things!
When you do this, you wake up feeling happy about yourself. Then, you read that list in the morning. It takes 30 seconds!
The next thing to do is every single day, make sure you do ONE thing that is going to be kind to others.
Do something that is going to assist someone else that can be helped.
The next thing is to write out what you want. Find out what you really want!"
If you can do this for 21 days, your entire life will change.
Stop complaining for 21 days! 
I really like that Michele shared that we should all stop complaining for 21 days in a row and see what happens!
She's saying:
"I'm not going to complain! I've got to have compassion.
Complaining is just fear, you're masking your fear! It gives you temporary energy. You can definitely stop yourself from complaining! If you do it for 21 days, it's not easy, but your life is going to change!
You become more mindful, focusing on the positive and it's a wonderful thing!
When you think about it, no one feels good after complaining…"
Get Michele's new eBook for FREE! 
Just because you are here today, you get "The Magic Of Affirmation Power" of Michele!!
Click HERE to get it RIGHT NOW! 🙂
This woman is absolutely amazing, check her website out, you won't regret it! 🙂
To sum up! 
I like how Michele and I agreed that everything in our life is created from the thoughts that we have.
It's really great news!
It means that you can have FULL CONTROL of your life! 🙂
Get your eBook for FREE right here! 🙂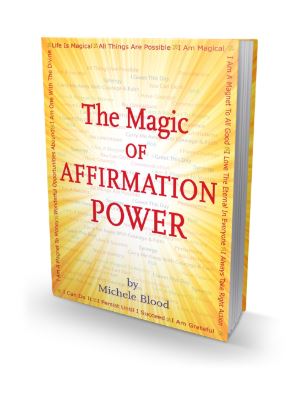 Michele is part of people that are changing the world, I'm so glad I had the opportunity to talk to her!
Thank you Michele! 🙂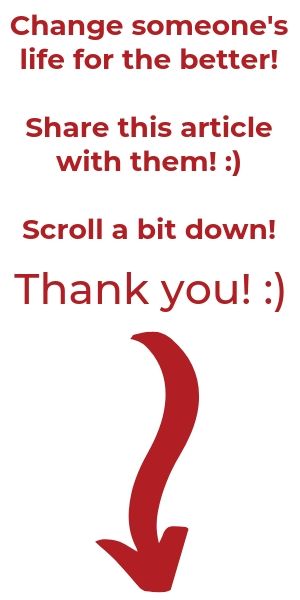 You may also be interested in…