No matter if you want to lose weight or just feel healthier, these tips can really make a difference to you.
In fact, those are the tips that I and my life coaching clients discovered to lose weight forever.
Not just for a few months, but so you don't have to do any yoyo diets ever again!
Let me show you how!
Do you want to hear more of my accent?! Discover all episodes here!! 🙂
How to healthy lose weight, skeptical?
I know that when it comes to losing weight, we can all be very skeptical!
You've maybe been trying a few different things until now and you feel that it's just not working the way you want it to!
Or that maybe you've been able to lose a bit of weight but then, a week of vacation or a hard week at work and you got it all back…
I really hear you!
What you want when you ask yourself how can I lose weight isn't just to lose this weight, you want to permanently feel better. 
You want to get to a healthy weight and stay like this.
For example, you want to wear these pants and you know that they will just fit, that it's all good.
You just want to have a healthy relationship with food, I get it! 🙂
Change your mindset forever!
Actually, you've probably been trying to lose weight and to be healthy, right?
So you've been focusing on the "actions" you've been taking when actually, you need to start with the thoughts that create all of the actions you're taking on a daily basis, EVERY kind of action.
I like Brooke Castillo's coaching model that says: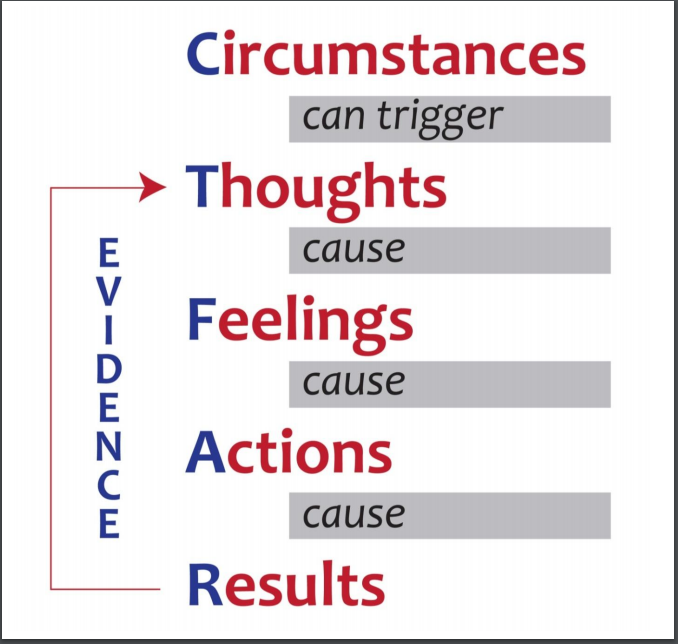 So, you need to work on the thoughts that you're currently having.
For example,
T: I've tried everything and I'm not losing weight permanently…
F: Unmotivated
A: Anyway, nothing will work so I'm going to continue doing what I've been doing until now, eating even when I'm not hungry…
R: Keeping the same weight/gaining weight.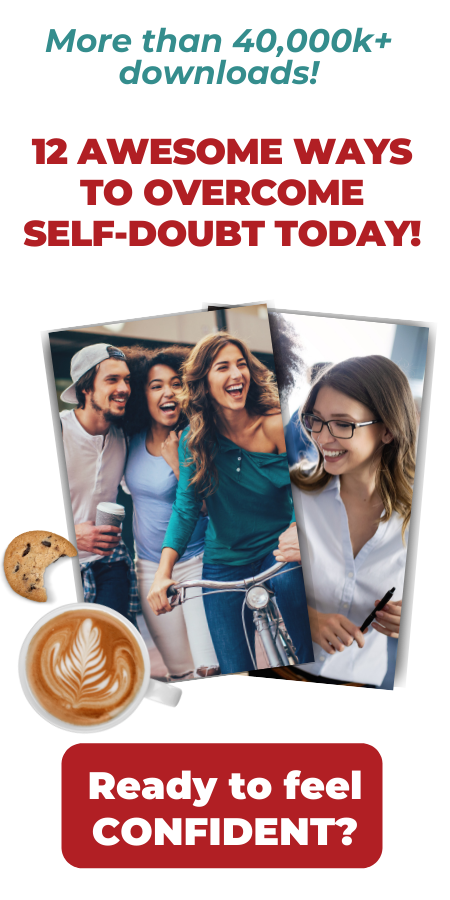 You could also have a new model such as:
T: I'm not broken, I'm not my current weight, it's just a number.
F: Hopeful and excited
A: I'm going to eat only when I'm hungry and I'll fill every need with something else than food, something that doesn't have negative consequences.
R: Losing weight and getting to a healthy weight + having a healthy relationship with food.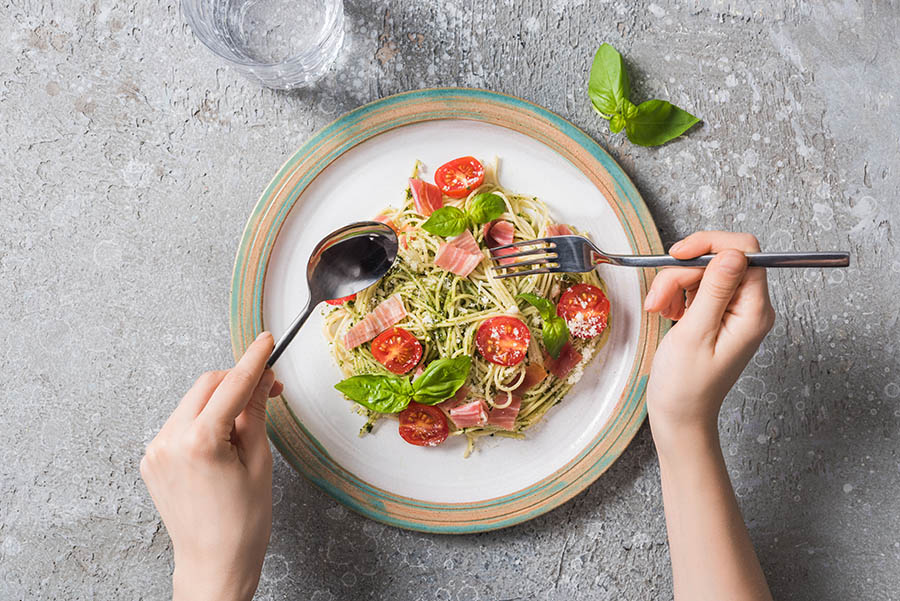 This is why I say that if you change your mindset and the way you think, you can get different results in your life.
And this doesn't work only with weight loss! 🙂
I just wanted to remind you that…
You're not broken! It's not because you may have had more weight than you wished for years that you cannot lose it.
You're not your past! It's not because you tried a lot of things that this won't ever work!
You don't have to be and feel like this for the rest of your life!
Actually, you can start right now, I'm going to show you how you can feel healthy RIGHT AWAY.
Let me share with you the 4 best tips for you to lose weight.
What do you need help with?
(Choose between the 2 options)
How to lose weight healthy TIP #1, Feel this way already
The first trick to answer the question of how to healthy lose weight is separated into 2 parts.
Tip #1, Part 1
I want you to ask yourself this question:
The moment that you will be at the weight you would like to be, how are you going to feel?
We actually think that we need to get to a place in life to be able to feel a certain way.
Great news for you! You don't have to wait to get there to already feel this way! 🙂
I truly believe that our thoughts create our feelings.
So, if you want to feel a certain way, you have to have the right thoughts!
This is simple but not easy, right?
Don't blame yourself! You have good reasons and good intentions to be thinking the way you are currently thinking.
But I want you right now to try something else and really ask yourself: Losing this weight, how are you going to feel? Close your eyes and imagine!
If you need examples of feelings, you may be feeling…
amazed!
happy!
blissful!
radiant!
thrilled!
energetic!
enthusiastic!
vibrant!
optimistic!
secure!
proud!
excited!
relaxed!
And so much more maybe…?
Take the time to really think about it.
Then, I want you to imagine yourself already with the body that you want to have and to already feel like you got there, that you already have the body that you want to have!
What is amazing is that the brain has no time, it doesn't know if what you think and feel is in reality or is only coming from your imagination!
This is why you may feel sad while listening to a song! Nothing's happening in your life at that moment, but you feel the sadness!
And you can use that power of the brain to already feel a certain way BEFORE getting the result that you think will make you feel this special way.
Tip #1, Part 2
Back to the tip on how to lose weight healthily, think of 2 persons that in your opinion, have a great relationship with food and have great and healthy weight.
How would this person think, feel, and act to be healthy like this in your opinion?
Think about it and imitate them in your everyday life.
This is why the first part of this tip was important because I want you to understand that you don't need to be in a certain situation in your life (for example in the situation of your eating hero) to feel a certain way!
Another example is that your eating hero is maybe eating only when they are hungry and they stop when they are full.
Or maybe they are walking a lot but just to move their bodies, not to obsess about it and to lose weight…
Fascinating, right? 🙂
Continue reading to get all the answers to how to healthy lose weight.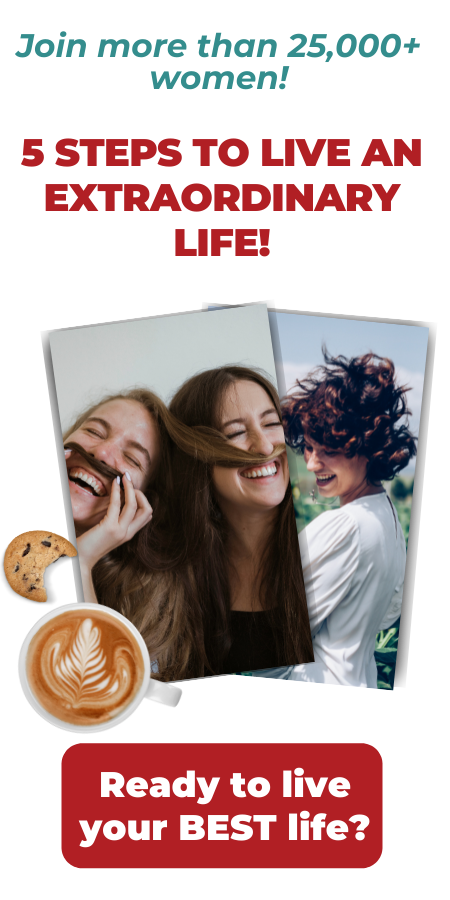 Healthy way of losing weight TIP #2, Eat when you're hungry
This may sound silly but it's actually something that we have to hear.
You need to eat only when you're hungry.
To me, eating is so important! I am very excited to eat and I'm really having fun doing it.
But I'm focusing on eating only when I'm hungry.
Use The Hunger Scale to understand when you're hungry and when to stop.
It's crazy that we don't learn this at school! Because very often, we may overeat or simply eat when we are not even hungry.
It wouldn't be a problem if we wouldn't put on weight… But the problem is that it has indeed some unwanted consequences!
The question is actually if we aren't hungry, why are we eating? Why would we?
This is a great question and as I always say… It's essential not to blame ourselves, but rather to understand ourselves.
We always do something with a positive intention in mind, I truly believe this!
So, do not ever beat yourself up, let's try to understand it instead…
This is the best to lose weight!
The answer to how to healthy lose weight is in tip #3…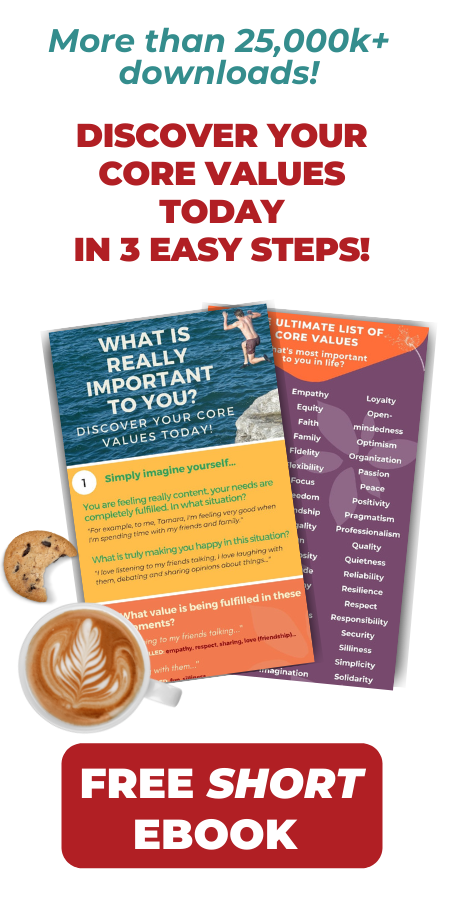 Healthy way to lose weight TIP #3, Feel your emotions  
This tip is also definitely something we need to learn at school…
I always say that no matter what we're doing in life, we're doing it because we want to feel a certain way or avoid to feel a certain way.
We want to feel a positive emotion or we don't want to feel a negative emotion.
Sometimes, we tend to eat instead of feeling our emotions!
For example, we don't want to feel…
overwhelmed!
stressed!
anxious!
sadness!
madness!
disappointed!
And so many more…
And the moment that we feel this emotion and because we never learned how to deal with these emotions, we will tend to eat so we don't have to feel it in our body.
The solution to this is simply to welcome EVERY kind of emotion.
When it comes to emotions, 3 things can happen:
1. You react to it. 
For example, if you feel anger, you may talk aggressively to someone!
2. You avoid it. 
You'll eat (even if you're not hungry) to avoid feeling the emotion, you'll maybe overdrink, overwork…
3. You welcome it. 
Actually, emotion is simply a vibration in your body and it's actually going to be there for just 90 seconds!
Can you believe how horrible we make it sound? When it's actually just something that will pass in your body for just a bit of time!
I'm planning on creating an awesome infographic on how to properly deal with any negative emotions.
But meanwhile, I find this one that is very clear and useful: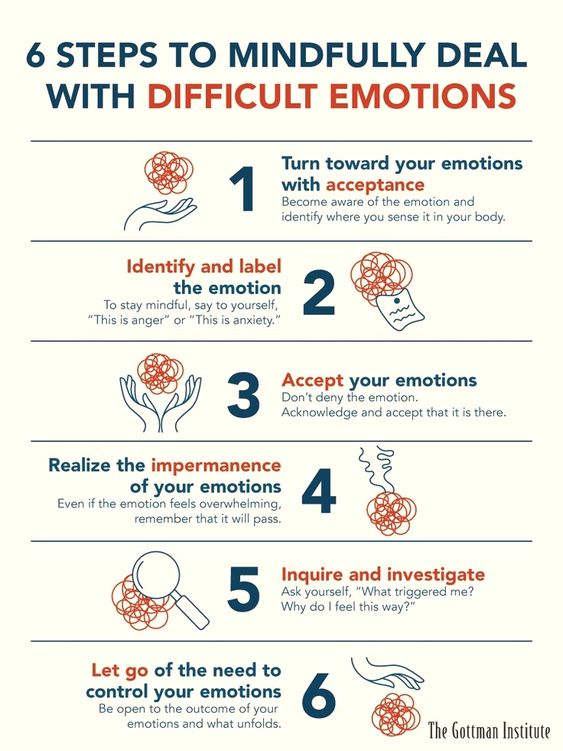 If you welcome any emotion that may come your way, slowly slowly, you won't feel like eating anymore when you're sad or stressed, because you know that food isn't going to make you feel better… 🙁
If you eat when you're not hungry, it actually has negative consequences and it's not what you want! 🙂
And here you want to know what is the best way to lose weight or what's the best way to lose weight! I really get you, you're not alone! 🙂
Lose weight the healthy way TIP #4, Notice when you eat
I always say that being more self-aware is essential and can literally change your life!
One thing that you have to do is to be more aware of when you're eating.
Most of the time, these days, we eat…
Because of emotions that we don't want to feel (as shown before)…
Because we are around people and eating is part of the fun…
While doing something else (watching TV, working on a long task, etc.) without paying attention if we are even hungry or not.
When we are hungry, and this is great! 🙂
The thing to do here is to write down each time you're going to eat, for what reason you're doing it.
1. Because of emotions that you don't want to feel, it can be when you feel stressed, sad, nervous, anxious, mad, overwhelmed… Instead of feeling that emotion, you find yourself eating.
2. As a social thing to do or when you're meeting with someone/other people (and I'm not saying that we should not! I absolutely love eating with other people, but you don't have to eat each time you sit with other people!).
3. While doing something else (watching TV, etc.) without paying attention to the fact if you are hungry or not.
4. When you are actually hungry.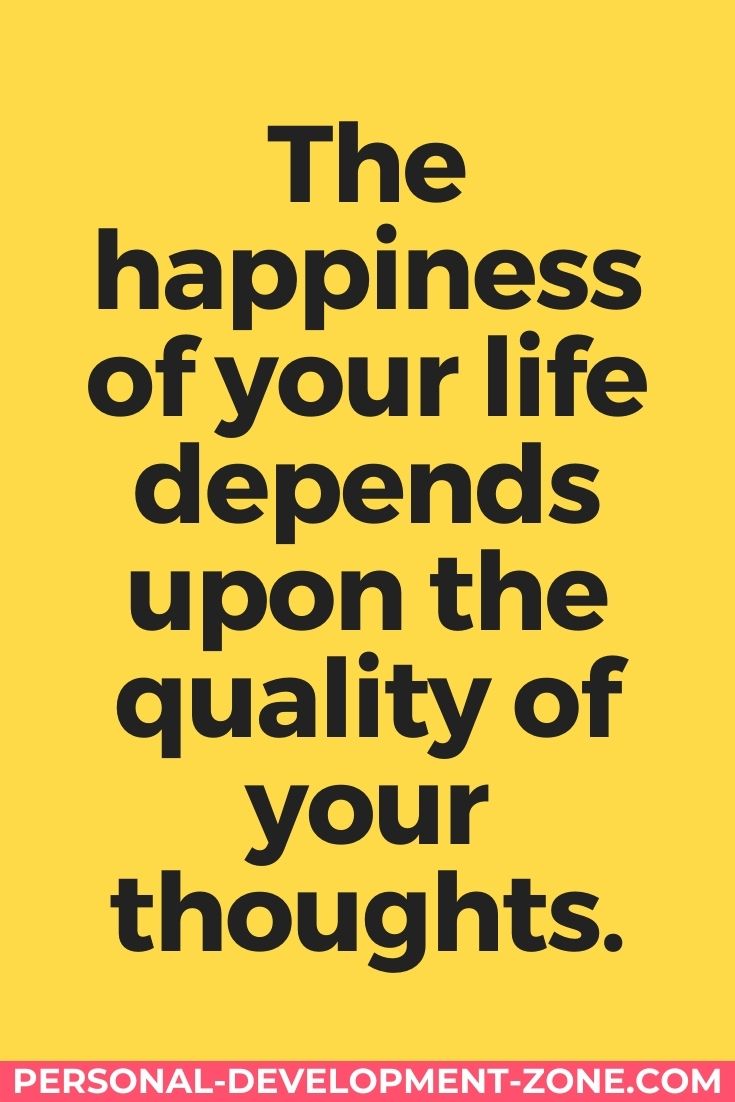 After doing this for let's say, 4 days, you're going to understand better where you stand.
Again, look at it with compassion and curiosity, do not blame yourself, ever! 🙂
Be your own friend and coach!
For the times that you're hungry, that's all good!
But for the 3 others, I want you to ask yourself if it's really necessary and if you can actually try something else from now on.
For example…
1. When you don't want to feel negative emotions, what if you would be willing to feel any kind of emotions? And know that you will be ok no matter what?
If you're for example feeling sad or overwhelmed, what do you need that can help you feel better? Maybe a hug? Maybe calling a friend?
Try to fulfill this need that you're trying to fulfill with food, with something else instead! 🙂
It's not that easy to do at first but you can do it! 🙂
2. When you're hanging out with people. Can you imagine sitting with them without eating anything? Meeting just for coffee or tea?
Honestly, this was very hard for me! Because I just love eating with other people!
But then I realized that when I'm eating, I cannot concentrate enough on what people are saying! 🙂
So, I started meeting people without food or drinks included, outside of a coffee, let's not exaggerate! 😉 And I find myself being more focused on others than on my food! 🙂
3. When it comes to watching TV, I also love snacking something.
The problem is that if I'm doing this, I'm most of the time eating out of being hungry and then, obviously I'm gaining weight…
It's not always easy I have to say, but I'm drinking tea instead or a nice glass of water with mint and I understand that feeling healthier is better than these 5 minutes of snacking…! 🙂
Eat healthy food… 
So, I absolutely loooove to eat and I've found something that has been working for me and that is eating at noon only a nice meal and at night, only vegetables or fruits.
If you're interested in eating healthy losing weight, you definitely have to check out Rachel Paul!
She's amazing! She has a program that is very affordable to get but you can already check her Instagram out where she shares lots of recipes and great advice! In any case that you want to know how to eat to lose weight or how to lose weight healthy!
I think that what we eat is obviously very important when it comes to weight loss.
But honestly, if you start paying attention to the reasons why you eat and the amount of what you eat, you're already going to see a difference FOR SURE.
To sum up! 
It's not easy to eat less and healthier.
Back in the caves, we were CRAVING for sugar!
It was so rare and until today, we just LOVE sugar when we actually don't need it… I mean we do, but not from cookies and candies! 🙂
The first thing is to do is to give yourself a break and understand the positive intention of your relationship with food.
Then, you need to know that you're not broken! You can change your life! 🙂
I like the quote that says that "The happiness of your life depends upon the quality of your thoughts."
So, have control of the way you think and you can control your whole life! 🙂
What do you have to lose to try something different?! 🙂
I hoped these tips will help you so from now on you know how to healthy lose weight!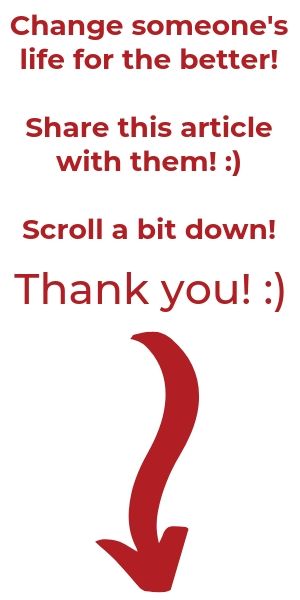 You may also be interested in…