Taking action sounds like something very simple to do! But why isn't that easy?! And how taking action can actually help you grow your self-confidence? 

ENGLISH DISCLOSURE: I'm from Switzerland (yes, chocolate!) so English isn't my first language. Please forgive me for my mistakes 🙂
THIS POST MAY CONTAIN AFFILIATE LINKS. PLEASE READ MY DISCLOSURE FOR MORE INFO.
---
✓ Should I read this? You should read this if you ever feel like taking actions but have no idea why you're not doing it. Also, if you're interested in growing your self-confidence, this will also be another discovery to become more and more self-confident 🙂
✓ How is it going to help me? I always say that we are more comfortable with what we know. Understanding what stopping you from taking actions is already a first step towards making a chance. Also, by taking actions you will grow your inner self-confidence.
---
Taking action to grow your inner self-confidence
Looking for being more self-confident? Take action! 
Do you want to grow your self-confidence? One way to do it is by taking actions. Let me tell you why and how in this post.
The moment you take actions, you'll basically show to yourself that you are able to do something. No matter the result, it will already grow your self-confidence and your self-esteem by saying "I can do something, I can take actions!"
It may sound silly said like this but you have to believe me 😉 read this and then let me know in the comment section what you think of it.

We are all the same! It's so hard to take action…
There's a tiny bit of shame when you think about not taking actions.
You think that you're the only one that is not taking actions, that you could and you don't get why and even just the fact that you're saying this to yourself isn't helping at all, but you still do it!
We are all the same. Let me tell you that 🙂
And it's already nice to think that we're not alone in this "non-action-takers-group" 🙂
Why is it so hard?
Taking actions is so hard! Like, it's supposed to be super simple: you have an idea/you think about something, you just have to stand up and to do it. So why is it so hard to just take actions?!
Let's say it like this: it's very SIMPLE to do, but not EASY at all 🙂
I've been really wondering and asking myself a lot of questions about this.
For example, Mel Robbins created the 5-second rules for helping us stopping our brain getting in our way and to start taking actions after counting from 5 to 1 (1 is the moment when you start moving).
Let me tell you why it's so hard. Because it's so much more comfortable being where we are!
We are SO AFRAID of what can happen if we take action. Is it going to do something good to me? Is it going to be bad for me? What emotions am I going to feel? Positive or negative emotions?
I probably don't need to give you details about how asking ourselves all of these questions is also stopping us completely from doing anything!
We are like "frozen"!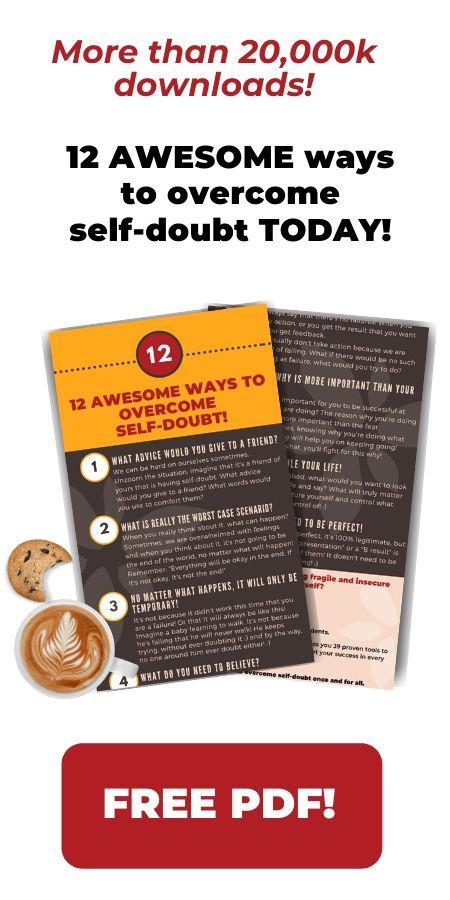 Our brain is creating fears to keep us alive
I think a lot about what Natalie Bacon is saying when she says that our brain is always trying to repeat things we did from the past because it kept us alive. So it will create fears so we are sure to repeat what we did in the past and not to try something new.
Like this, our brain can assure us that we will still be alive because what has been done in the past has kept us alive!
But you can choose something different, you can choose to create your life (and take action) from your future and not from your past.
What's happening if we take actions?
I LOVE charts and arrows and everything that makes words and ideas very easy to understand, so let's have a look at my little drawing: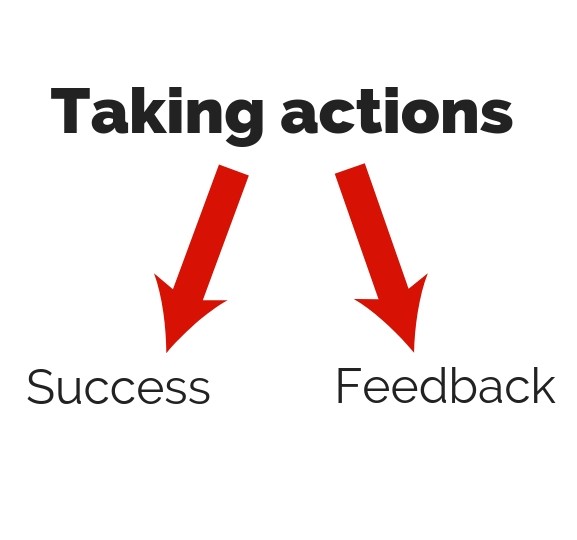 As you can see, when we are taking action (with or without s!), there are two results: or we're getting the success wanted from this action, or we are getting feedback.
I think that the "success" part is self-explanatory, but what about the "feedback" part?
We can imagine that the opposite of success would be a failure, but it's not. Feedback means that you got something that is telling you if yes or no, this action will bring you the result you're expecting.
But it doesn't mean that you fail, not at all! Let's take an example to make it easier to understand.
Example: 
You have an amazing marketing idea at work, but you're not sure if you should say it, try it, talk about it.
Let's say that you passed the moment of "should I take action or not?" and you just did it: you talked to someone about it.
First situation: this person thinks that's an amazing idea and you move forward with looking for providing more ideas around it and more description (how/what/why, etc.).
Second situation: this first person you're talking to isn't sure about your idea but is telling you to go ahead and try to provide more information about it to see if it could become something or not. You see after working on it for a bit that it isn't a good fit and that it's not going to work out the way you thought it would.
Conclusion: you can take action and it can result in 2 ways: or it's valuable and you can do something with it, or it's not but at least you know it's not and you can "check it" and move forward.
What did you lose? Nothing except maybe a bit of your time…?
As you can see, no matter what, everything will be okay. The only very hard part is to start! Then, you can just discover what's working and what's not and get feedback along the way. Simple, but not easy 🙂
Over 10,000+ people have decided to stop feeling fragile and insecure about themselves.
What are you waiting for?
Get all of my EXPERT TIPS to build REAL confidence.
How to Feel Better = Self-Confidence Course
Want to build REAL confidence and live an extraordinary life?
Double your confidence and self-esteem with my BEST-SELLING course called This is Confidence.
I'm sharing with you ALL THE SHORTCUTS that helped me and life coaching clients become super confident.
Ask yourself: 
If you're not confident yet, you're missing out!
Enroll in This is Confidence immediately to change your life for good.
The example of taking action
I really like this TED talk from Steve Garguilo that is called The Science of Taking Action.
Actually, it's funny because this TED talk isn't really talking about the science behind it, but more how we are always looking for ideas and not taking action on any of them.
He's then showing examples of people that succeeded because they took action.
Check it out yourself:
Taking actions to grow your self-confidence
So yes, this is the part that we all waited for 🙂
Taking action will definitely help you on your journey to becoming more self-confident. Why?
No matter the result, if you take action, you are already proving to yourself that YOU CAN DO THIS.
That you can do something that you've been thinking of, and that you stopped feeling bad about yourself because you have all of these thoughts in your head such as "I want to do this, but I'm not sure, what would happen?" and so on…
And as you remember if you've read my other post about The Secret To Self-Confidence, having confidence in yourself means that no matter what, you will be okay. No matter how the situation is going, if you're getting the result that you want or not, you will be okay!
Simply imagine yourself: think about something that you really want to do. Imagine that you're doing it, how does that make you feel? Great? Accomplished? Even if you're not done yet doing it and you don't even see any results yet, the feeling is amazing no?
The problem is not only not taking the action, but it's also really the feeling behind it: we feel bad about ourselves, for not even trying! This is lowering our self-esteem and it's not a nice feeling at all 🙁
We just want to feel proud of ourselves, right?
Related article: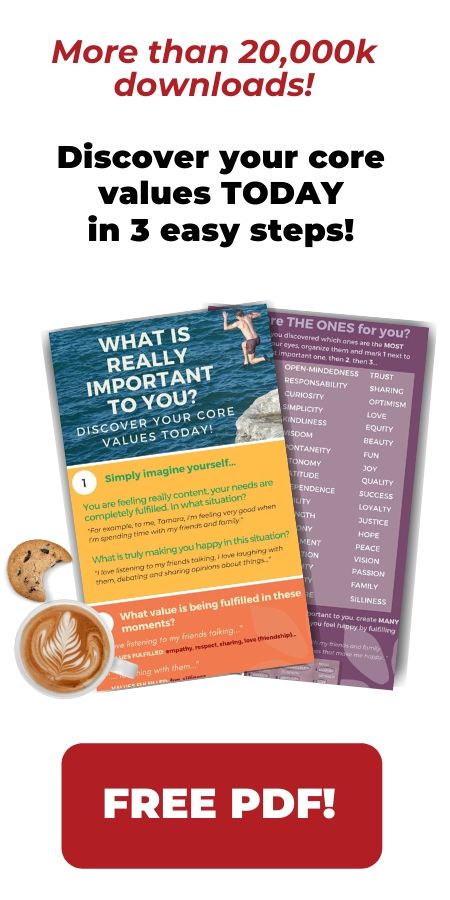 How to start taking actions today?
Okay, so this is the part that is as I said it before, very simple in theory but not easy at all in our every day's life!
How to do it?
My solution to taking action is the 5-minute rule by Mel Robbins, check it out here if you never heard of it:
This method is so powerful, when you want to do something, just count down from 5 to 1 and get started already, before your brain will take you out of it!
If it's something that isn't doable in the next minutes, write on a paper what you want to do and look at it. Then ask yourself these questions:
What can happen if I'm trying this out?
What results can I get?
If it's not going the way that I want it to go, what can I do about it?
What fears are stopping me from taking this action?
What do I need to believe to convince me to take this action?
If a friend came to me and talked to me about doing this, what would I tell her/him? (It's sometimes very easy to give advice to other people than to ourselves!)
If I had a magic wand, what would I do with it?
In a perfect world, how would this action go, I mean, what perfect result would I get?
These questions are so powerful. You can think about them, you don't need to find an answer to them straight 🙂
Already thinking about it can get you closer to take action!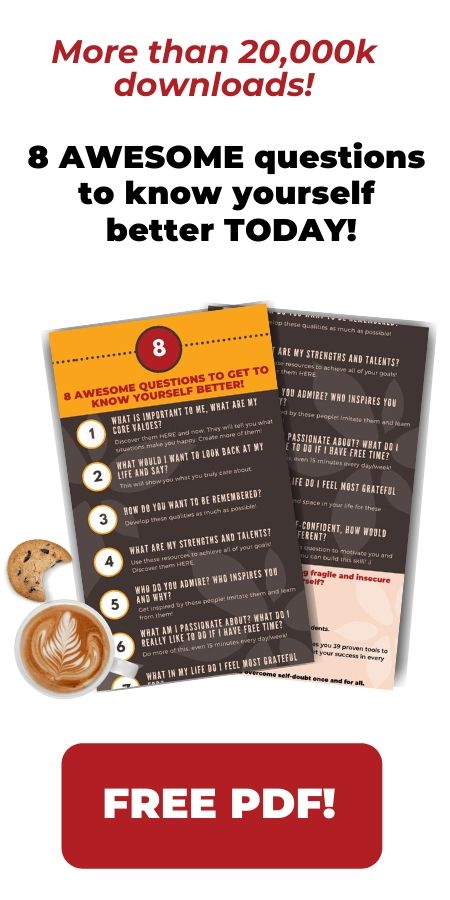 To sum up!
To summarize, we've seen that what is preventing us from taking action is usually fears that we have.
We are wondering what can happen, what can go wrong, and this is stopping us from taking action. It's way more comfortable sitting in our comfort zone, because we know what result (and no result!) we can get from this situation.
Now, we know that taking action can highly benefit and grow our inner self-confidence because taking action is showing us that WE ARE WORTH IT, that we can do it, and that no matter what, everything will be okay!
Also, we discovered that the result of taking action can be or success in what we want to do or feedback. So or we discovered something that worked (success) or we discovered something that did not (feedback) but at least, we're going somewhere! 🙂 And going somewhere is what keeps us moving and make our self-esteem rise and our self-confidence grow! 🙂
What can really go wrong? 😉
You may also be interested in…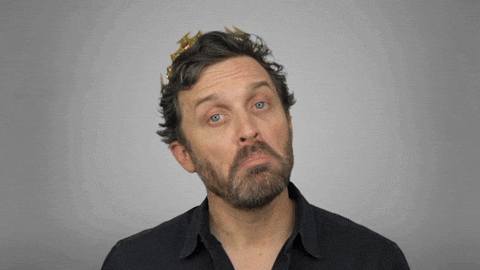 What do you think about taking action?
Do you also have fears sometimes, that are paralyzing you and you just cannot move? You're not alone! Share in the comment section what are your thoughts about this.