How do you stop worrying about what other people think? What is really in your control? Discover how to deal with what other people think of you…

ENGLISH DISCLOSURE: I'm from Switzerland (yes, chocolate!) so English isn't my first language. Please forgive me for my mistakes 🙂
THIS POST MAY CONTAIN AFFILIATE LINKS. PLEASE READ MY DISCLOSURE FOR MORE INFO. 
---
✓ Should I read/listen to this? You need to read this if you ever found yourself comparing yourself to others and feeling like you need other's people approval to live your life.
✓ How is it going to help me? By understanding how you have absolutely no control over other people's opinions, it will set you free you'll see! 🙂
---
Do you want to hear more of my accent?! Discover all episodes here!! 🙂
Other people's opinions
What people think
Why do we care so much about what other people think of us?!
Where is it coming from?
And how can we let it go and just care about what we think?! And what do we have control on?
The moment that you discover how and why you don't need other people's approval, you will feel real freedom! 🙂
Let's get into this!!
Other people's opinions…
Why do we even care about people's opinions?
On what are they actually basing their opinions about us? The way we look? The way we talk? What job we may have?
I was really curious to understand this better, so I listened to Brooke Castillo's Podcast "Other People's Opinions" and she says that "[People] They choose their opinion based on what their brain tells them."
So it has nothing to do with you!
It's alllll about them! 🙂
It's all connected to their experiences, their beliefs, all of what they've been through…
And when you think about it, every critic that someone is making about someone else, is probably because it's something that this person may criticize towards herself!
For example, someone that makes a comment about someone else's weight, is probably having a strong opinion about weight and maybe about her own weight… So… Always remember that a critic to someone else can actually be something that you are criticizing about yourself!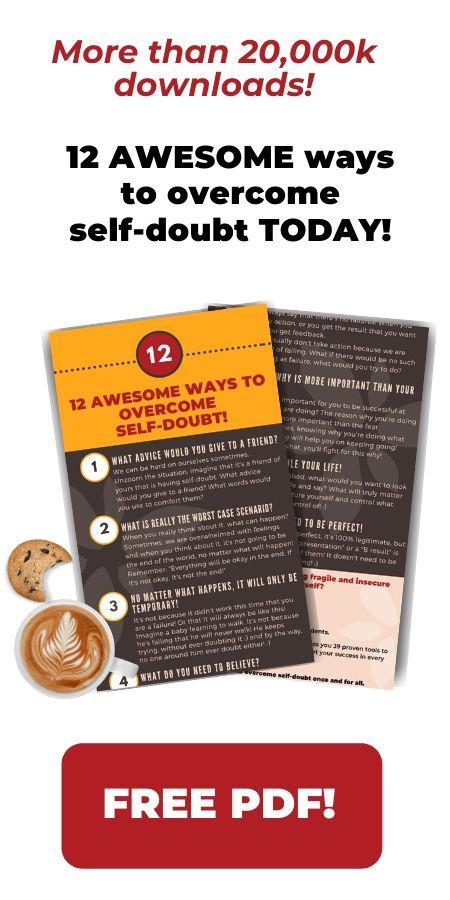 Can you have an influence on what they think?
This is the new (and I can assure you that it's a good one!), you can NOT have an influence on what people think of you.
You can say whatever they want to hear or dress the way that they think that you should dress, it doesn't matter, you won't be able to get into their head and to decide what they will think of you.
The moment that you realize this and discover that actually, you CAN NOT do anything about it, can change your life!
I remember talking about this with one of my customers and he told me "what you just said set me free".
I didn't tell him straight that he has no influence, of course, I asked many questions that made him come to the conclusion that even if he's trying his very very best, he's just not going to be able to do it.
And he was so surprised with me telling him this! 🙂 I will always remember that moment!
Why do we even care about what other people think of us?
If only caring about what people think of us would give us the power to take actions, to achieve all of our goals or to live a better life! 🙂
But this is the problem. Most of the time, we are afraid of doing something because we are scared of what people may think of us!
We are afraid that they will judge us.
The problem here is that no matter if you do something or if you don't do anything, people will judge you anyway! 🙂
So in the end, you better do and be what you really want, right?! At least, someone gets to be happy in that situation!
How I used to care…
Let me show you an example of how it affected me and how it then set me free.
A few years ago, I wanted to stop being a teacher for a while and to build my own business while traveling the world. I'm not sure if that's something that I will do for the rest of my life but at that time of my life, this is what I wanted.
I started imagining that people will judge me and tell me "why not settling down, having a family… Why is she doing something different?" So I felt judged and always the need to justify myself.
Before stopping being a teacher, I remember people judging teachers and saying "they have a very quiet life. Good salary, good conditions… They shouldn't complain!" And these are also judgments 🙂
Now that I'm traveling and building my own business, people are asking me "But when are you going to get a real job? And where do you want to settle?" Even if they don't mean it the wrong way, they still have an opinion of me and are still judging!
As you can see, no matter what you'll do, people will have something to say 🙂
Over 10,000+ people have decided to stop feeling fragile and insecure about themselves.
What are you waiting for?
Get all of my EXPERT TIPS to build REAL confidence.
How to Feel Better = Self-Confidence Course
Want to build REAL confidence and live an extraordinary life?
Double your confidence and self-esteem with my BEST-SELLING course called This is Confidence.
I'm sharing with you ALL THE SHORTCUTS that helped me and life coaching clients become super confident.
Ask yourself: 
If you're not confident yet, you're missing out!
Enroll in This is Confidence immediately to change your life for good.
What is happening when we care?
What is happening is that we are maybe limiting ourselves doing/accomplishing something that is important to us.
And there is even another problem when this happens: you will get mad (inside of you maybe only, but that's enough!) at people. Because you will feel like you're stopping yourself from doing something that you really want to do. You still "don't feel like you're living your best life!" and that can be very frustrating!
I totally get you! 🙂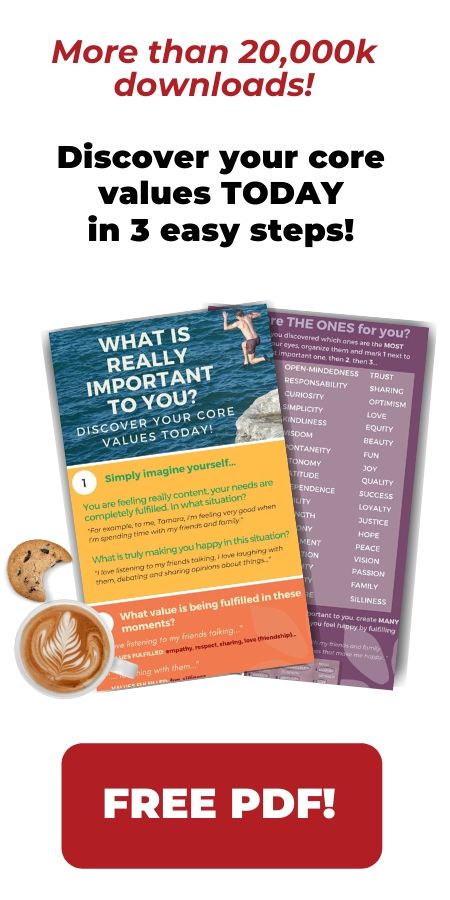 Who's opinion matters the most in your life?
I really like this question and I want you to ask yourself…
By the end of the day, who's opinion matters the most to you, in your life?
Maybe your boyfriend/girlfriend/spouse/aunt/mother/father-in-law's opinion matters to you… But at night, before going to sleep, or when you wake up, who do you really want to make happy? And who knows what's best for you?
Probably yourself! 🙂
So, as much as it can help to know what people think of you, when it comes to taking actions, making decisions and living a passionate life, you are the only responsible for it! So you need to create an opinion of yourself that is supporting you!
Does that make sense? 🙂
What is your opinion of yourself?
You can care about other people's opinions, but now I want to ask you: what is your opinion of yourself?
How does it make you feel if you could be your true self and people that will love you/relate to you/listen to you and they will do it from a place of loving the real you and not someone that's trying to please them?
Then and this is something amazing to think of. If you think that people don't have the right opinion of you, I like when Brooke Castillo is saying when she's saying that you should "let people be wrong about you!".
If they don't know the right you, let them be wrong about you!
What can happen the moment that we stop thinking of what people think of us?
It can change completely our life!
The moment that you realize that no matter what, you won't be able to enter someone's mind and make him think something of you, it can really set you free.
Since you know that there's no way you can influence that, why even try?! This really helped me out back then! 🙂
The example of someone we admire…
I like to think about it this way… Think about someone you admire.
Imagine that someone else would talk about this person "in a bad way" and says things that you strongly disagree with because you completely admire this other person!
You would maybe think "that's her opinion, I strongly disagree because I love this person!"
Well… If you don't care about this other person's opinion, why would you care for someone's opinion about you?!
How do you stop worrying about what other people think?
Okay, so now that you know that you simply cannot change someone's opinion of you, I want you to do something else too.
I want you to really start treating yourself like you would treat someone that you love.
Try self-care, try knowing yourself better (with my FREE PDF!), discover who you really are and how you don't need to control other people's opinion of you.
Because the only one that truly matters is yours!
I like this quote from Brooke Castillo that says "Other people's opinion is none of your business."
You don't need and you shouldn't care about what people think!
What is important is what YOU think of you! So start working on this before trying to do it with others! 🙂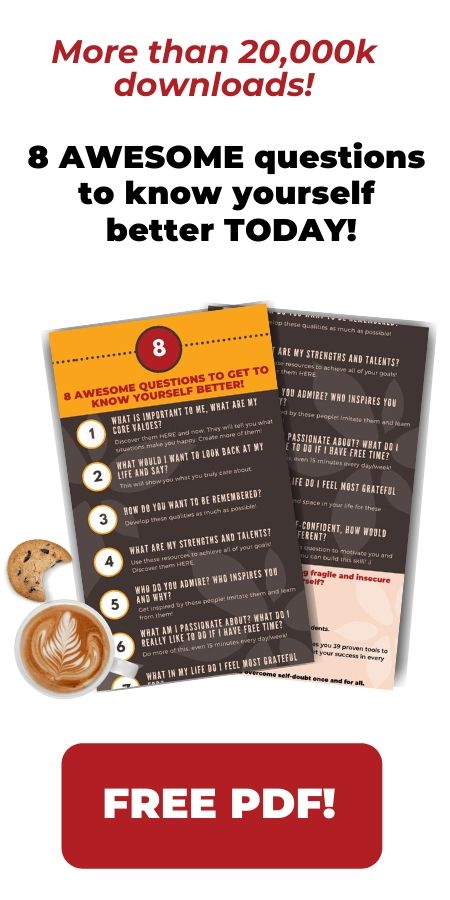 Related articles:
30-Day Self-Care Challenge Ideas
How to build self-worth, 5 incredible tips to help you!
To sum up! 
As you can see, you don't have any control over what people will think of you.
All you can do is stop caring now, get to know yourself better and fall in love with the person that you are!
You are good enough and you are completely worthy of being who you truly are and do what you truly want to do! 🙂
You may also be interested in…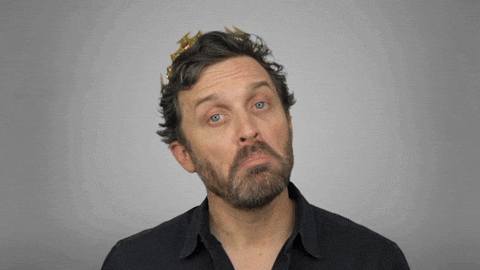 What do you think of this?
Are people's opinions still something you can think of? 🙂