Do you feel stuck in your life? Do you want to set goals and really achieve them? All of this while not feeling overwhelmed anymore, more productive? This is THE solution to all of this… 

ENGLISH DISCLOSURE: I'm from Switzerland (yes, chocolate!) so English isn't my first language. Please forgive me for my mistakes 🙂
THIS POST MAY CONTAIN AFFILIATE LINKS. PLEASE READ MY DISCLOSURE FOR MORE INFO.
---
✓ Should I read this? You NEED to read this if you ever feel like you could get so much more from your life: a better mindset, finally reaching your goals, be more productive, feel less overwhelmed, less busy, be better organized…
✓ How is it going to help me? By learning how to master all of this, you'll be so much more fulfilled with your life. You'll feel peaceful and contented like you've never felt before.
---
How to take control of your life starting today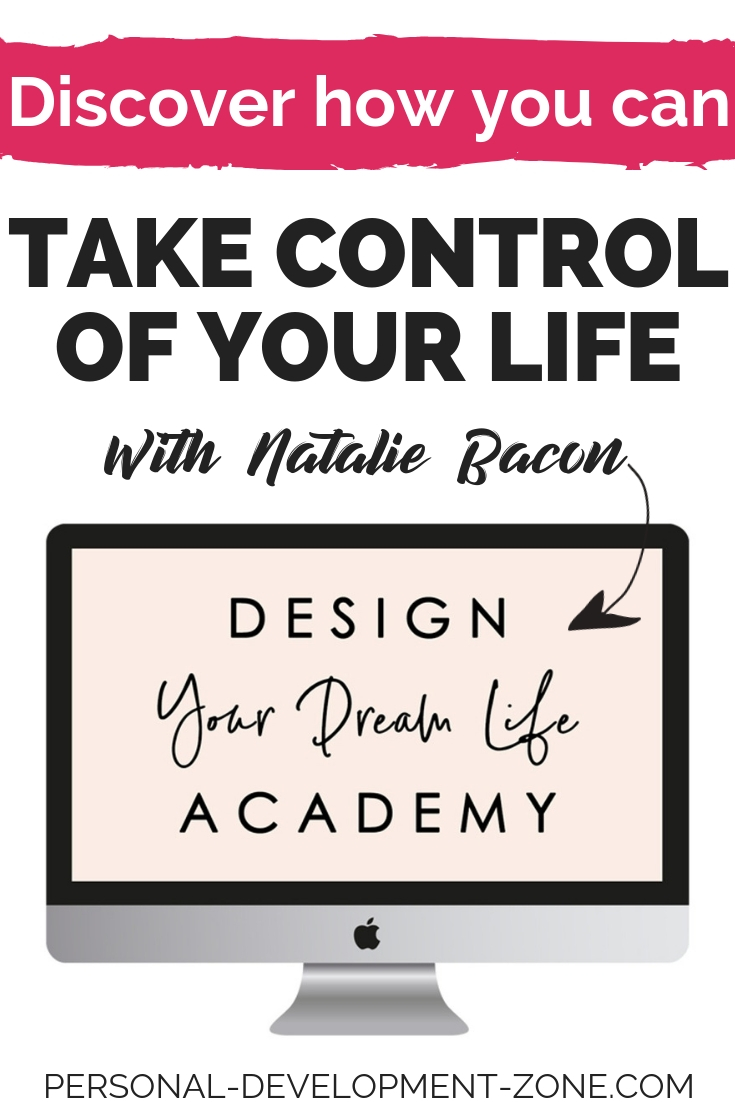 Ready to take control of your life? 
You're looking for more success in your life?
You want to feel less busy, overwhelmed and be more productive with your time?
Are you interested in changing your mindset?
Setting and achieving any goals that you truly want?!
Then discover how I did it! It will work for you too!!
Natalie Bacon's course completely changed my life. I didn't know that something like this existed and I'm so happy I found it 6 months ago on Pinterest.
Get ready for this!! 🙂
How did I find this?!
Actually, 6 months ago, I used to feel very overwhelmed with my life.
I didn't know where to start (being overwhelmed about the fact that I was overwhelmed…!) and I just wrote this on Pinterest "overwhelming" and found a pin of Natalie Bacon.
So, I can tell you, I desperately needed help with this and I'm so glad I found it!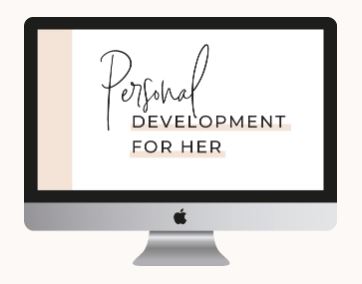 Why I took Personal Development For Her
I was looking for a way to feel less overwhelmed, less busy with my life.
I also felt stuck a bit! Like I didn't know how to be more organized, in what direction was I going! I knew what I wanted to do with my life, but I wasn't sure how to get there. It's not like we're learning this at school…!
Also, I always felt so busy doing lots of things without feeling productive, which can sound paradoxical! I felt like I was working hours on things and in the end, I wasn't even convinced with the result!!
So, I looked for a solution to this problem on Pinterest and found Natalie's course.
I cannot believe that we may say sometimes "If I had this, I would do that" or "If I was this kind of person, this is what I would be doing", it's silly!
We can do whatever we want with our life and Personal Development For Her is showing you exactly how to do this.
We can do whatever we want with our life and Personal Development For Her is showing you exactly how to do this.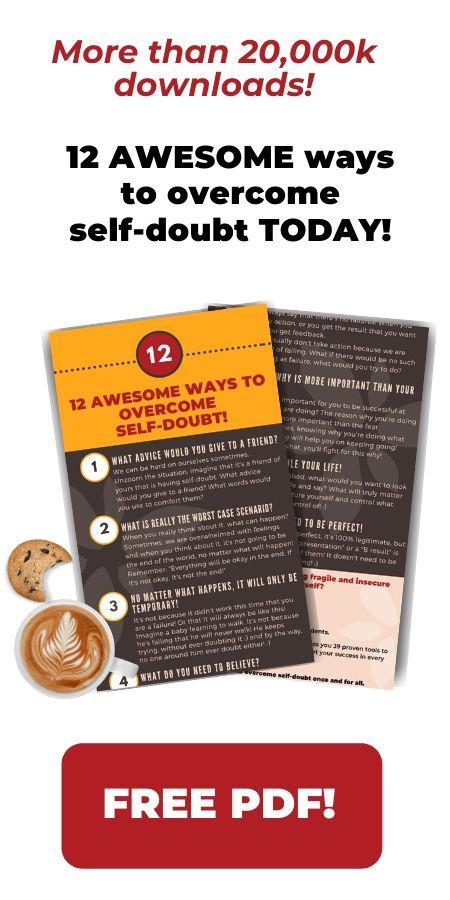 The results of taking Personal Development For Her
The results are SIMPLY AMAZING.
Natalie is giving us so much on 11 topics which are the following: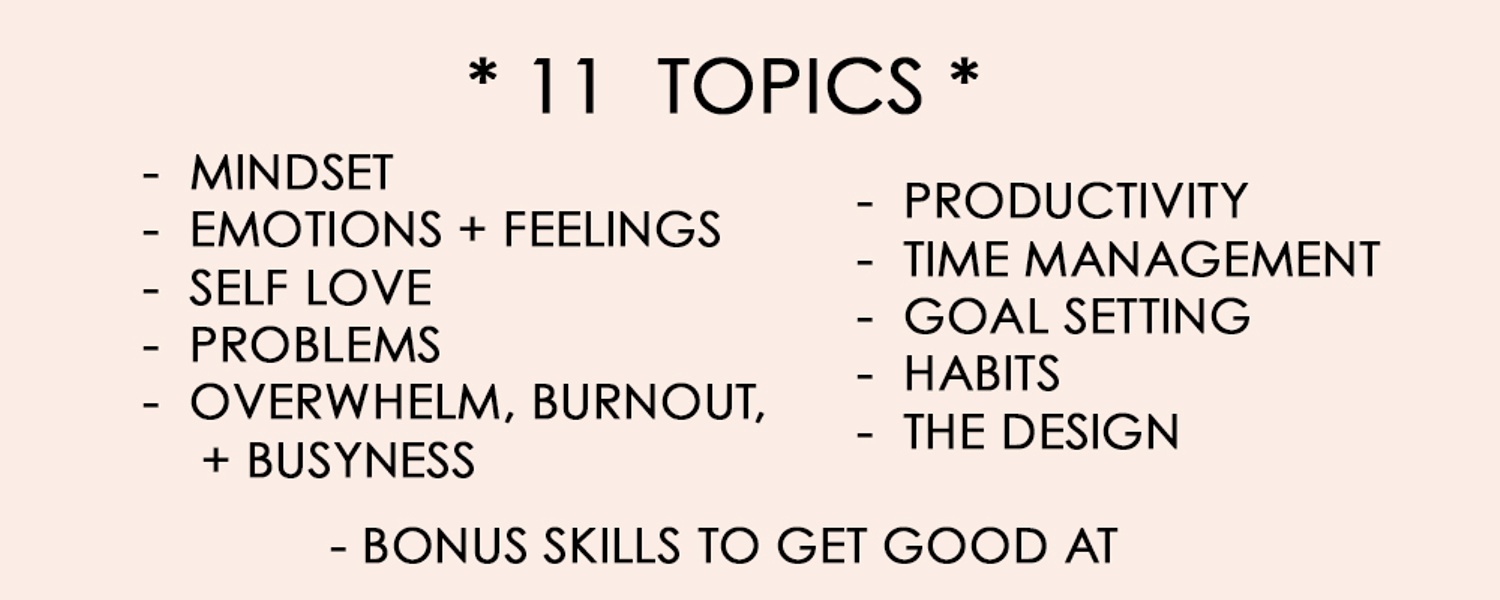 Here are a few results that I can think of straight when I think about this course:
♛ NEW SUCCESS-MAGNET MINDSET
I learned how to understand better how my brain works and how to master my mindset.
For example, Natalie is explaining very clearly that:
Thoughts > Feelings > Actions > Results.
She says that our thoughts are creating our feelings that are creating our actions which are creating the results we have in our life.
The moment you think about this, you know that you're the one responsible for your life and that you can do whatever you want with your life the moment you understand how to create a success-magnet mindset!! 🙂
This was so powerful, I think about this almost every day.
♛ HOW TO LOVE ME
The self-love module was simply life-changing to me.
There is one lesson that changed everything in me! The lesson is called "Other People" and I've listened to it already 4 to 5 times I think!!!
She's saying that basically, what people are telling us, says a lot about THEM, but never really about US! The way that she's explaining it and showing it to me, made me realize it and I found myself feeling so PEACEFUL now that I'm thinking about it.
People will always have something to say, advice to give, opinion about what you're doing, who you are, etc. And you can really take the best out of it, without feeling judged! Because in the end, it says about THEM, and not about YOU.
♛ FINALLY, I DON'T FEEL BUSY ANYMORE
I'm telling you… Why aren't we learning this at school?!
I always felt so busy and overwhelmed with my life!? I kept on saying "I'm super busy" and just saying it made me feel worse.
I felt guilty about feeling this way, I felt like I wasn't taking control of my life and that I was a victim of it, which is a horrible self-depreciative feeling… 🙁
♛ WHAT PRODUCTIVITY REALLY MEANS
I've read the book of Tim Ferris, the 4 Hour-Week Book, and I already knew that I could be more productive with my time.
This is what he's saying, that we need to organize our work better to get more done in less time.
Natalie helped me A LOT by developing this by saying that we need to measure our productivity by results and not by how hard we are working! This was also a game-changing for me…
That's so true!! There's no such a thing as "I worked so hard" if you didn't accomplish anything! You need to work *smart* and this, to me, made me start being way more productive and also, was making me FEEL so much better about my time. I'm finally using my time properly and am feeling simply AMAZING after accomplishing a task on my to-do list!
♛ LOOKING AT PROBLEMS THE RIGHT WAY
I used to think that problems are annoying and that I wished I didn't have any!
The whole module on problems made me realize that there isn't necessarily something negative. We can learn how to deal with them and how to take the best out of them.
The moment that I realized that problems are part of life and that "it's okay to have problems", made me feel much better. Maybe I needed to hear that it's legitimate to feel powerless and sad facing problems, it's stretching us out and we don't feel comfortable. But we CAN feel okay with problems and deal with them the right way, again, by having a great mindset and attitude towards them!
"Self-pity" is one lesson part of this module that ROCKED my world.
She's saying that we may find ourselves sometimes feeling self-pity towards ourselves.
Then, she's saying that we should say that our life is happening for us and not to us, which means that we can totally have control over it!!
This changes everything to me. From that day, I literally stopped saying things that made me not feel good about myself and that made me feel like a victim of my life! I'm definitely not a victim of my life, but the creator of it 🙂
♛ SKILLS TO GET GOOD AT
Natalie is also giving as a bonus, a module that she called "skills to get good at", I don't understand why it's a bonus, I would have totally paid just for this!!
For someone like me who likes organization, this was perfect. Very organized and very straight-forward on how to develop these useful skills to design my dream life. This probably pushed me back then to enroll in this course but honestly, I learned so much from this too!!
♛ SO MUCH MORE…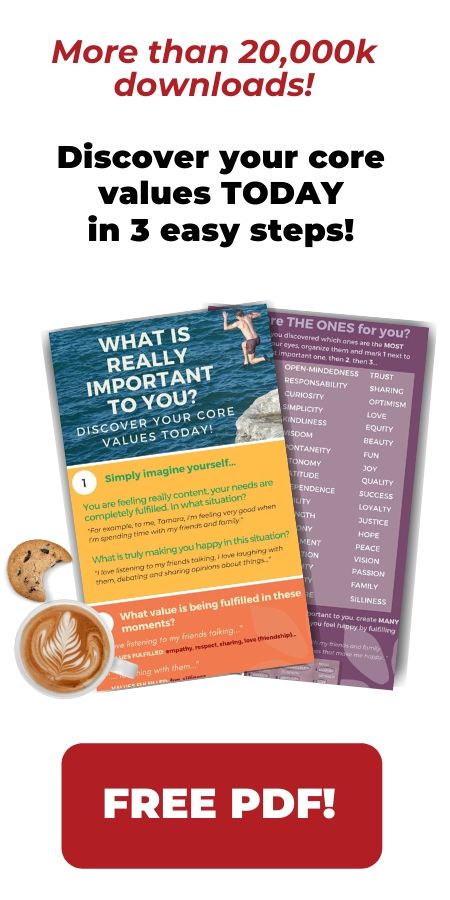 Over 10,000+ people have decided to stop feeling fragile and insecure about themselves.
What are you waiting for?
Get all of my EXPERT TIPS to build REAL confidence.
How to Feel Better = Self-Confidence Course
Want to build REAL confidence and live an extraordinary life?
Double your confidence and self-esteem with my BEST-SELLING course called This is Confidence.
I'm sharing with you ALL THE SHORTCUTS that helped me and life coaching clients become super confident.
Ask yourself: 
If you're not confident yet, you're missing out!
Enroll in This is Confidence immediately to change your life for good.
Who's Natalie Bacon, the instructor of Personal Development For Her?
Natalie Bacon is this amazing success coach that knows what she's talking about because she's been through it!!
She went to law school and then became a lawyer. After that, she passed the exam to become a financial planner and now she's learning how to coach!
She's a brilliant entrepreneur: she built her own very successful business very quick!! So she definitely knows what she's talking about when she's teaching about designing your dream life and reach all of your goals 🙂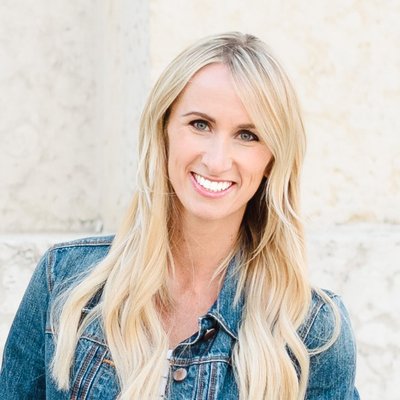 What's in the Personal Development For Her
Through her content, Natalie is always giving SO MUCH VALUE. I simply love what she has to share!
So, just imagine if she's giving so much FREE value, in her course, everything she's teaching is so amazing! Because she's going deep into every lesson, you have all the information and solutions in details. You definitely have no excuses 🙂
But to summarize, you'll get over 21 notebooks and workbooks including her famous Dream Year eBook.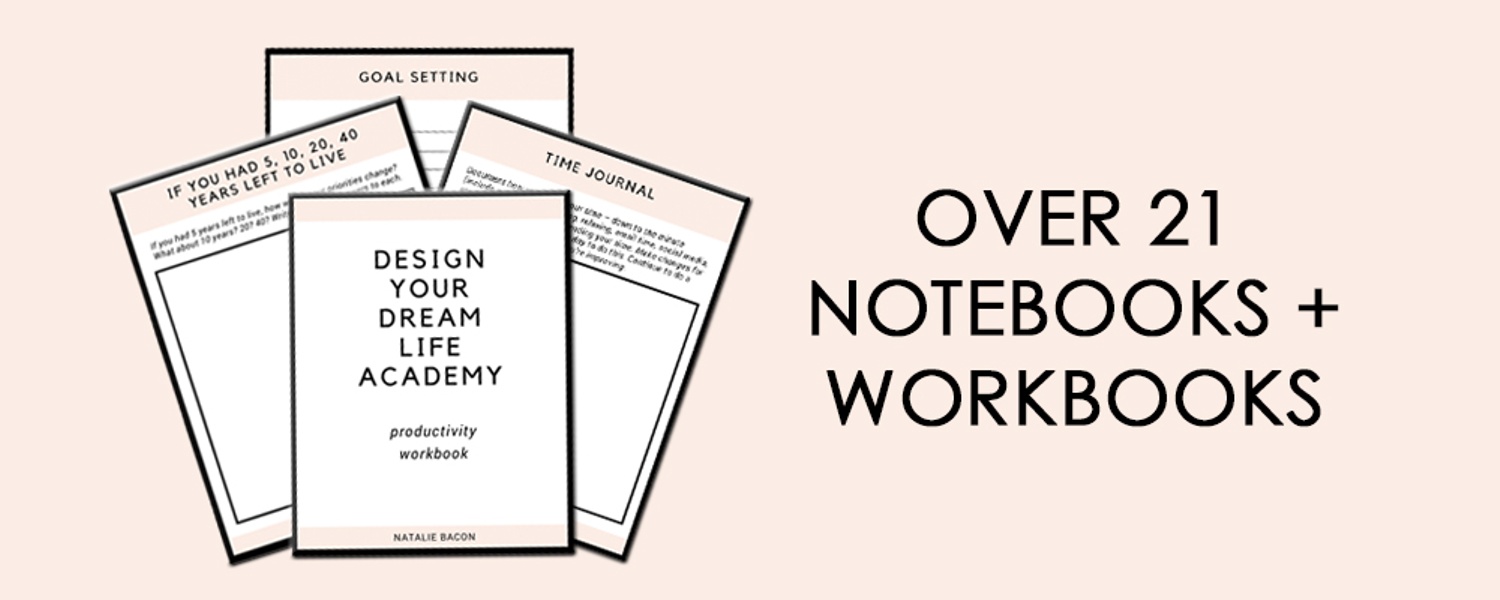 A lifetime access to 95+ lessons, which is countless hours of explanations and solutions to everything you need to design your dream life!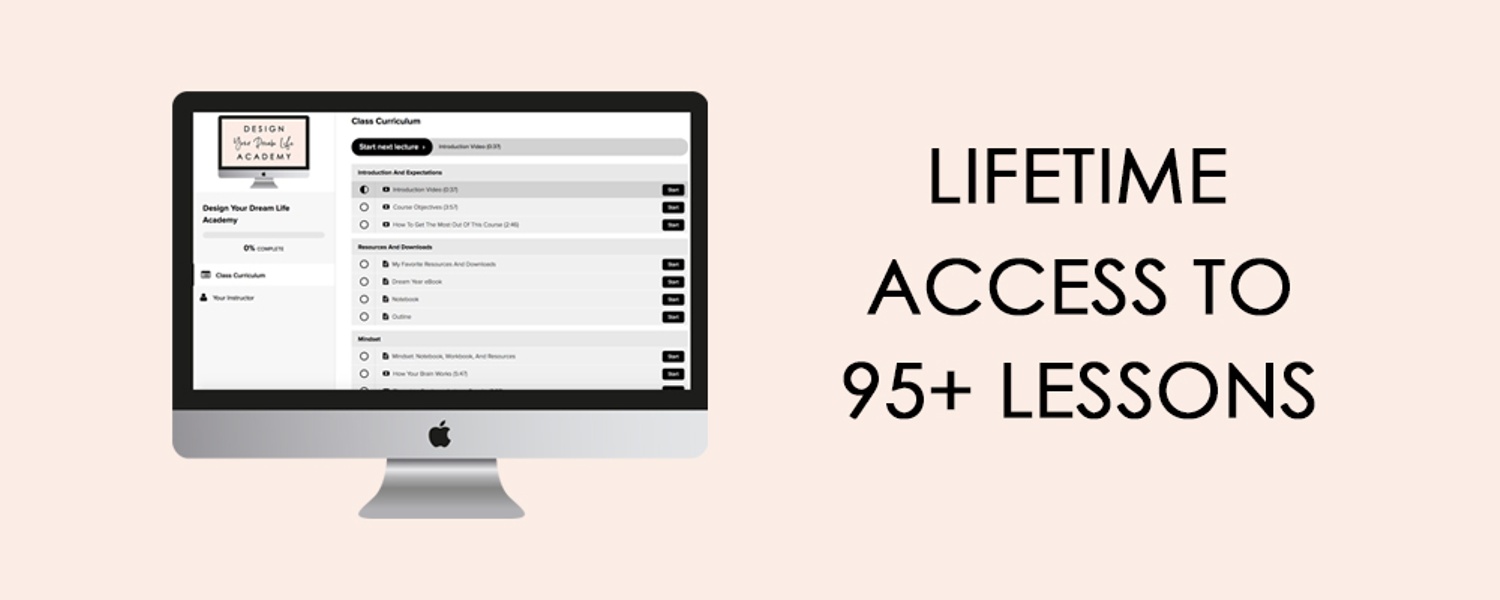 All the course is very complete, it's covering 11 topics AND the BONUS skills to get good at: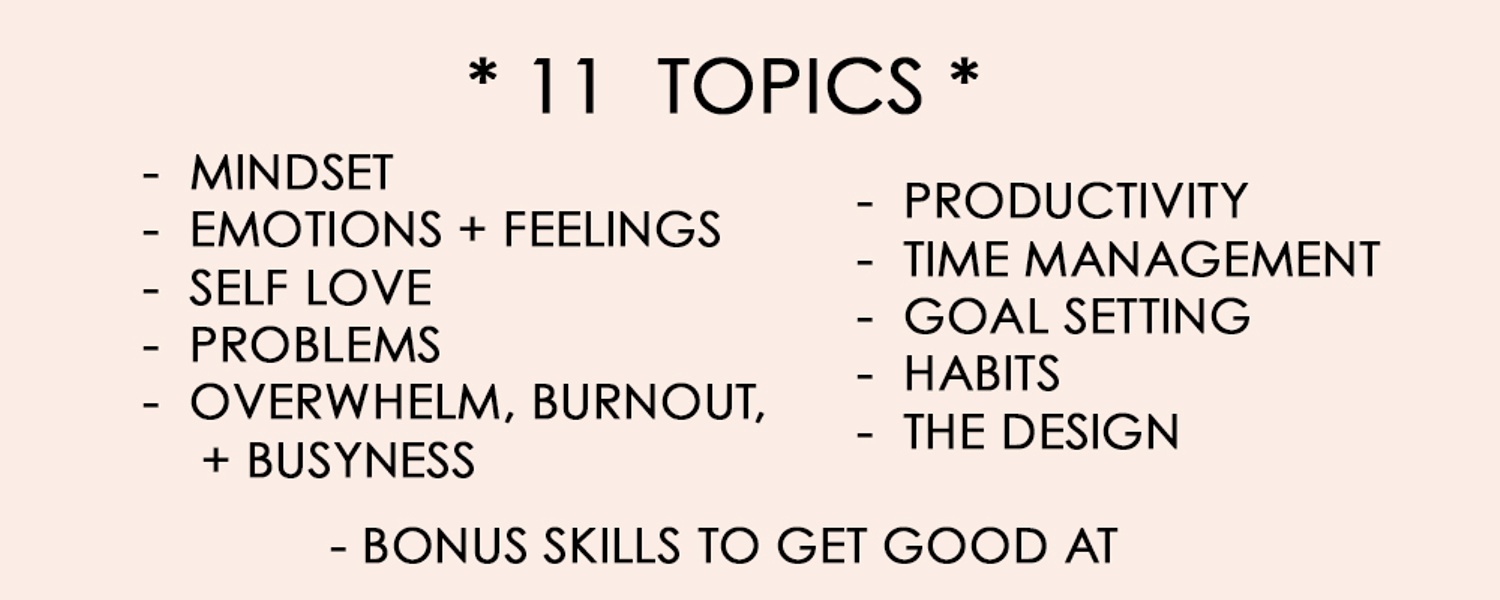 It also comes with 3 bonuses:
1. Private VIP Facebook Community (with one-on-one access to Natalie) – $197 Value
2. Goal Setting Book + Workbook – $47 Value
3. Bonus Module (Skills to get good at) – $99 Value
As you can see, you get A LOT for what you will be paying for….!
What is very unique about Personal Development For Her
In the personal development niche, I find that very often, the curriculum and lessons of the courses you can find are very confused.
I mean, people want to help you and find solutions on a "general" view if you know what I mean, there's no real practical tips or examples.
I said before that I was looking for help on feeling less overwhelmed and in fact, I didn't want some quotes or something more "passive information" to help me with. I was looking for useful and practical information.
And this is what you will find in Natalie's course: realistic ways to work on my overwhelming and non-productive problem.
This is what's really unique about this course, at the end of each lesson, you will have all the keys to take actions and to see results very quickly.
How I'm using Personal Development For Her
This is a full course, you get notebooks, workbooks and you have the PowerPoints with Natalie's recordings. It's very complete and the way that I used it is that I went through each lesson one after the other and took actions at the end of each one of them.
Everything is very organized and very clear, you won't feel lost or confused or overwhelmed (this would be terrible 😉 ).
I saved the Dream Year eBook on my computer and I'm printing some pages that I want to have with me all the time.
One example that I can give you is that I wanted to have printed, all the actions that I will take during the next month to accomplish my 1-month goal. This is how it looked like (this was a month ago):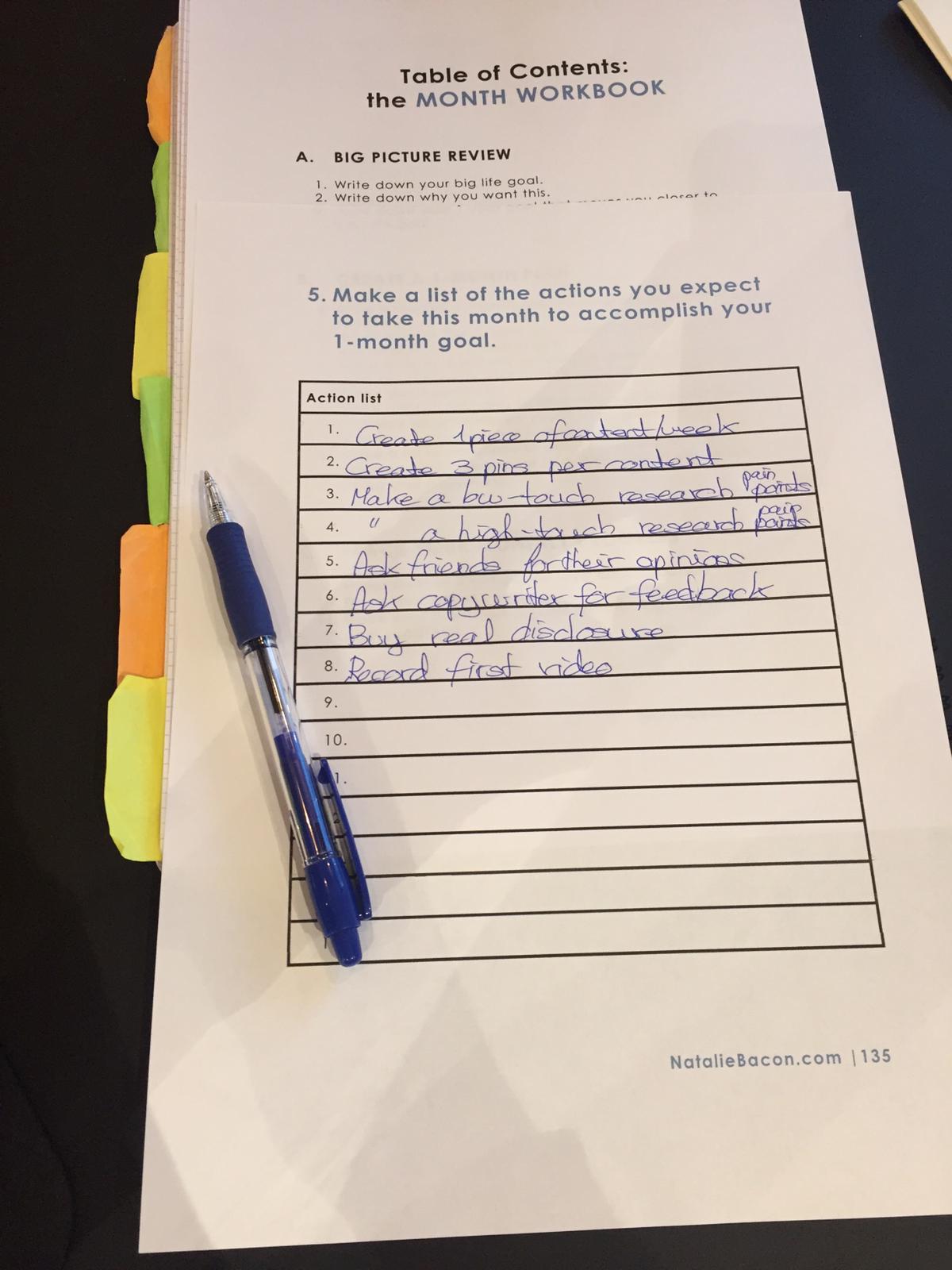 So you can do it like me: going through the lessons and take actions each time at the end of each module.
As you can see, of course, it's asking for a bit of work, I love the quote that says "Don't expect to see a change if you don't make one".
Of course, you will need to go through the lessons and to take actions to see results, and you'll see, it will completely be worth your time and energy, I have absolutely no doubts about it!
What I absolutely love about Personal Development For Her
I already talked about it, what I REALLY liked is that you will get practical and realistic solutions.
This is not another course on how to think about it, how to convince yourself, etc., but really, something that you will be able to take actions straight and get results very quickly!
Also, there is something that I totally loved was, at the end of each module, she's giving examples Thoughts, Emotions, And Questions That Support Productivity for example. This is SO POWERFUL. The moment you realize that what thoughts, emotions and questions you can tell yourself to get results is simply incredible.
I wrote down many of them and I'm looking at them very often, as I want to "feel" already that I'm living my dream life!
Natalie also says a lot that many people think that they need to become this person or to have something to feel a special way. But you don't. You can already feel the way that this person is feeling!
For example, she's saying that skinny people aren't thinking about food all the time. People that usually want to lose weight, can be obsessed with food, what they're eating, how much, etc., And she's saying that we should put ourselves already in the skin of someone skinny and think like this person: this person isn't thinking all the time about food or what she's supposed to eat or not to eat!
Of course, it's not always black and white, but you probably got the idea 🙂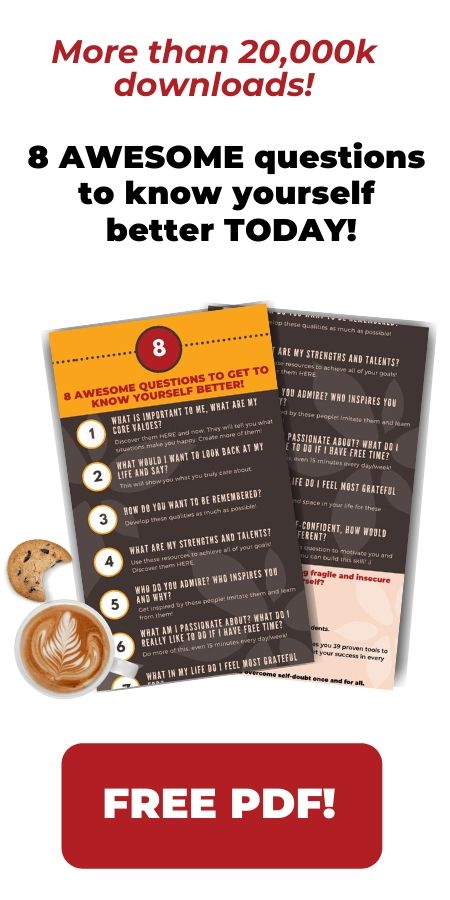 What I less liked about Personal Development For Her
There is one lesson (in the skills to get good at module) that is talking about money mindset. I'm not too interested in money mindset (should I maybe? 😉 ) so this lesson wasn't my favorite, but it definitely has its place there, I know people that love this! Also, it's a 25 minutes lesson which means that if you are interested in this, again, you get so much more than what you actually pay!!
I LOVE listening to podcasts, so I think that it could be amazing if every lesson would be recorded on an audio file that I could listen while walking/driving and then, go back to the course to take actions properly using the eBook.
Honestly, there's nothing else I can say that I less liked about this course!
Who this course is for?
This course is for you if you're just like me and that you want…
MORE from the life you're living!!
To take actions to live a more fulfilling life
To master your mindset and get ready for being very successful 🙂
To be more productive and amazing and a real pro at time management!
To feel less overwhelmed, less busy
To write down your goals and finally reach them
To get new habits and to maintain them
To make a long story short, to make you have TOTAL control of your life!!
Who this course is not for…? 
If you see yourself in these sentences, then don't enroll in this course…
You don't want to take actions
You don't want to take responsibility for your life
You don't want to discover more about the way you are, how you're thinking, what you want from your life
Also, if you're not too much into audio and video courses, and more into reading a book, then this course isn't the one for you.
How much does it cost?
This course costs 497$.
I can tell you, it's SO CHEAP when you think about all the benefits and the life-changing results you will have if you learn and take actions from each lesson in this course.
Honestly, I think that Natalie should charge for more 🙂 I told her this!!
She said something: this course is not even worth 1$ if you don't take any actions. But if you take actions and learn from it, it's worth SO MUCH MORE. I highly agree and think that these are one of the best 297$ I ever spent, this I can assure you!
How come that we may spend hundreds of dollars on shopping and food when the results from this kind of courses can truly change our life and make us happy like we never been?!
How to decide if Personal Development For Her is for you?
If you find yourself at a point of your life when you feel like you can get way more out of it, that you believe that you can live a life that will truly fulfill you, then Personal Development For Her is definitely the next step you need to take.
I put all of my heart in this post because I truly believe in this course.
I'm the example that he completely transformed my life and I wish that you would take it to tell me that it did the same to your life!!
Also, Natalie offers a 100% money back guarantee, even if she says that she "always overdeliver in value", if you are not happy with it, you can get your money back 30 days after you purchased it. Who does that?!
I'm telling you, this course is PURE GOLD.
Change your brain change your life
In this course, you will discover how your brain works and how you can get much more from it!
You will see how your brain can support you, how you can create new thoughts so you can feel different and become truly successful in your life.
It's a total win for you, I can assure you 🙂
Simplify your life
If you're like me, you would look for many different solutions in various places (Google, Pinterest…) when all you need to design your dream life is in this course.
It's time for you to simplify your life 🙂 to find all the tools and actionable solutions to live the life that will truly fulfill you!
All of this in one-single-place. Magic! 😉
My testimonial on Natalie's page! 
I was SO HONORED to be on her course's page!! 🙂
I'm a very proud student of hers and I'm sharing just with you a screenshot of my testimonial on her page!! 🙂
You gotta believe me, she's amazing and this course is PURE GOLD 🙂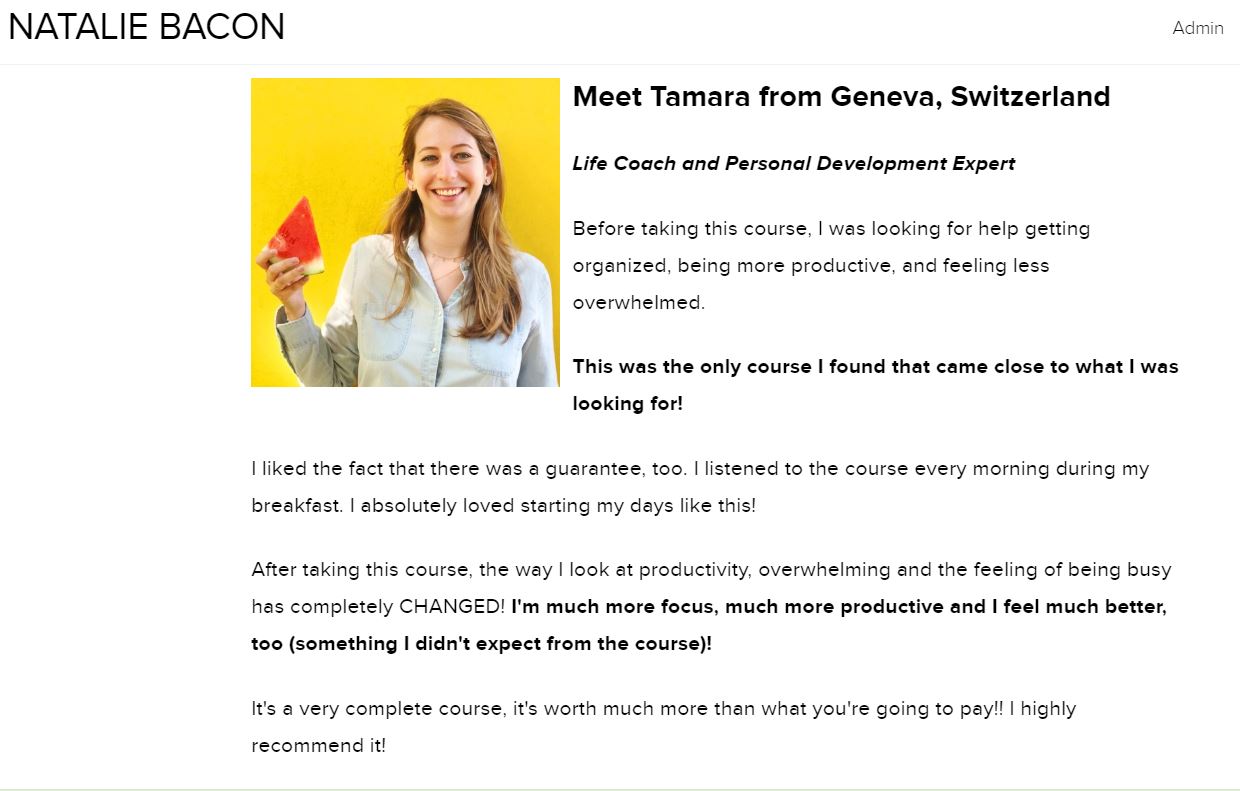 To sum up!
Ok, so I think that you understood quite a bit how I feel about Natalie's course 🙂
I cannot recommend it enough, I wish that someone would have told me about it before so here I am, saving you tons of time of finding many different resources for one single result: having control on a life that truly makes you happy.
No need to look further, all you need to do that is in this course 🙂 I happily paid for this course and I would do it again without even thinking twice!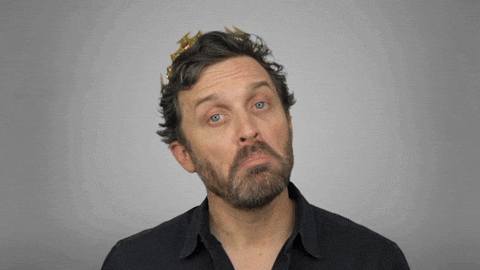 Have you already tried to design your dream life?
Are you interested in learning how to take control of your life?
Let me know in the comment section 🙂
Change your life TODAY, become PEACEFUL and FULFILLED starting today, just click here to enroll 🙂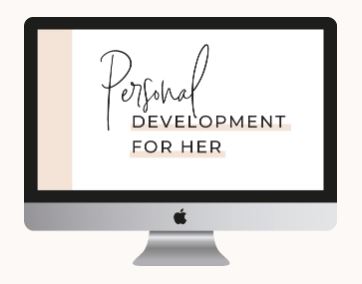 You may also be interested in…