It is quite reasonable to have negative thoughts once in a while in your day-to-day life. Learn how to prevent negative thoughts distorting your life by using some powerful and proven tips! 

ENGLISH DISCLOSURE: I'm from Switzerland (yes, chocolate!) so English isn't my first language. Please forgive me for my mistakes 🙂
THIS POST MAY CONTAIN AFFILIATE LINKS. PLEASE READ MY DISCLOSURE FOR MORE INFO.
---
✓ Should I read this? Yes, you should. Stopping negative thoughts from haunting your emotions and life would require some techniques. The tips we have laid out here are proven to have worked in many instances and to different people. Many have attested to positive results by successfully dealing with negative thoughts. Negative thinking is not a one-time occurrence. You can never harness your thoughts from going the negative route. But you can learn how to deal with each situation before getting out of hand. Read this post to find out how you can do that.
✓ How is it going to help me? The post will help you equip yourself with useful tips on how to stop negative thoughts. You need to lead a positive and quality life without thinking negatively about yourself and your situation. Once you go through the tips, you can learn how to change your mindset towards your negative thoughts. Instead of regarding negative thoughts as 'stumbling blocks,' you can take such notions as 'stepping stones' to improving your life.
---
Are you ready to learn how to stop negative thoughts from ruining your emotions?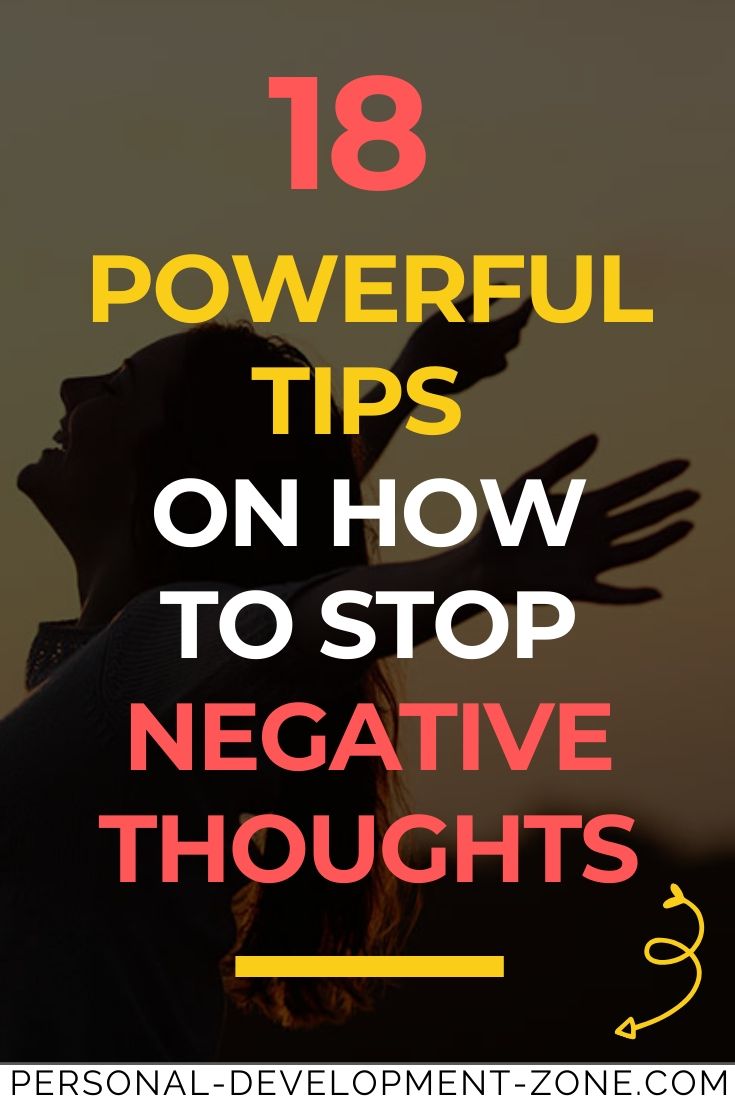 What are those negative thoughts you've been revisiting and ruminating that they are affecting your lifestyle?
Negative thoughts can affect your well-being, relationship, and lifestyle. You need to work on your thinking before going overboard emotionally.
It is quite reasonable to have negative thoughts in your day-to-day life. Just like the weather, it can't always be sunshine. Sometimes it is cloudy and gloomy and so are your thoughts and life. Negative thinking is part of us.
But, the million-dollar question is, how do you stop negative thoughts? 🙂
What Are Negative Thoughts?
A negative thought is thinking the worst of something regardless of whether it is right or wrong.
Negative thinking, just like bad habits, may plunder you deeper and deeper inside the cynical world of thoughts.
You may spend so much time and mental energy ruminating and musing over your negative thoughts to your emotional detriment.
Have you noticed that negative thoughts take precedence in your mind more than positive thoughts? It's hard to change from having negative thinking unless you try to replace such thoughts with many other positive ones.
For instance, I'm in the process of quitting sweets and everything that contains processed sugar. Those who follow my blog posts, know my struggles with quitting sugar. I find it hard to come out of the habit than remaining in it. The solution that's helping me is 'to quit the habit by replacing it with another habit.'
I learned to fill the 'sugar' vacuum with fruits and especially (my favorite fruit) watermelon. Otherwise, I could plunge myself back to the habit which slowly by slowly I'm making progress to quit.
Likewise, coming out of negative thoughts may require the same procedure. Replace your negative thoughts with positive ones.
Why Negative

Thoughts?
There are several reasons why you may be having negative thoughts. We all fear negative occurrences in our lives. The thing you dread most is what you encounter often.
That makes you dread what you fear. You then spend most of your time protecting yourself from what you fear most, hence subconsciously thinking about it.
Fyodor Dostoevsky, a novelist, wrote, "Try to pose for yourself this task: not to think of a polar bear, and you will see that the cursed thing will come to mind every minute."
Does it sound like you?
I connect with it! 🙂
I fear to fear. Sometimes I find myself musing over negative thoughts more when I'm trying hard not to!
Talk about fear…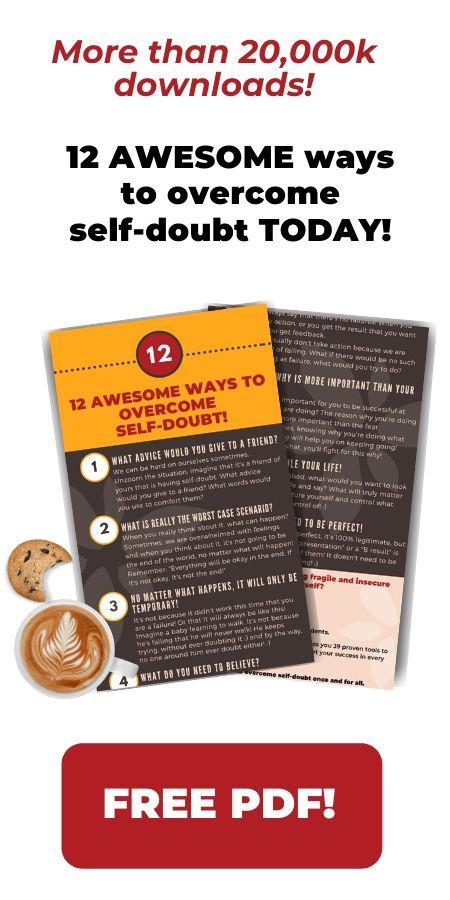 How to Stop Negative Thoughts
Any of the negative thoughts you harbor can fall under one of the following classes. Realize how to classify each of your negative thoughts to know how to deal with it.
· Filtering Thought
Are you the type who go looking for the negative side of things when things are 'too good'?
Yes, sifting through all the positives because they are unbelievably 'too good to be true.'
You work so hard to find that one thing that went away. That one 'black dot in the midst of a white sheet' and successes.
What do you do when you find yourself filtering?
1. Accept the Negative Thoughts Instead of Resisting Them
Filtering is not bad. It is the best way to grow. It is healthy to revisit every achievement in your life to find out what else you could have done to make it even better. Those negative thoughts can stir you up to bring you out of your comfort zone.
Being comfortable for an extended time can retard your growth. That little negative speck could be your wake-up-call to work even harder and make things better.
Start viewing your negative thoughts positively to realize your growth.
2. Filter to Mend but Not to Bend
Ask yourself, are you filtering so that you can plunge yourself deeper into negative thoughts? If that is the idea, you better stop it. You only search your thoughts when you intend to find a solution and mend the situation.
3. Filter to Deal but Not to Seal
Yes, it's healthy to filter if your aim is to root out your negative thoughts. Once you realize the reason to your negative thoughts, deal with each of them one at a time, once and for all.
You must be careful when sorting your negative thoughts to avoid worsening the situation by sealing them further into your mind. Negative thoughts can victimize you to end up becoming a worry freak! Watch out!
· Using Positive Affirmations
Positive affirmation is a technique you can use to dissuade your negative thoughts.
How is that? You may wonder!
4. Change Your Fear to Faith
The word 'faith' means trust or confidence in anything.
Whenever you set out to do something, and you feel negative thoughts or fear gripping you, trust yourself and be confident.
Affirm yourself that you are capable of achieving whatever you set out to do. Banish that fear thought by believing in yourself.
5. Affirm to Confirm
Restructure your thinking by speaking affirmation words to yourself. Whenever you sense your thoughts taking the negative route, talk to yourself affirmation words repeatedly.
For instance, you might have failed the exam you worked so hard for a passing grade.
Affirm yourself that you only missed a few points to get the grade. Working extra hard can make you attain the grade. That way, you confirm in your mind that you were nigh to the grade and that on the next attempt, you can make it.
· Bear Your Fear
Getting scared and running away from your fears ignites the fire of negative thoughts. What you dread thinking about or what you try to run away from, you think more about it. Bear your fears bravely to conquer your negative thoughts.
How?
6. Question the Outcome
Most of the negative thoughts that begin with fear, may not be worth the thinking effort. Next time you encounter the negative thought, question the worst that can happen. You may be surprised to realize, after all, there is nothing much to fear.
7. Note Down the Worst Scenarios That Cause Your Fear
Note down your fears and your negative thoughts. Further, note down the reason you have those negative thoughts. What is the source, and what is the outcome? Analyze those points exclusively.
Once you bring everything in the open, you can start dealing with each fear. If the situation is beyond you, seek professional help.
Remember, "Positive thinking (much like negative thinking) gets easier with practice" (Cole Todd – Hockey Player)
Setting Boundaries
Isn't it obvious that you can't change overnight or suddenly switch from having negative thoughts? Most people would advise you to stop those negative thoughts immediately. What those people fail to understand it's impossible.
I come to assure you that you can stop your negative thoughts by thinking more about them. Is that contrary to what you know and you've been hearing?
Yes, it must be. But then, how can you do that?
8. Set Fixed Time for Negative Thoughts
Yes, that's what I mean. Have a particular time to dwell on your negative thoughts as much as you want. But, do not go beyond that set time (that's the deal). Do not allow those negative thoughts any other time apart from the set time. Whenever the negative thinking comes up, remind yourself that there is a set time for it.
9. Break the Pattern of Negative Thoughts
Remember the words of Fyodor Dostoevsky? He said, "Try to pose for yourself this task: not to think of a polar bear, and you will see that the cursed thing will come to mind every minute."
You can also work it the other way round. Give yourself the freedom to negative thinking.
Surprisingly, you may find that you won't have any negative thoughts for the entire time you've allowed to think. When you allow yourself to negative thinking, your mind may operate differently or in the opposite by blocking such thoughts.
Setting a specific time to allow negative thoughts is a workable therapy to deal with negative thinking.
· Assertive Defense
Assertive is a tool you should learn to use to feel confident. Being assertive gives you the courage to execute your rights. When you become assertive other people and situations can't intimidate you.
How do you use assertive to stop negative thoughts?
10. Stand Firm for Your Good
Standing firm does not mean you assert your power or wealth on other people forcefully. No, you stand firm against being swayed or forced to do what you don't feel like doing. You are standing firm against people who would drag you to that negative-thoughts route.
After you stand firm to speak your mind, you won't live with regrets and wishing what you could have done. Being assertive, you defend yourself against future self-blame.
11. Be Assertive In a Kind Way
You can find yourself in a tricky position of exercising assertive with anger or other such emotions. For instance, you are dealing with a headstrong neighbor who has his music so loud that disturbs your peace.
Try not to approach your neighbor harshly to be assertive. Instead, be kind in your approach. You might choose to say, "I love your music, but it would be cool if you tone the sound a bit." You have exercised assertiveness but humanely while making a point.
Over 10,000+ people have decided to stop feeling fragile and insecure about themselves.
What are you waiting for?
Get all of my EXPERT TIPS to build REAL confidence.
How to Feel Better = Self-Confidence Course
Want to build REAL confidence and live an extraordinary life?
Double your confidence and self-esteem with my BEST-SELLING course called This is Confidence.
I'm sharing with you ALL THE SHORTCUTS that helped me and life coaching clients become super confident.
Ask yourself: 
If you're not confident yet, you're missing out!
Enroll in This is Confidence immediately to change your life for good.
12. Accepting Criticism Positively
Some criticisms from friends or relatives might help if they would put across in the right way. Since you can't control such a situation, take the advice without regarding how it came to you. For the sake of your thoughts, you can twist the words to sound better to you.
For instance, if you were told the food you cooked tasted 'flat,' you can say to yourself that it's because you messed the recipe. Promise yourself that next time, you would do better using the same formula.
That way, you would accept criticism positively without affecting your thoughts.
· Practice Gratitude
Practicing gratitude can transform your negative thoughts into positive ones. Instead of bottling up negative thoughts to continually poison you, use the method to change your thinking. One 2003 study concluded that "a conscious focus on blessings may have emotional and interpersonal benefits."
How can you do that?
13. Transform Your Negative Thoughts to Positive Thoughts
Take time to journal any negative thoughts that come into your mind. Think naturally without any struggle. Write whatever negative thinking comes to mind. Continue to write such thoughts as they continue to pop in your mind.
Revisit each negative thought once you are through writing. For each negative thinking, write beside it any good or beauty you see in it.
For instance, if one of your negative thoughts you jot is, "I'm unable to cut this weight down to fit in my old clothes." The beauty of that thought might be, "I am not too big for fashionable clothes in the shop. There are clothes, my size in the shop. That means I'm not the only one my size. I'm also in control over how I am and I can trim my weight whenever I want."
Once you have made a list, you can start feeling positive about everything you thought negative.
14. Practice Gratitude to Appreciate Your Magnitude
When engrossed in your negative thoughts, you may fail to notice the better side of your life. You are better off by far than most people you know. Journal things you know that make you stand out from the rest of your friends or people close to you.
You might find that you have even more than you require. You can also share with the people less fortunate to make you feel philanthropist. That way, you can not only appreciate your magnitude but have a chance to share.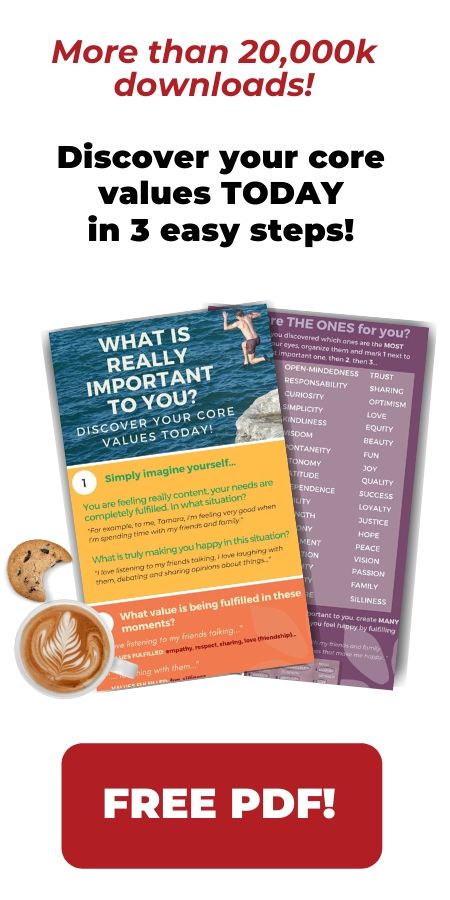 Practice Ho'oponopono
Can you even pronounce the word ho'oponopono?
Don't worry about that!!
Reflect your mind to learn the fantastic workable procedure. According to one Ph.D., Psychologist and Life Coach, Betty W. Phillips, you can use ho'oponopono to deal with negative thoughts. Ho'oponopono in the Hawaiian language translates to ho'o (to make) pono (right) pono (right). The word pono repeats twice, meaning 'to make right with yourself and the other person.'
Four steps to practice ho'oponopono:
15. Say, "I'm Sorry"
You may wonder why you should say sorry for something you did not do. In fact, you expect to be told sorry instead.
The essence of saying sorry is to first say sorry to yourself for subjecting you to negative thinking. Secondly, say sorry to anyone you've wronged. But first, reconcile with yourself before going out to reconcile with others. You need to put your thoughts in order before you say sorry to others.
16. Say, "Please Forgive Me"
Remember to deal with yourself first before going out to ask for forgiveness. Ask yourself for forgiveness. You should forgive yourself for allowing negative thoughts to distract your life and emotions. Forgive yourself for the wrongs you have done to yourself and others.
Think of anything else you would like to forgive. As you recount, get deeper to the very inside of your unconscious negative thoughts to root them out by forgiveness. Once you are clean of your negative thoughts, you can then be able to forgive others. In fact, if you are wondering how to stop negative-thoughts anxiety, try forgiving.
17. Thank You
Thank yourself for working on your emotions. Remember, in the first two steps, you were dealing with your mind. Now, you need to deal with your heart to get to your emotions. You can do that by thanking yourself. Think about the many things you appreciate about yourself and tell yourself, thank you.
By thanking you, you might be surprised how much you start appreciating yourself to outweigh your negative thoughts.
18. I Love You
Still, while working on your emotions to clean your negative thoughts, it is essential to love yourself. Before you expect others to love you, pamper yourself with self-love. Loving yourself makes you feel differently important. You can also learn to start accepting and appreciating yourself.
Use the magic three words, "I love you" in all your relationships. Try now to insistently share your love by using "I love you" words to your spouse, your relatives, and friends. That is how to stop negative thoughts in a relationship.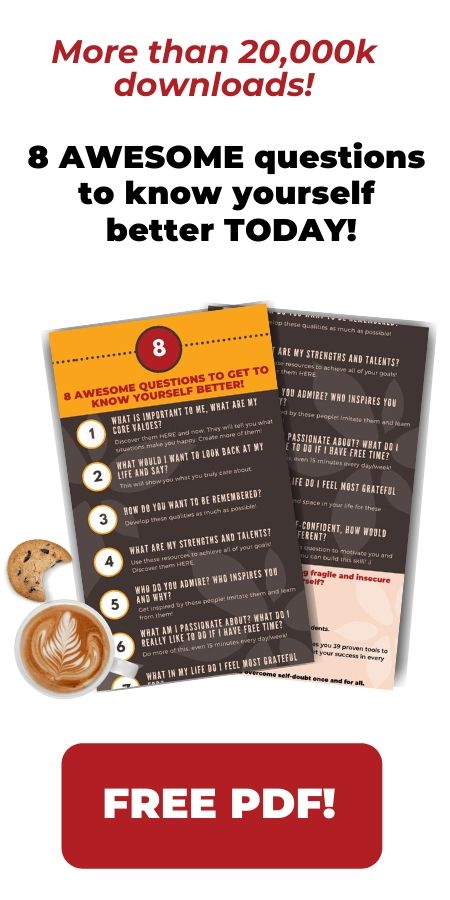 Summing Up!!
Entertaining negative thoughts can be unhealthy. You might end up imprisoning yourself from the joys and pleasures of life. Exercising negative thoughts can poison you to cause mental and physical health diseases.
To deal with your negative thoughts, you must work on your mind and emotions. First, change your thinking to unclutter your mind from negative thoughts. Never charge or blame others for your miseries. Take responsibility for your situation by accepting to resetting your life to normalcy.
Be on guard against negativity, whether from yourself, your peers, or your relatives. It is easy to take in negative thoughts than trying to come out of them.
Matshona Dhliwayo once quoted, "Never give a negative thought an inch, or it will take a mile"
Remember, you are susceptible to hurting quickly when at your lowest moment of negative thinking. Not every person who is to blame for your negative thoughts may say "I'm sorry" or "please forgive me." Instead, do it on yourself.
Take charge of your life by reshaping your thinking. Refrain from sinking into the oblivion of negative thinking. Don't allow negative thoughts to drive your life, but, control your thinking.
Be resilient with confidence and take full control of yourself to develop neutral if not positive thoughts.
Do you want to learn how to be resilient with self-confidence? Click read my blog post on the subject.
Last words from Germany Kent – American Broadcaster, "There is too much negativity in the world. Do your best to make sure you aren't contributing to it."
Have you learned how to stop negative thoughts? Please comment to share and keep the conversation going! 🙂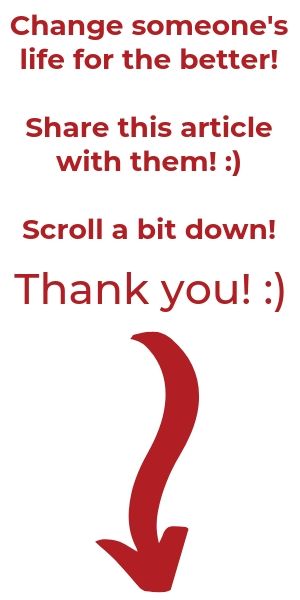 You may also be interested in…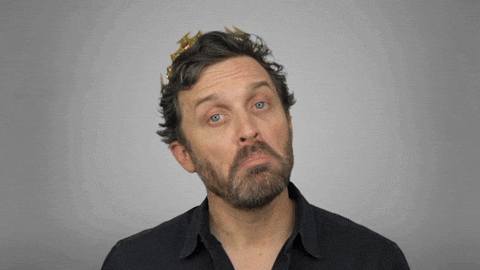 What do you think about negative thoughts?
Do you find any tips useful? 🙂