Do you want to build your self-confidence with something very easy to do?
So you definitely need to check this out.
In this post, let me share with you the tool that helped me build my self-confidence… 
Do you want to hear more of my accent?! Discover all episodes here!! 🙂
Listen with compassion 
Do you want to build your self-confidence?
So then you can feel amazing being who you are, comfortable and relaxed? 🙂
I did too! And the moment that I started using this tool, it makes me feel much more confident.
Check it out! 🙂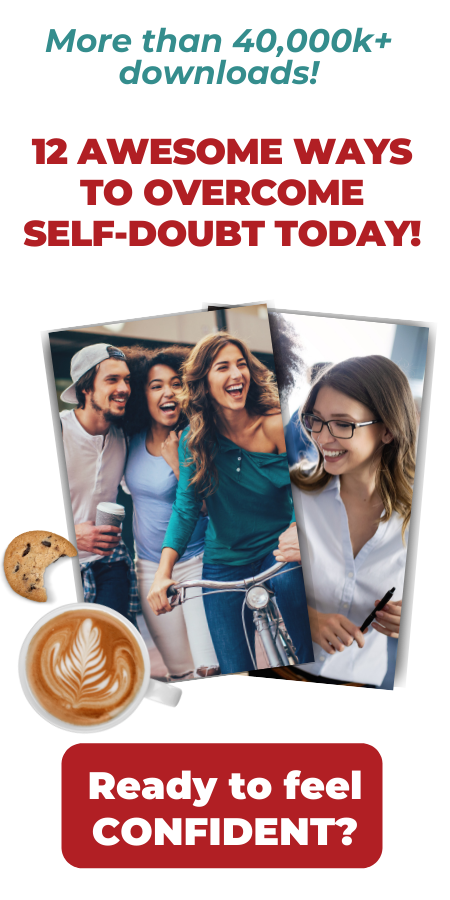 What is this tool?
I like to call it "The Power Of Listening"!
It sounds very basic, but I truly believe that we forgot about it and how to do it properly.
And the funny part is that truly listen to someone will help you in building your self-confidence.
I will get to this explanation a bit later in this post, but so far, I just want you to be open-minded to start listening from scratch! 🙂
I want you to consider listening like you never listened before! 🙂
What do you need help with?
(Choose between the 2 options)
How can we properly listen to someone?
I like how Julian Treasure calls listening, he says that it's "Making meaning from sound".
So, since it's about giving a meaning to what we hear, how can we properly listen to what we're hearing?
Pay attention by the way to the distinction that I'm making between "hearing" and "listening".
The first one (hearing) is more about hearing sounds and listening is more about paying real attention to what has been said.
How can you do all of this?
Brooke Castillo says that when it comes to listening to someone, we need to understand 3 components:
Listening for what they are intending to say
Listening for what they are actually saying
Listening for what you are making it mean to you
As you can see, it may look like we will hear what has been said, but it's going through different filters (what they are meaning to say, what they are actually saying, what your brain tells you what has been said, depending on your experiences, beliefs, values…).
This is why we need to be cautious when we are listening and to be super open-minded.
And we need to keep in mind all the time:
Why is this person saying that? 
Brooke is saying "Try to look for the answer from the other person's brain, not from YOUR brain!"
Try not to give any interpretation from your side! It's not about YOU, it's about the other person you're listening to!
I like when Brooke is saying that "You are listening for the intention and not for just what they are saying", so try to read between the lines and understand what is being said, why this person is saying what she's saying?
When you're doing this, you're coming more from a compassionate place!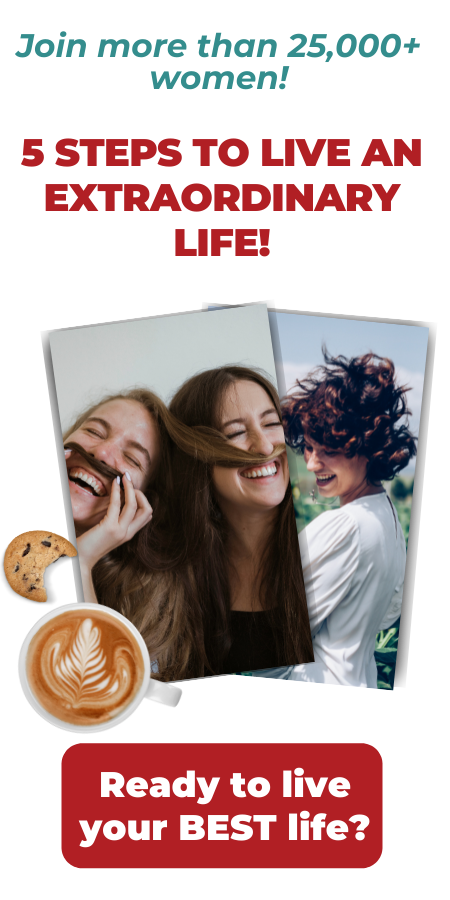 Just listen, no advice, no judgments…
When someone is talking to you, it's super easy: just be in the moment.
Be there with that person. Just listen to what they have to say!
Try not to think about what has been said, do not think about your experiences, your values, your beliefs.
While thinking about all of this you may not be entirely focused on what the other one is saying to you and that would be a real shame! 🙂
You will see, the moment you start doing it, you will question all the times you've been listening until that moment…!
By the way, we always want to help, we want to give advice, to relate to what the person is sharing with us. Of course, it depends on the conversation!
If the person is asking you "what would you do if you were me?" of course, you can give advice!
It's just that most of the time, people just want to be heard and seen, and they don't need your advice, because they will anyway not apply it to them, so don't bother! 🙂
Just be a good friend and offer a listening ear! 🙂
By the way, you maybe have heard of "active listening" which is a technique that is used in counseling, training, and solving disputes or conflicts.
I just found that image that is summarizing what you can do, when you're practicing "active listening".
I think that in every situation in which you're listening to someone, you can do one of these things: summarising, questioning, paraphrasing, listening for feelings, etc.!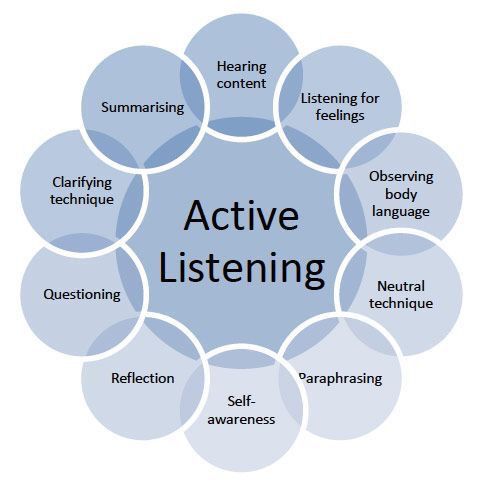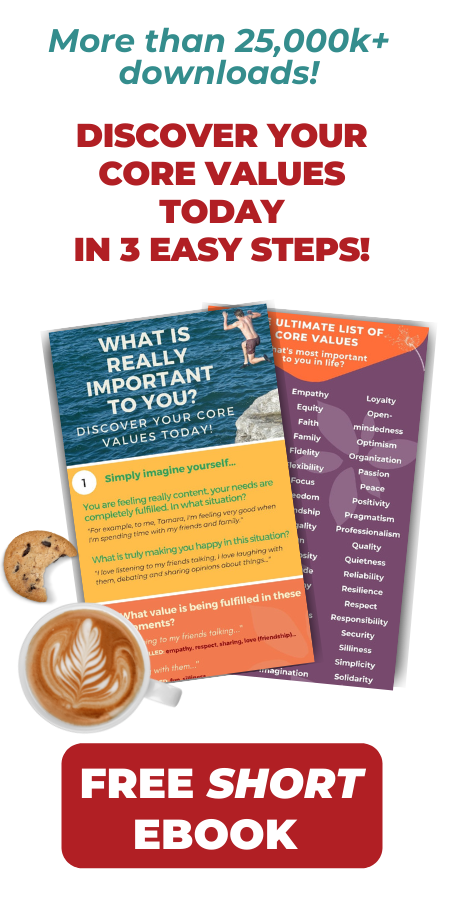 An example…
I think examples are the best! 🙂
For example, you're just hanging out with someone and sharing stories and jokes, the usual! 🙂
Suddenly, your friend starts sharing that she's very stressed out with her job, she feels like it's not what she's supposed to do, but at the same time, she likes the security of having a job and a great salary.
Of course, you want to share your opinion and tell her what to do! You like this person, you want to help her out and isn't what you do for the people you like or love?!
But here's the thing. This person probably just wants to be heard and listened to.
And in case you're doubting it, let her talk and in the end, you can ask her: I really want to help you out. Is there something that I can do to help you out?
But first of all: L-I-S-T-E-N! 🙂
And it's not like I'm telling you to do something, say something in particular! I like this quote from Frank Tyger: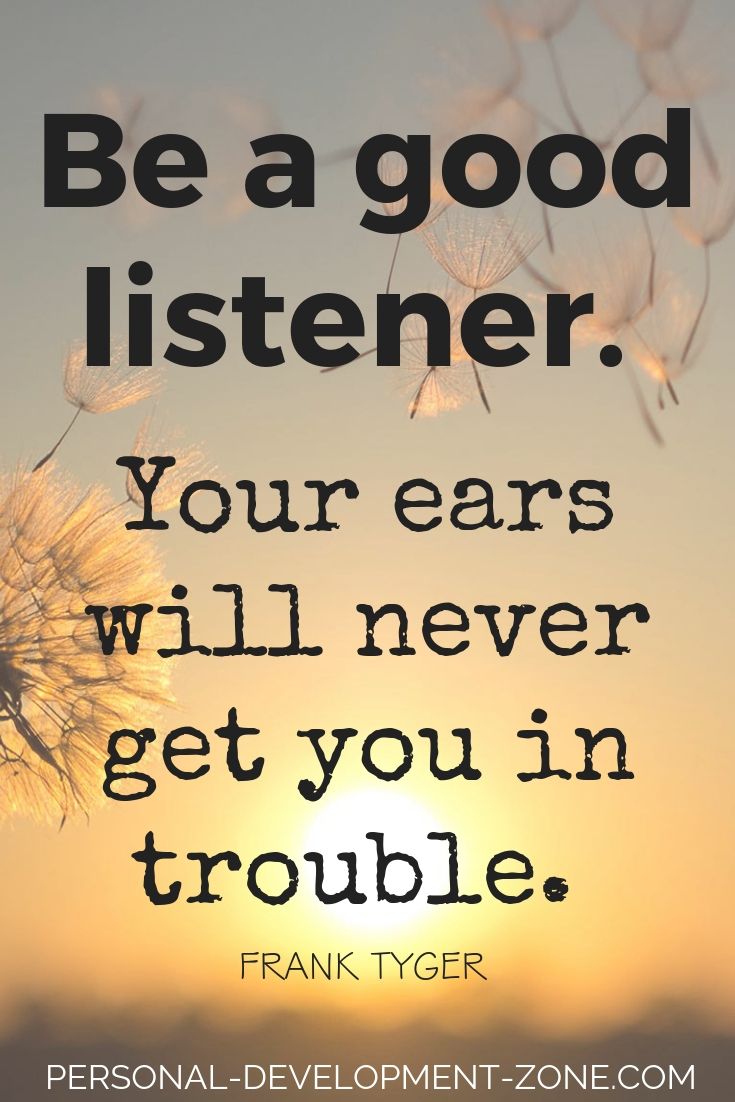 That's true!
You cannot go wrong with listening! 😉
How listening can help you build your self-confidence? 
Okay so of course, this is super important!
Listening can definitely become an amazing tool for you to build your self-confidence. And why is that?!
Because when you listen to people, you are making them feel comfortable being who they are and being with you!
They see you as a great listener, as someone we can talk, they feel good around you and this, the more you'll do it, you'll see how bigger and bigger your self-confidence skill will grow!!
You start having a lot of compassion for people and the more you listen, the more you will realize how much people are concerned with what's happening to THEM! So, you have nothing to do with it!!
You will less take things personally! Because you finally, sat there and listened to what the people have to say! And you know that it has nothing to do with you, but it's all about them! 🙂
Just try it out. Listen better and in a few days, weeks and months, you'll be building your self-confidence without even noticing it! 🙂
5 ways to listen better 
Now, I wanted to go through 5 ways to listen better. Julian Treasure went through them during his Ted Talk:
SILENCE. Even 3 minutes a day, just try to get yourself in a silent place or even just a quiet place.
THE MIXER. He's calling it like this! If you are in the park, for example, try to pay attention to how many channels of sound do you hear? For example, how many birds can you hear?
SAVORING. For example, listen to the sound of the coffee machine. Focus on that sound and only that sound! How does that make you feel?
LISTENING POSITIONS. He talks about the way we listen: sometimes, we are active, sometimes, passive. Sometimes critical, something empathetic.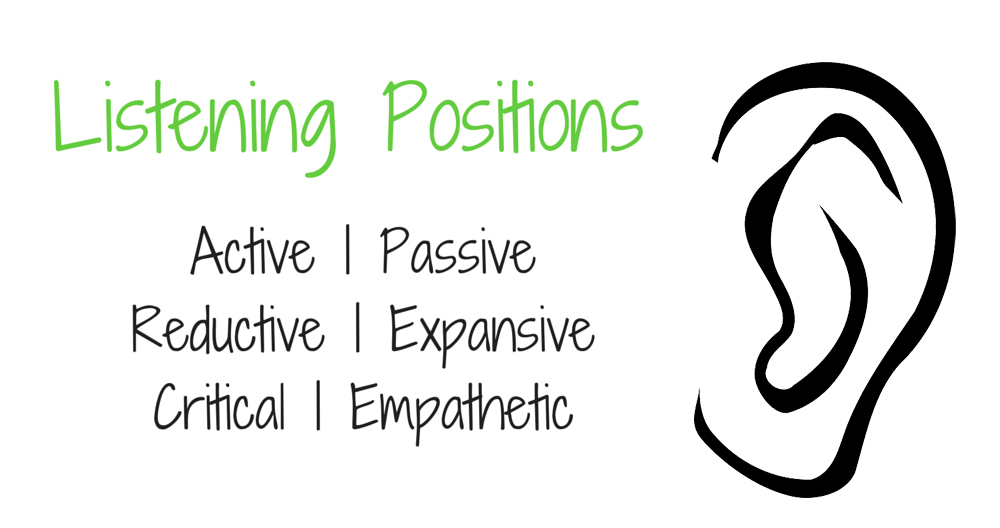 RASA. Rasa is for:
R = receive. Pay attention to the other person, the one that is talking.
A = appreciate. You can say "mmm" or "ok" to show that you are truly listening and following.
S = summarize. You can use the word for example "so…" to show that you understand what has been said.
A = ask. You can ask questions afterward! To get more information or to just open the discussion!
I totally love how Julian Treasure finishes his presentation by saying that:
"Every human being needs to listen consciously in order to live fully."
He's so right! 🙂
Amazing and very interesting person!
To sum up!
As you can see, it's all about starting to listen better.
And you can definitely use this to build your self-confidence!
All you need to do is to sit there and be 100% present in the situation. Try not to think about your experiences, your beliefs, no need to give advice, just give 100% of yourself to that other person.
The moment you will start doing it, you will question the reason why you didn't do it until now! 🙂
You may also be interested in…