In this article, I'm going to show you how I succeeded in two interviews out of three, while preparing only one hour before each of them.
And this after being super nervous and without confidence in all the interviews I did until then.
What has helped me overcome my insecurities, become confident during the interview, and finally get the position that I wanted? The Tennis Approach.
Want to know how to ace an interview? Let me introduce this approach to you, step-by-step.
The Tennis Approach – A bold way to look at job interviews

Eight years ago, before I started my life-coaching career, I was looking for a job in an HR company, and I applied for the same role in 3 different firms in Geneva.
Until then, I found it very hard to feel comfortable during an interview, and it kept preventing me from standing out from all the candidates. I tried several tips, tricks, and techniques, but none of them worked for me.
After developing and implementing the Tennis Approach, I saw some fantastic results:
I finally felt relaxed and confident in job interviews, which made me more appealing.

I passed two out of the three interviews for the HR position, which allowed me to choose the one that was more tempting to me.

It boosted my confidence after I started working for the company.
The five steps of the Tennis Approach:
Mindset

Research

Knowing yourself

The interview

The Follow-up
Three steps for the preparation, one for the interview itself and one for the follow-up.
Let's go through them one-by-one 🙂

Step #1: The bullet-proof mindset for acing an interview


When asking yourself how to do well in an interview, you should start with the right mindset.
To understand the mindset you need to create with the Tennis Approach, let's first look at the job interview from the interviewers' perspective:
The companies are spending TONS in the process of finding good workers. In 2019 the revenue of human resource services around the world got to

20.86 billion dollars

!

Other than the money, hiring is extremely time-consuming and involves days of sorting resumes, interviewing candidates, choosing the right person, and teaching them how the business works.

And all of these while taking the risk that the one they chose isn't going to be a good fit for them, which will force them to go through this process and expenses over and over again!
As much as you need to get the job, the company needs to get good workers.
Realizing that is the key to achieve the right mindset.
When you understand that both you and the company need each other at the same level, you can see yourself as someone who chooses, as opposed to someone who waits to be chosen.
They might pick you out of 100 candidates. You might choose them out of 100 companies.
That doesn't mean at all that you need to get all cocky and arrogant, but it does definitely mean that you should acknowledge your worth and how important you are to their business.
So what does it have to do with tennis?
No, don't bring your rackets to the interview just yet… 🙂
I love metaphors, and I think that the game of tennis is a great one for the way that I think a job interview should be.
You see, in tennis, about half of the match's time, your opponent is serving the ball, and you need to adjust yourself and respond (just like the interviewer asking you questions and you answering them). 
But on the other half of the time, you are the one who's serving the ball. You are the one in control, and the opponent is responding to you. 
In a job interview, you might be the one who's being tested, but you also get to "serve" and ask your own questions. That allows you to check if the position is a good fit for you.
Thinking of the interview this way transforms the question of "will they hire me" to "will we be a good match for each other".
It's very common for interviewers to allow their candidates to ask questions. They even expect it. The Tennis Approach is all about using this opportunity to the fullest.
It gives an incredible boost to your confidence, which makes you more appealing and memorable, and it also makes you look interested and excited about the opportunity.
Step #2: Make yourself an expert with good research (Printable worksheet available)


All the best interview skills won't do without basic-but-solid research.
Take 30 minutes, use Google and people you know from the industry and obtain the following details:
Company mission –

What is this company all about? What makes them different from other companies?
Competitors –

List 3-5 competitors in the business's market. 
Main customers/clients –

Are they selling to customers or other businesses? If to customers, to what segments? (Age range, gender, interests). If to other companies, list 3-5 main clients.
Main products/services –

What do they sell? What is their most important product/service? How is it different from other companies?
Your connections to the company (if any) –

Do you have an uncle who knows the company's secretary? Is the marketing manager related to your best friend? You won't believe how powerful a referral can be.
Current news –

Try to find an anecdote of something recent that happened in the company. Usually, the business's Facebook page is an excellent place to start.
Requirements for the position you apply for –

Look at the job description and analyze which qualifications it requires. It should be both things you need to

know how to do

(Programming with Java, designing with Photoshop, etc.) and

qualities you need to have (Being able to work under pressure, being very organized, etc.)
If you have no idea what the requirements are, try to find a person who has a similar role and ask him/her.
Download a printable research worksheet here. (Or click the image below)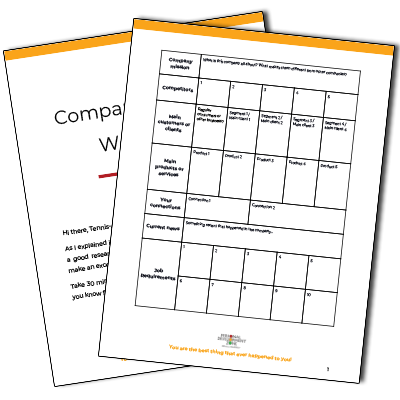 Step #3: Knowing yourself = Being prepared for 95% of the common interview questions


The Tennis Approach helps with how to ace a job interview by making you more confident about who you are and what you can offer at the position in question.
It means that you have to know who you are and what you can offer in order to let in shine, right?
For this step, free yourself 30 minutes and take the following actions:
Read the list

of job requirements that you wrote at the end of step 2.

For each requirement,

write down why you can fulfill it. It might be based on work experience that you had, things you studied at the university (or study right now), abilities you developed from extracurricular activities and qualities and strengths that you have.
If it's hard for you to recognize your merits, ask a friend or colleague what they think that your qualities are. You might be surprised! 🙂
Prepare 2-3 interesting short stories

that show your qualities (from work or other life experiences). These stories can be about a challenge you faced or a meaningful experience you had. The most important thing is that they'll show a good side in you (again, without being arrogant) and that you can bring them as examples in the interview.

Acknowledge, and

list 3-4 weaknesses

you have that can create an obstacle for you. Remember, you are writing them

for yourself, so don't think what the interviewer wants to hear (it's all about being truthful with yourself, which also means accepting things you want to improve).
Write next to each weakness what actions you can take to overcome it and improve.
Write your inspirations and goals for the next five years

, and why do you think this job can help you achieve them. What would be the reasons to choose

this job

over other possible options? Remember, your job should answer your needs as much as you should answer your employer's needs.

Write down your questions – The Tennis Approach is all about utilizing your ability to ask questions in the interview (and by this, be the one who "serves"). Now that you know what is important to you and what you want to get out of the job, list 6-10 questions that you would like the interviewer to answer.
They can be about the social environment in the office with the team, the promotion possibilities, how often meetings occur, where the company sees itself a few years from now, and anything else that interests you.
Practice saying all those things out loud

(especially the stories and questions).

Yes, I know that it looks exhausting. Still, usually you'll need to do this once before your first interview and make a few adjustments before the ones that follow (even if you're acing an interview, I would recommend doing others so you'll have more choice).
Now that you really know who you are, you can answer a lot of typical job interview questions like "tell me about yourself" and "why should we hire you", and you are also ready to bring the extra spark with the stories and questions you prepared.

Step #4: Master your interview, Tennis Approach style


After going through steps 1-3, doing the interview should become MUCH more comfortable.
Here are a few job interview tips to make sure you use the Tennis Approach correctly:
Dress your best

, and do this based on what's appropriate in the industry. Each place has its own dress code, so make sure you check that out in advance and wear proper clothes.

Bring a copy

of your resume and your portfolio if needed.

Make sure to

make an excellent first impression

on

everyone you see from the moment you enter the building to the moment you leave it.
The secretary can have a much stronger effect than you can imagine (especially if you weren't kind to her).
Also, you never know if the person that you held the door for at the lobby is actually the CEO's husband.

During the interview,

recognize

when will be an appropriate time for you to "serve" (ask your own questions). Sometimes it's only when the interviewer finished his/her own questions, and sometimes it can be in between (after a specific subject was discussed, for example).

When answering – make sure to be polite and pay attention to your body language.
Keep your answers concise and focused. Be nice, but don't be too familiar.
When "serving" (asking your questions) – Show genuine interest and listen carefully to the interviewer's answers.
Remember that you want to show that you are a catch, but it needs to come with modesty (for example, don't mention that you already consider several offers unless they ask you).
At the end of the interview

, ask what the timeline is and their preferred way of following up. Mention that you look forward to hearing from them.
Now that you are after the interview (and making sure to make a good impression on anyone you saw until you left the building), you can go to step 5 – the follow-up.
Step #5: Seal the deal with a follow-up (Template available)


Most people will just wait for the interviewer to come back to them, but not us Tennis-Approachers, right?
Sending a follow-up email can show your interest in the position and make you even more memorable than other candidates. 
I recommend sending the follow-up email in the morning after the interview unless your interviewer asked you to submit additional materials (in which case, you'll send those materials with the follow-up email right after the meeting).
The follow-up email should be short. You should thank the interviewer for his/her time and express your excitement to hear back from them.
You can download a template of such a follow-up email here. (Or click the image below)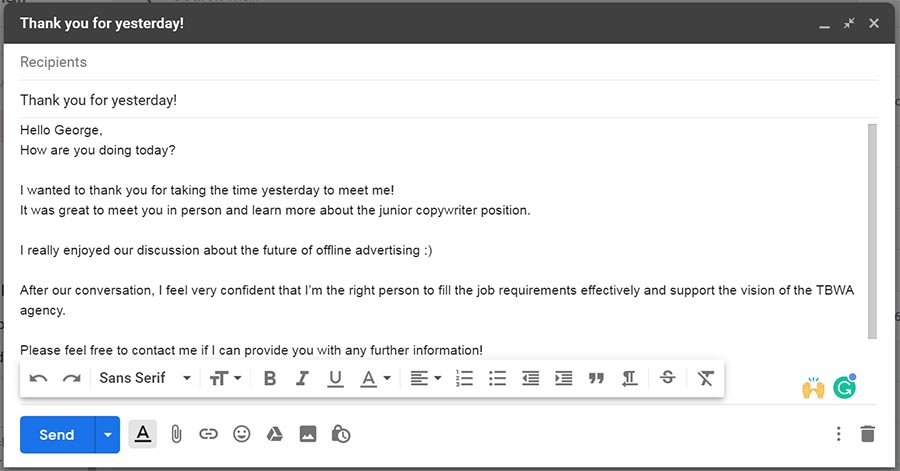 Now is your time to be unforgettable
I've covered in this article how to do well at an interview with the Tennis Approach.
By utilizing this approach, you are taking control and becoming appealing and memorable to the company, as opposed to being just another candidate who's praying to be chosen without having any effect over the situation.
So if you have a job interview in the foreseeable future, grab a pen and paper (or open a Google doc), go through the steps and prepare yourself for success!
You may also be interested in…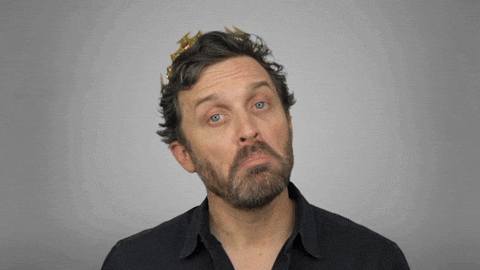 Did you like the Tennis Approach? Have any questions about it?
Did you try it yourself and want to share your experience?
Comment below and let me know what you think!