What does imposter syndrome feel like?
And how to overcome it?
Kick self-doubt & imposter syndrome with these 5 ways… 
Do you want to hear more of my accent?! Discover all episodes here!! 🙂
Have you ever felt like an impostor?  
You may have heard of the impostor syndrome…
Let me go through what it is and then how you can overcome it!
So, you can trust yourself and release your potential! 🙂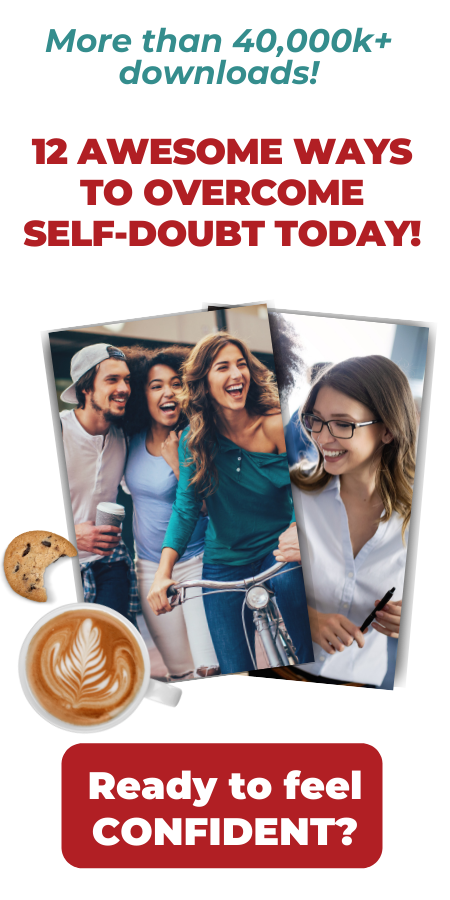 What is the impostor syndrome?
Such an interesting topic!!
I have friends who told me recently "I would love to do this or that, but I'm afraid of being seen as a fraud!"
Have you ever felt that way?! Doubting your abilities?
Actually, the imposter syndrome is defined like this by Wikipedia:
"Impostor syndrome (also known as impostor phenomenon, impostorism, fraud syndrome or the impostor experience) is a psychological pattern in which an individual doubts his or her accomplishments and has a persistent internalized fear of being exposed as a "fraud"."
Basically, it's when you may feel not qualified enough to do something.
You are afraid of not being credible in what you're intending to do.
You may have the fear of someone finding out and pointing at you saying "I knew it! She's a fraud!"
I love how Lou Solomon in her Ted Talk says that having impostor syndrome is like having a "crappy best friend on your shoulders"….!
What do you need help with?
(Choose between the 2 options)
What does imposter syndrome feel like? 
Actually, it doesn't feel too good…!
Since you really feel like a fraud, you feel like you don't have the legitimacy to do what you're going to do…
You feel like you're not qualified enough, that you don't have the experience required…
It's a fear of being discovered, which can definitely make you feel stressed, insecure and anxious!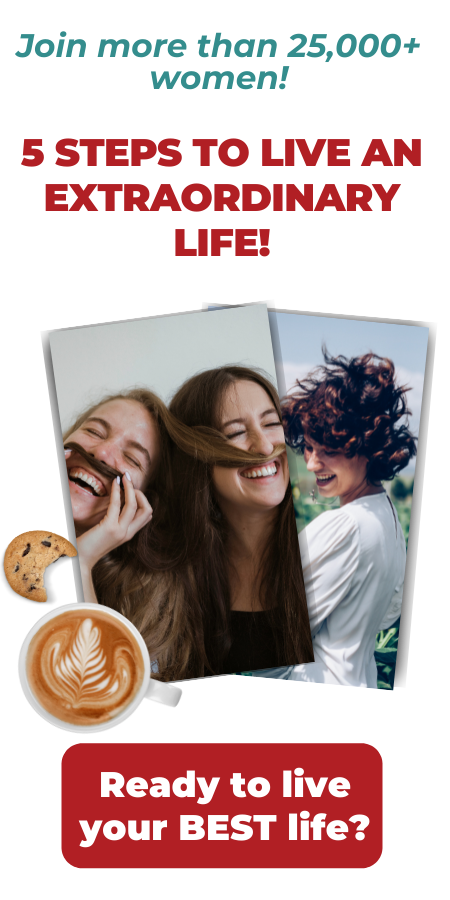 What causes impostor syndrome?
In one word: it's all about self-sabotage!
I wrote a post and recorded a podcast about self-sabotage, I just wanted to remind you that self-sabotage is a behavior, belief, or habit that is harmful to the person who engages in it.
Of course, we are not doing it on purpose! It's a reaction to something that has a good intention! Which one? To protect us from danger!
As I said before, impostor syndrome is when you're doing something that you feel maybe not qualified enough to do it.
Why are you feeling this way? Because you are afraid of not being good enough or maybe not bringing as much value as you wish you would!
It's a 50/50 struggle. There is a part inside of you that feels 50% capable of and at the same time, 50% afraid of not doing as good as you could/should.
Related article:
All about Self-sabotage and 5 ways on How to Stop Self-sabotaging Yourself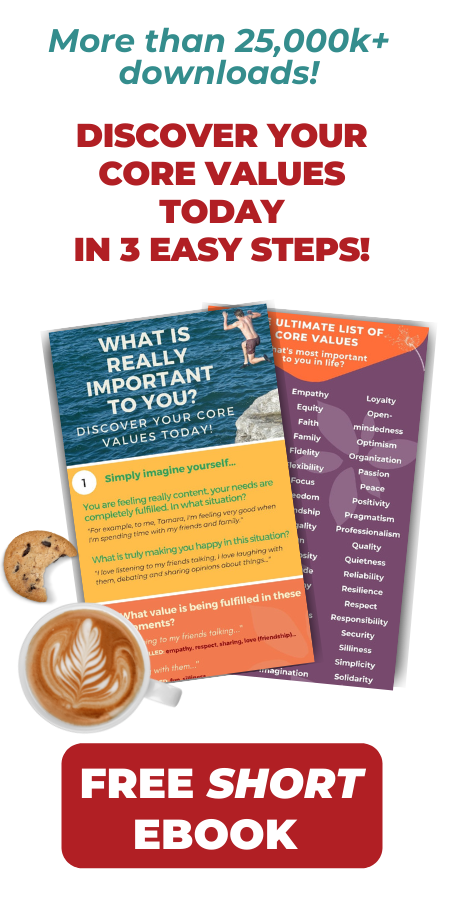 For example…
You may have felt the imposture syndrome in various situations of your life.
For example, you need to make that presentation at work or you want maybe to write a book/share an idea/project that you have!
At this moment, you may ask yourself:
But who am I to do it?
Who will listen to what I have to say?
Do I have the legitimacy, the accurate knowledge or qualifications to do this?!
Is someone going to see that I'm a fraud?
All of these questions may just make you freeze and stop from taking any actions… Because you are too afraid of the possible consequences!
How would you feel if someone is pointing at you saying "she doesn't know what she's talking about! I want my money back!"
That's not a nice feeling… 🙁
Well, let me just add here that anyway, if you put yourself out there and try to sell something, you will need to give refunds… 😉 No matter how good your product/service/presentation is… 😉 just remember, you are not for everybody and that's 100% okay!
Check this post about that fascinating topic that is about getting the approval from people when in fact… You won't be able to have an influence on it! 🙂
Related article:
What Other People Think of You
How do I overcome imposter syndrome?
AhA! This is what you've been looking for, right?
So of course, being self-aware that you are feeling this way is already amazing!
Because how can you take care of something if you don't even know that you "have it"?
Okay, so there are many things to do and just below this paragraph, I will share with you 5 ways to overcome this syndrome…
But first, let me tell you what Mike says. He co-founded an Australian software company and he used to feel this way all the time! He was so afraid of someone finding out that he may be a fraud…
And after many years of struggling with this, then realizing it and finally finding a way to feel better, this is what he's saying straight:
"Do not freeze".
What he means by that is, like I said before, feeling this impostor syndrome may stop you from taking the actions that you want to take (considering the examples from before: making a presentation, writing a book…) and you should not!
He says that you need to keep on learning what you're doing, not to be afraid of not being the expert.
It doesn't mean that you aren't good enough or that you need to ask yourself questions about it. Not at all!
I liked it a lot when he said: "The most successful people that I know, they don't question themselves, but their ideas and their knowledge. They are not afraid of looking for advice. And are learning. As long as you don't freeze, it's all okay. Be aware of it."
Now, let's get into some practical advice! 🙂
6 ways to overcome the imposter syndrome…
Here are the 5 ways that I found and that truly helped me in overcoming the way I used to feel…
Try to make a distinction between feelings and facts.  

It's not because you feel like you're not good enough that you are not good enough! Don't make thoughts and feelings being your reality. Or it's not because you imagine things in your head that it is what's going to happen! 🙂

Learn how to master failure and mistakes, without being afraid of them.

We are always so afraid of failing and making mistakes! I remember being a teacher at school and telling the kids "I love mistakes, make mistakes, kids! You then know what's right!" And they were so surprised I remember! 🙂
You don't need to make mistakes mean something to you. Imagine if it didn't have the signification that it has. If it wasn't something bad, but just something that happened and that encourages you to try something else to reach your goals!
The same with failure. Failure is all about noticing that something isn't working the way it was supposed to so… It's all about standing up again and continue, try something else until it works! 🙂

You got success in the past, remember it and get inspired by it. 

Think about a moment in your life in which you felt empowered, proud and secure about what you did. When was that? In what situation? Sometimes, we are getting inspired by what other people said or did. But get inspires by what YOU did, your accomplishments are amazing! 🙂

Overdeliver in value!

I like when Natalie Bacon is saying this. You always need to overdeliver in value. Give more than what is promised. Be a quality person and be reliable in what you promised.

Nobody knows what they're actually doing…!




Keep in mind that nobody out there really knows what they're doing. That's true! I remember someone successful saying to me "I never know what I'm doing, but I'm doing it!" I loved it! 🙂

Take actions, always.

I love that topic that is taking actions. I will write a post about it very soon but meanwhile, I just wanted to remind you that we may be sometimes afraid of taking actions. Why is that? Because we are afraid of the discomfort, how we may feel if we are not getting the results that we want.
But actually, when it comes to taking actions, there are 2 results possible: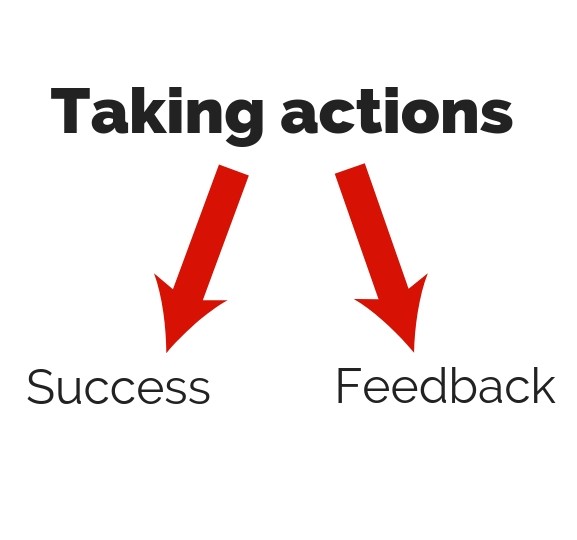 As you can see, when we are taking actions, there are two results: or we're getting the success wanted from this action, or we are getting feedback.
I think that you understand the "success one", but what about the feedback? We can imagine that the opposite of success would be a failure, but it's not. Feedback means that you got something that is telling you if yes or no, this action will bring you the result you're expecting.
So if you see that you didn't what you wanted, you will try something else. But it's not a fail! 🙂 A fail is really the fact of not moving from that point, to freeze. We should not and it's the exact right time that we need to show ourselves that WE CAN DO IT! 🙂
Related article:
How Taking Action is Helping You Grow Your Self-Confidence
The good thing about the impostor syndrome…
Actually, there is something really good about the impostor syndrome…
As you can see on that image, the more you move out of your comfort zone, the more you grow, the more results you get!
And the imposture syndrome is really somewhere in the fear zone (the brown zone).
So, it's your brain telling you "stop! You need to be careful!" And you know why it's telling you this?
Because a long long time ago, we needed to protect ourselves and so being afraid of literally saving our lives!
The funny part is that today, we don't really need to save ourselves from a tiger or another dangerous creature! But still, we have this "fear/danger" alarm that can be the imposter syndrome.
This is why there's something good about the imposter syndrome: it's telling you that yes, it's not comfortable (because you're getting out of your comfort zone!), but it also means that you're going in the direction of something better! 🙂
Something that you really want!! And this, isn't it worth the discomfort and a little bit of fear? As long as you don't make it mean anything! 🙂
It's supposed to protect you so, appreciate the warning, acknowledge it and then anyway move on and take actions!! 🙂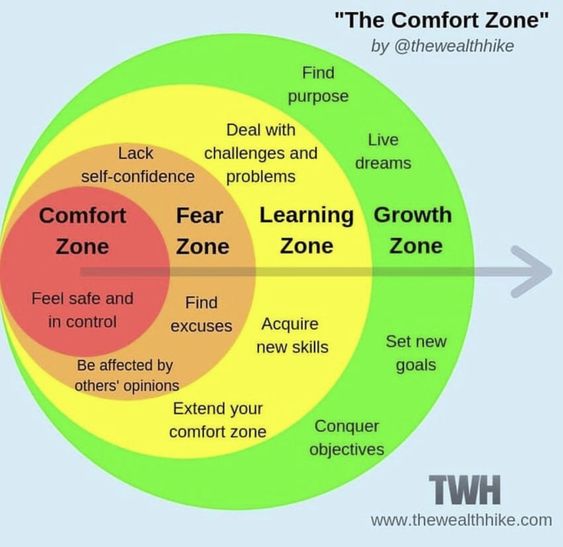 Another reason why I think that imposter syndrome can be something good: along your way to success, it will help you keep your humility!
You will always have your feet on earth! 🙂
Funny charts you feel sometimes like an impostor…
 I found this very funny article on BuzzFeed that is called "13 Charts That Will Make Total Sense To People With Impostor Syndrome".
Check it out! 🙂
There is, for example, this one: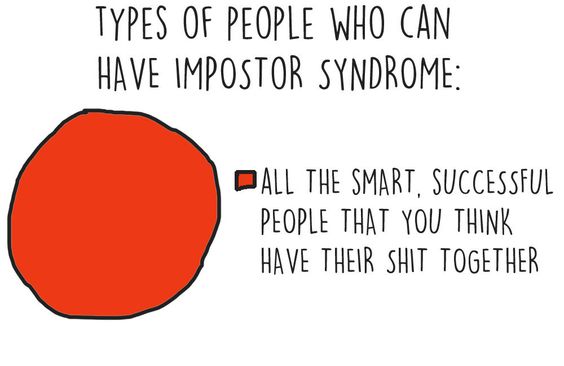 As you can see, many people that you wouldn't even think of are suffering from the syndrome! 🙂
Take them as an example, get inspired, feeling this way didn't stop them from moving forward! 🙂
If they can do it, then you can too!! 🙂
Ted Talks on the impostor syndrome  
While reading a lot about this topic, I found 2 Ted Talks that were very interesting.
Let me share them with you here:
Mike Cannon-Brookes
" Mike Cannon-Brookes, the co-founder of software company Atlassian, is an Australian business success story. In this surprisingly personal talk, he reveals how he constantly feels like an imposter, but how he's learned to harness those feelings for his benefit".
Lou Solomon
The Surprising Solution to the Imposter Syndrome | Lou Solomon | TEDxCharlotte
To sum up! 
As you can see, the moment that you realize that you have the imposture syndrome, remind yourself that YOU ARE GOOD ENOUGH to do what you're intending to do!
And the funny part is that we may feel very alone in all of this, but actually, we are SO MANY to feel this way!
Even the most successful! 🙂
So, be aware of what's going on, but don't freeze. Continue taking actions and embrace this syndrome!!
Remember this person that said, "I don't know what I'm doing, but I'm doing it anyway!" 🙂
As you can see, the secret is to keep on doing it! 😉
You may also be interested in…